NoPrimaryTagMatch
Castine, Maine offers history, inns, and a range of dining options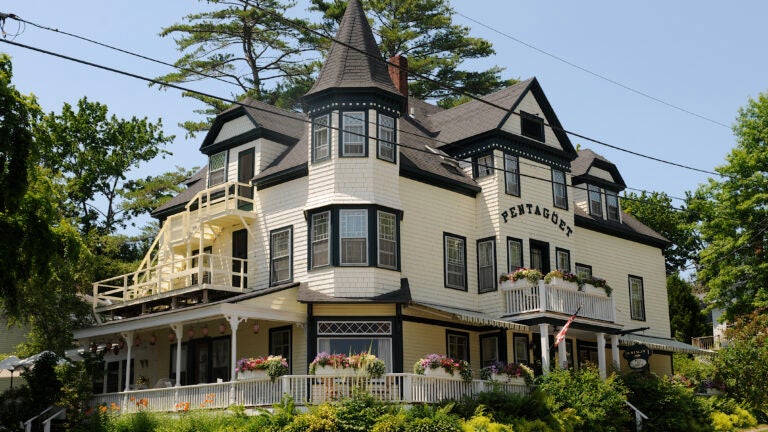 Like history? You'll love Castine, a serene New England village tipping a cape reaching into Penobscot Bay at the mouth of the Penobscot River. Fought over for 200 years by Britain, France, and the Netherlands, it was the site of the Revolutionary War's Penobscot Expedition, which has been called the worst American naval disaster before Pearl Harbor. The village, now home to Maine Maritime Academy, is peppered with fort ruins and historic sites, along with an enviable collection of Georgian and Federalist architecture.
STAY
The genteel Pentagoet Inn (26 Main St., 800-845-1701, www.pentagoet.com, $155-$295 with breakfast), comprising a three-story, Queen Anne Victorian and an adjoining 1791 Federal, puts all of Castine at your feet. Across the street is another classic, the 1898 Castine Inn (41 Main St., Castine, 207-326-4365, www.castineinn.com, $125- $235, including breakfast), where some rooms have views to the harbor over the garden. No two of the mostly spacious rooms are alike at the Manor Inn (Battle Ave., 877-626-6746, www.manor-inn.com, $115- $275). Once the summer "cottage'' of Arthur Fuller, a South Boston Yacht Club commodore, it allows pets ($25 per pet per stay). Especially popular with families, Castine Cottages (33 Snapp's Way, 207-326-8003, www.castinecottages.com) rents two-bedroom, water-view housekeeping cottages for $725 per week.
DINE
Castine offers an admirable range of dining options, from vacation casual to nonfussy upscale. Pick up picnic fixings and everything from coffee beans to burritos at the Castine Farmers' Market, held Thursday mornings on the Town Common. The Breeze (Town Dock, 207-326-9200, under $10), a waterfront take-out stand, serves homemade fare ranging from doughnuts to seafood to kebabs. Seek out Bah's Bakehouse (26 Water St., 207-326-9510, www.bahs world.com) for breakfast pastries, soups, salads, and sandwiches. Bah's sister business, Stella's Jazz Nocturnal (207-326-9710, $10-$30) takes over in the evening, serving burgers, pizza, and Southern soul food. Dennett's Wharf (15 Sea St., 207-326-9045, www.dennetts wharf.net, $10-$25) is a colorful barn of a place with an outside deck offering front-row seats on the harbor. Enjoy cocktails or dinner in the candle-lighted dining room, cozy Passports Pub, or on the big wraparound porch at the Pentagoet Inn, where the menu ranges from bistro plates to full entrees ($18-$29).
DURING THE DAY
Pick up the Castine Merchants Association's visitors brochure-map and follow the numbers on a bicycle or on foot. The route takes in colorful historical sites marked with plaques, including forts, battle sites, architectural gems, museums, and Dyce's Head Lighthouse. The Wilson Museum (107 Perkins St., 207-326-8545, www.wilson museum.org, donation) houses an eclectic, international collection of prehistoric artifacts, ship models, dioramas, baskets, tools, and minerals assembled over a lifetime by John Howard Wilson, a geologist-anthropologist. View exhibits pertaining to Castine's history at the Castine Historical Society (Town Green, 207-326-4118, www.castine historicalsociety.org). Shoppers will want to browse the handful of galleries, boutiques, and antiques shops downtown, including Leila Day Antiques and Gallery (53 Main St., 207-326-8786, leiladayantiques.com) for folk art, period furniture, and quilts; SaraSara's (1 Main St., 207-326-4442, www.sarasaras.com/cas tine-store), a women's boutique; and Tarratine Gallery (5 Main St., 207-326-2008, tarratinegal lery.com) for fine artwork and crafts. For those seeking more active outdoor pursuits, Castine has much to offer. Witherle Woods, access from Battle Avenue, is a 185-acre preserve owned by Maine Coast Heritage Trust (www.mcht.org) with a 4.2-mile maze of trails and old woods roads leading to the water. Need a little adventure? Paddle the waters of Penobscot Bay with Castine Kayak Adventures (17 Sea St., 207-866-3506, www .castinekayak.com). A half-day, fully equipped, guided tour is $55. If you're one of those who feels that a weekend is not complete without a charge down the fairway, you can catch a quick round at the nine-hole Castine Golf Club (200 Battle Ave., 207-326-8844, www.castinegolfclub .com). Want to enjoy the outdoors without the work? The handsome wooden motor-sailer Guildive (207-701-1421, www .guildivecruises.com, from $40), captained by Kate Kana and Zander Parker, departs from Dennett's Wharf for day cruises on Penobscot Bay.
AFTER DARK
Dennett's Wharf
often has live music, ranging from folk to rhythm and blues, as does Danny Murphy's Pub (207-326-1004), tucked underneath the bank facing the parking area and the harbor, where you might hear anything from rock to acoustic Celtic. Try Stella's Jazz Nocturnal (26 Water St., 207-326-9710) for the best in live jazz in the area. In the mood for something more contemplative? Join Castine Kayak (see above) on a Bioluminescent Night Paddle ($55), to view glow-in-the-dark phytoplankton in the water and the constellations in the sky.