NoPrimaryTagMatch
Deval Patrick sticks up for president – and own governing philosophy – in convention address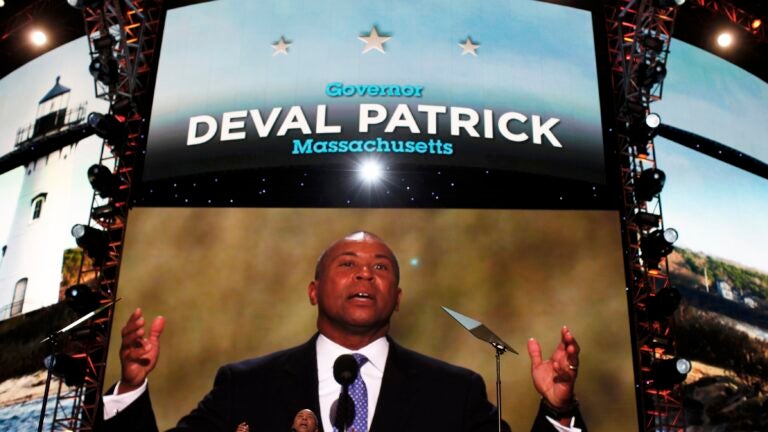 CHARLOTTE, N.C. – In 2006, when Deval Patrick was running for his first term as governor, then-Illinois Senator Barack Obama came to Boston to campaign on his behalf.
In 2008, when it was Obama himself running for president of the United States, Patrick returned the favor by introducing him at events in Massachusetts.
Back and forth it has gone through the years, as Patrick has campaigned for a second term and, now, as Obama does, too.
After each in this series of back-to-back speeches, audiences would leave debating whether the governor was a better orator than the president.
But it is clear from the passion the governor exuded Tuesday in his address to the Democratic National Convention, as well as an earlier speech to Massachusetts convention delegates, that Patrick feels a personal stake in Obama's success – almost like a sibling sticking up for his kid brother.
"The list of accomplishments is long, impressive, and barely told,'' Patrick told a rapt audience in the Time Warner Cable Arena.
"With a record like that and a vision that powerful and hopeful, I will not stand by and let him be bullied out of office – and neither should you.''
Patrick took sharp aim at newly coined Republican presidential nominee Mitt Romney with the unique perspective of being his successor as governor of Massachusetts.
"Mitt Romney talks a lot about all the things he's fixed. I can tell you that Massachusetts was not one of them,'' he said to laughter. "He's a fine fellow and a great salesman, but as governor he was more interested in having the job than doing it.''
Romney campaign spokeswoman Andrea Saul shot back: "As governor, Mitt Romney presided over a historic turnaround of Massachusetts. Under Governor Romney's leadership, Massachusetts' unemployment rate fell to 4.7 percent, the economy created tens of thousands of new jobs, and the state's rainy day fund grew to over $2 billion. If President Obama had half of Mitt Romney's record, he'd be running on it.''
But beyond being an ode to Obama or a critique of Romney, Patrick used his convention address to outline the governing philosophy he believes secured his reelection and can do the same for Obama.
"We believe that government has a role to play, not in solving every problem in everybody's life, but in helping people help themselves to the American Dream,'' said Patrick, an unapologetic liberal.
"That's what Democrats believe. That's what Americans believe,'' he added. "And if we want to win elections in November and keep our country moving forward, if we want to earn the privilege to lead, it's time for Democrats to grow a backbone and stand up for what we believe.''
After ticking through a list of Obama's first-term achievements, Patrick used the latitude he gained as the president's personal friend to spend precious speech time telling his national audience a story he has repeatedly told in Massachusetts.
He spoke of the turnaround of the Orchard Gardens Elementary School in Boston, which Patrick attributes, in part, to Obama administration support for higher teaching standards and a more vibrant learning environment.
"Today's Republicans and their nominee for president tell us that those first-graders are on their own,'' the governor said. "But those Orchard Gardens kids should not be left on their own. Those children are America's children, too, yours and mine. And among them are the future scientists, entrepreneurs, teachers, artists, engineers, laborers, and civic leaders we desperately need.''
Earlier this year, Patrick brought some of those students to the White House. There, standing in the Diplomatic Reception Room, those students recited Dr. Martin Luther King Jr.'s "I Have A Dream'' speech.
As Patrick mentioned in the crescendo of his convention speech, those children can not only deliver the speech's lines but also discuss their meaning, thanks to the education they now receive.
"For this country to rise, they must rise – and they and their cause must have a champion in the White House,'' Patrick said in a yell. "That champion is Barack Obama. That cause is the American Dream.''
As he walked off stage, sweat glistening on his face, the crowd was standing and cheering.
Patrick had not only returned the favor by defending Obama, but released his own passion by outlining what he believes in his heart.