NoPrimaryTagMatch
Elizabeth Warren summons memory of Edward Kennedy as she rallies Democrats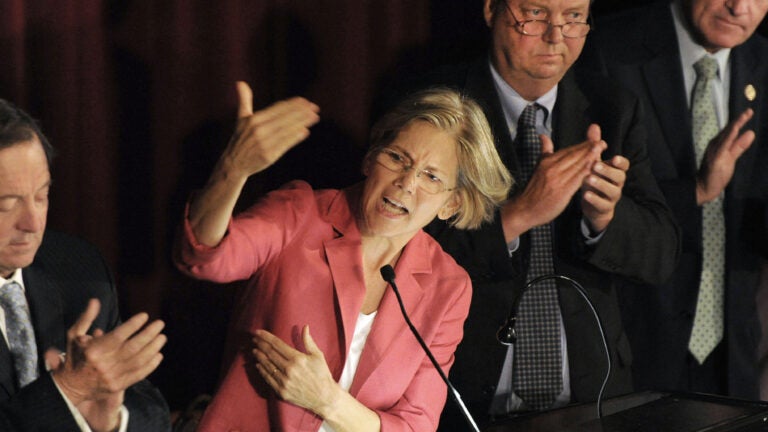 CHARLOTTE, N.C. – Elizabeth Warren today summoned the memory of the late Senator Edward M. Kennedy, at the first Democratic National Convention since his death, as she tried to rally Democrats not just to her election campaign but the reelection of President Obama.
The Harvard Law School professor, on the eve of her own convention speech, told members of the Massachusetts delegation that Kennedy inspired her with an ultimately unsuccessful 10-year fight against changes in US bankruptcy law that she, too, opposed.
"Ted Kennedy changed my life. He changed how I understood what a public servant does,'' Warren told the delegates at their daily breakfast meeting. "And I think of him in this race every single day, and I come to this convention, and I think of him every single hour. And what I think about is that it is my job and it is our job to live up to what it is Senator Kennedy asked of himself, and that is, we do our work for hard-working families who are counting on us.''
While repeatedly citing Kennedy, Warren made no direct reference to the man who replaced him in 2010 and who she hopes to succeed, Senator Scott Brown.
Instead, Warren criticized the Republican Party to which Brown belongs.
"The Republicans have now given us a very clear vision of where they want to go: They want to cut taxes for the richest and the biggest corporations. They want to increase taxes for the middle class. And they want to stop making the investments in education and roads and bridges, in all the things that build a future,'' she said.
"We believe that everyone should pay a fair share, including the richest and wealthiest. We believe that the middle class should not be hammered harder with more tax increases to pay for more cuts for the wealthy. And we believe in investing in our future: in education, in roads and bridges, in building something for ourselves, for our children, and for our grandchildren,'' Warren said.
She said the outcome of the election "will affect the direction of this country for the next half-century.''
Warren's focus on the bankruptcy law changes recalled a 2002 article she wrote in which she criticized then-Senator Joe Biden for supporting them.
Biden's support for the changes, which made it harder to declare bankruptcy when eventually enacted in 2005, was rooted in the heavy presence of credit card companies in the future vice president's homestate of Delaware.
"The group that will be most affected by the changes in the bankruptcy legislation Senator Biden so forcefully supports will be women, particularly women heads of household who are supporting children,'' Warren wrote in a spring 2002 article for the Harvard Women's Law Journal.
"Indeed, women are not the largest demographic group in bankruptcy, outnumbering men by about 150,000 per year,'' Warren added, presaging the focus on women's issues that are a part of her campaign today.
Earlier today, the Massachusetts delegates heard from Governor Deval Patrick, who will make a 10-minute speech to the convention tonight immediately before prime-time network coverage begins and first lady Michelle Obama speaks.
The successor to Mitt Romney, now the Republican presidential nominee, joked to the delegates that they are in demand "because everyone wants to know who the real Mitt Romney is.''
Patrick offered his take, saying: "You can't really say he's a moderate, and you can't really say he's a conservative. I describe him as an opportunist, because he will say whatever he has to say to appeal to whatever audience he's in front of. I don't think we need a president who is about saying or doing whatever is necessary to win an election. I think we need a president willing to say or do whatever is necessary to heal this country, to build this country, and that's what we have in Barack Obama.''
Patrick also answered a question that has dogged the Obama campaign, especially as the convention convened: Is the country better off than it was before the president took office?
"Are we better off than we were four years ago? Are we better off?,'' the governor said. "Ask any one of the four-and-a-half-million people who have gotten a job in the private sector in the last 2 1/2 years whether they're better off. Ask any senior who's able to pay their medical bills, their prescription drug bills, any young person who's able to be insured on his or her parents' insurance policy.''
Patrick also said the "really sick,'' armed forces members who served in Iraq, and auto industry employees were doing better because of Obama's presidency.
"There's an answer,'' Patrick said. "We don't brag because we're not done.''
The governor cited his own emphasis on grassroots organizing and what he said was a long-term governing vision as the keys to both his and Obama's political success – even as they are the first blacks to hold their respective offices.
"That is how an improbable candidate ran an improbable race for governor of Massachusetts, and with your help, is lifting up today – all of us together – a better and stronger Massachusetts than we found,'' he said. "That is how an improbable candidate ran an improbable candidacy for president of the United States, and against odds – some of them unspoken, some of them unspoken – rode to victory and lifted us all up, not just in the stature of the world but in our own hearts and in our own minds. And I, for one, with a record like that and a vision like that, am unwilling to let him be bullied out of office, and neither should you.''