NoPrimaryTagMatch
Six-legged robot project stomps toward fruition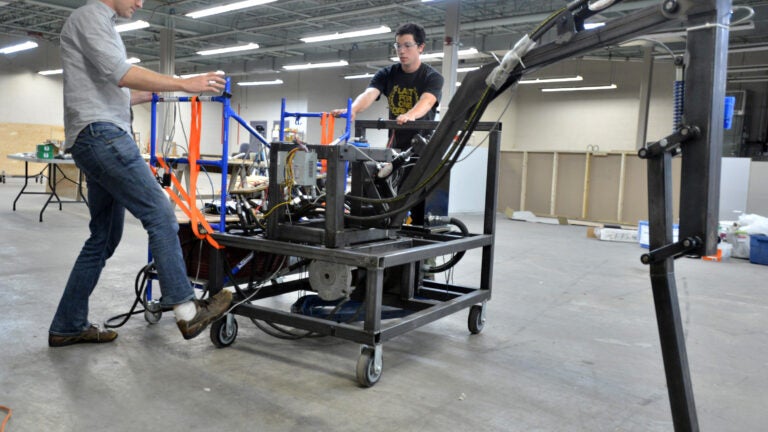 SOMERVILLE — Signaling the team of builders at his side, Gui Cavalcanti gripped the handle of a comically large electric drill and pressed the tool into an intricate hunk of welded steel.
"OK, safety glasses, everybody,'' said Cavalcanti, 26, a 2009 graduate of Olin College, the decade-old mecca of engineering in Needham.
In stained jeans, a black T-shirt, and worn sneakers, he does not look like a Dr. Frankenstein, and the metal pieces at the business end of the spinning drill don't look like much, either.
But the precision-cut and hand-welded metal plates, about the size and weight of an adult golden retriever, are the product of five months' planning and work, a full-scale test of one leg of a towering 4,000-pound, six-legged rideable robot.
Affectionately called Stompy, with two jump-seats, a safety cage, and six massive legs all powered by a repurposed forklift engine, the project is odd, even in the quirky world of high-level robotics. Unlike most of the machines churned from the more than 80 robotics companies in Greater Boston, this creature has no purpose other than awe — it's an outsize toy built just because.
"We've been trying to plan out how to build a robot this large for a long time,'' said Cavalcanti, who started the Asylum as a place to hang out and make things after work with his engineering buddies.
The hexapod project is a culminating moment for the Artisan's Asylum, the organization Cavalcanti spent two years building and that is now home to about 300 craftsmen, scientists, builders, engineers, and artists.
Housed in a 40,000-square-foot industrial space near Somerville's Union Square, "the asylum,'' as its congregants call it, resembles a 21st-century Santa's workshop.
"I wanted it to be a place where I would build robots,'' Cavalcanti said. "Honestly, I always thought it would be a hobby. . . . It was this thing to do after work.''
Stompy's three lead designers have made the project their full-time obsession; two left well-paying posts at respected robotics firms. Since April, a class of 15 students paid $750 each to take part in the project.
"That's something that you just have to pull the trigger on,'' said team member Joel Greenwood, 36, of the high cost. "It's just too cool.''
A neuroscientist who works at Harvard building experimental lab equipment, Greenwood said he enjoys the thrill of having only enough money to build the machine once, with little margin for failure — different from his day job, where a device may be redesigned several times.
"What I like about Stompy is that it's not supposed to be commercially successful,'' said Helen Grenier, cofounder of iRobot, the Bedford-based manufacturer of the popular Roomba robotic vacuum, among other products. "It's supposed to be fun.''
Grenier was one of more than 1,500 donors who have pledged money to the project on the crowd-funding website Kickstarter. In addition to more than $97,000 donated, Stompy has drawn accolades from a slew of technology websites and private companies eager to sponsor the project.
The cash raised — $32,000 above the minimum they need to build the bot — will be enough to add
many extra sensors, boost the creature's power, and give Stompy the beginnings of autonomous abilities.
Starting in April, Cavalcanti and his two fellow designers, Dan Cody and James Whong, both 25 and Olin classmates, assembled a class of 15 volunteers who in their spare time have done what usually requires millions of dollars and military-level backing.
The three lead designers have structured the project into a series of classes to teach the team members some of the practical skills they would need. To the amazement of many in the Boston robotics world, the team, now in full construction mode, seems poised to pull it off.
"There are lots of hobbyists who build small, legged creatures, but they tend to be shoe-box size,'' said Dr. Martin Buehler, vice president of logistics solutions at Vecna Technologies.
Buehler, who met Cavalcanti when the Olin student interned for Boston Dynamics, is a veteran of the Massachusetts Institute of Technology's Leg Lab, and spent 12 years as a professor at McGill University. He said Cavalcanti will be attempting to do in a few months with a team of amateurs what took professionals years.
"I don't know of any other projects of that scale anywhere to build a large robot like that, nor one that is not funded by some agency,'' Buehler said in a phone interview.
And that's not to mention Stompy's comparatively puny funding of about $97,000.
"That's almost negligible,'' he said — about enough in the private sector to fund a research paper.
"It doesn't even show up on the radar screen. If this would be funded by a regularly funded government project, it would require several million dollars to pull off.''
Members of Team Stompy hail from various corners of the engineering world, but few have direct experience building robots, save for the three lead designers.
Using three-dimensional design software, the team has made a digital model of its creature, which it subjected to a punishing battery of stress tests to evaluate its strength and safety.
After structural discrepancies were ironed out, the team decided how to power Stompy. A few back-of-the-envelope calculations proved electrical power would be unworkable.
"It would take about 1,200 amps at 96 volts just to stay still,'' Cavalcanti said, about the equivalent of "five [Toyota] Priuses accelerating as quickly as possible.''
Instead, the team chose a repurposed forklift engine to power a hydraulic design using pistons and pressurized fluids to actuate the joints and give the robot its locomotion.
Last Tuesday in the expansive workshop's common area, three leg segments awaited their final assembly, parts of a full-size model on which the team plans to perform grueling safety tests.
Fabrication and assembly are slated to take months. Systems integration is expected to be the most painstaking, Cavalcanti said. The trick there is getting the hulking parts to articulate and move safely, in unison, controlled by a single computer.
"I know how crazy hydraulics can be,'' said Greenwood. "It's like putting six backhoes on a car and walking around.''