NoPrimaryTagMatch
Yakitori Zai brings Japanese grilled chicken to Boston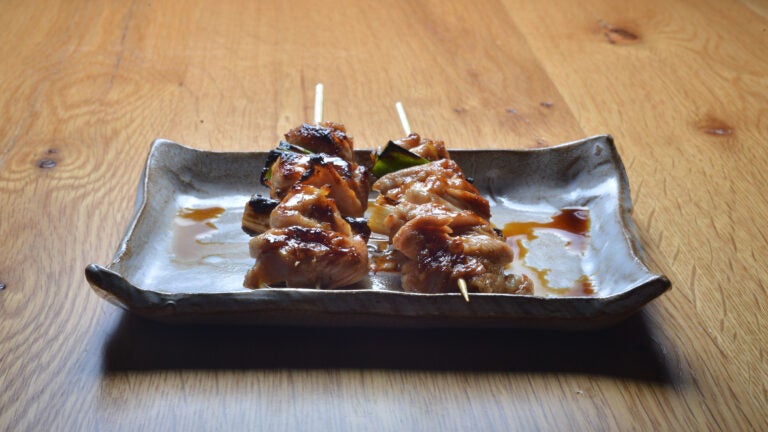 On a cool summer evening, we enter the new South End restaurant Yakitori Zai, in the space once occupied by Joe V's. The room smells tantalizingly of chicken cooking on charcoal. "Irasshaimase,'' calls out a chef behind what appears, at quick glance, to be a sushi bar. It is the traditional greeting given by shopkeepers and restaurant staff all over Japan, hundreds and thousands of times a day. The chef turns back to her work and we see it's not a sushi bar at all — the smell of cooking wafts from the grill before her, where special, dense Japanese charcoal called binchotan smolders, nearly smokeless.
Yakitori Zai has none of the trappings establishments in this country use to make guests feel they are at a Japanese restaurant — no geisha prints or New Age shakuhachi recordings, no spicy tuna rolls or teriyaki. Jazz plays, and people are speaking Japanese, young guys with spiky bleached hair and their fashionable girlfriends. The room is warmly lit, amber-colored, with exposed-bulb pendants above the tables. Over the bar are wooden slats painted with black characters, spelling out some of the dishes on offer. Yakitori Zai resembles a restaurant one might actually find in Japan. On a recent night, as we take our seats, a man in yukata, a kimono-esque robe, comes running full tilt down Union Park, apparently late for work. Owner Kazu Aotani (who also operates Snappy Sushi in Boston and Somerville) walks some guests outside, where they stand simultaneously shaking hands and bowing to one another. We feel momentarily transported.
This would have happened anyway once we tasted the food. Yakitori — skewers of grilled chicken — is as much part of Japanese cuisine as sushi is, but harder to come by in these parts. One bite of momo negima, pieces of thigh meat alternating with the scallion-like vegetable negi, and we are hooked. It tastes right, from the soy-based sauce to the clean, grilled flavor and moist meat, courtesy of the charcoal imported from Japan.
Breast meat gets the skewer treatment, too, enhanced with bracing smears of yuzu kosho, a fragrant Japanese paste of citrus, chilies, and salt. Chicken tenders, or sasami, are cut into cylinders, wrapped in shiso leaves and dotted with tart, salty plum sauce. The flavors are clean, herbal, and invigorating. Tsukune are tender chicken meatballs, served with a barely cooked egg for dipping.
But these more-familiar cuts and preparations are only the beginning. Yakitori is nose-to-tail eating at its casual best, the tail part quite literal — "bonjiri,'' or tails, are available by the skewer, as are wing tips, livers, breast cartilage, neck skin, oysters (morsels found on the back of the chicken), and more. Each bit offers its own pleasures in terms of texture and flavor — cartilage tender-crunchy for gnawing, oysters succulent, liver gamy and rich.
Yakitori Zai grills much beyond chicken, as well. Whole fava pods arrive beautifully charred, to be pulled open, the plump beans plucked out with chopsticks. Rounds of slender Japanese eggplant are brushed with just the right amount of a sweet and salty miso-based sauce. Soy-brushed shishito peppers are adorned with smoky, fishy bonito flakes.
Beef, duck, and lamb are available, and seafood is particularly fine — from sweet whole soft-shell shrimp sprinkled with sea salt to tender, butter-infused Hokkaido scallops with radish sprouts to a whole squid from Japan, meatier than local calamari, served sliced with spiced mayonnaise.
The rest of the menu is prepared off the charcoal and in the kitchen, from traditional small plates to one or two rolls designed for those who would come here seeking sushi (such as the soboro maki, with ground chicken, shiitake mushrooms, cucumber, and more, pleasant but bland). Renkon manju features lotus root with shrimp, lily bulbs, and ginkgo nuts in broth, a tangle of textures and flavors that tastes like a dish one might stumble across in the winding back streets of Kyoto, in a restaurant owned by the same family for generations. Agedashi tofu, deep-fried bean curd in dashi broth, is a common and delicious Japanese dish, the fried exterior of the tofu serving to emphasize its interior creaminess. But one never sees agedashi mochi, a similar dish that instead offers chewy, deep-fried rice cakes with grated daikon, scallions, and seaweed in dashi. There is sasami tartare, raw chicken with avocado and quail egg. A small bowl of ramen features very good noodles in chicken broth, quietly satisfying. On the other hand, sanshoku don — chicken and scrambled eggs over rice — is dull. If you want rice, yaki onigiri are the way to go. These are rice balls brushed in soy sauce, then grilled, smoky and slightly sticky.
There are more-modern inventions, too, such as a salad of jako, the teeny-tiny fried sardines that resemble worms more than fish, combined with heirloom tomatoes, a contrast of deep and bright flavors. There is but one dessert, annin tofu. Don't be fooled by the name. This isn't tofu but a panna cotta-like custard, made with agar agar rather than gelatin. Wobbly, rich with cream, lightly almond flavored, it is a perfect, cooling end to the meal. Wine is available, and a sake list offers a good mix of styles and flavors, but yakitori may go best with beer.
The Zai team — Aotani and general manager Yuka Cumings — wanted to bring real yakitori to the Boston area, Cumings says. So they went to Japan to find their chef. There they met Sho Inoue, working at a yakitori restaurant in the Osaka area. In Japan, chefs serve as apprentices for many years (as shown in the recent documentary "Jiro Dreams of Sushi''). In his mid-20s, Inoue already has nearly a decade of experience working behind the charcoal.
He faces a few obstacles in Boston. Yakitori Zai's prices reflect the high-quality ingredients used, and the cost of a meal here can easily rise, with the average small skewer $5 or $6. When area diners think of going out for Japanese food, their minds usually turn to sushi. Yakitori has more of a presence in cities with bigger Japanese populations, and it often has food-nerd cachet, with a purist approach and emphasis on the off bits of the bird. Yakitori Zai is without pretension. It panders neither to "foodies'' nor those in search of teriyaki and spicy tuna rolls. It's that rare thing in Boston — a restaurant one might actually find in Japan.