NoPrimaryTagMatch
Maynard group wants to bring cooperative grocery store to town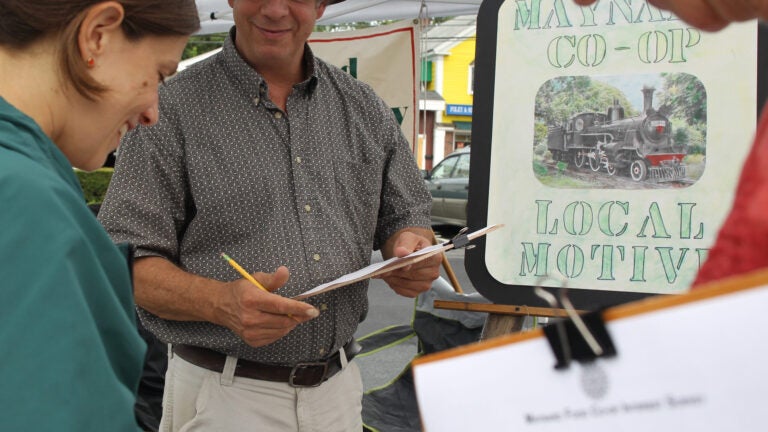 If you live in Maynard and your refrigerator is empty, you have to drive to an out-of-town supermarket or shop for groceries at a local pharmacy.
But a group of local residents is trying to change that, working to bring a cooperative, member-owned grocery store to the center of town.
The Maynard Food Cooperative, which has already joined the regional chamber of commerce, attracted more than 100 people to its first meeting in May.
Since then, a nine-member steering committee has been trying to gauge community interest and exploring the next steps to making a grocery store in downtown Maynard a reality.
"We love this town. We really want to see this downtown as vital as it once was,'' said Sally Bubier, a member of the steering committee and a former Maynard selectwoman. "In the old days, people would come from all the neighboring towns.''
Bubier noted that, years ago, Maynard had a cooperative grocery store that catered to the area's Finnish population.
"In a sense, it's getting back to basics, to what's really important to us,'' said Eric Zeller, another member of the steering committee. "Do we value cooperation and local production, or not? It feeds much more than just the physical appetite. It creates a social network that feeds the community's soul.''
Even though no major grocery chain has targeted Maynard — with a population of around 10,000 — as a good place to make a profit, Zeller predicted that a locally owned market could thrive there.
"I think people will want to support this idea and come and shop here, as opposed to the major chains where they have less choice and less of a voice in where things are sourced from,'' Zeller said. "They may run to Stop & Shop for something quick, but if they're committed to the idea of a cooperative, then they'll support it, because they see the value it has for the community.''
Cooperative grocery stores are collectively owned and governed by their members. Such stores typically stock more natural foods than their corporate-owned counterparts, although each co-op's members decide what that store will carry.
"Like any democracy, there's going to be different perspectives and different desires,'' said Erbin Crowell, executive director of the Neighboring Food Co-op Association, a network of around 30 markets in New England. Maynard's co-op has already joined the association.
"We've got a number of co-ops that have really stuck to vegetarian,'' Crowell said. "Some don't stock anything but organic produce. Others are really committed to serving everyone. That's the beauty of it, that it can be responsive to the needs of the community.''
Bonnie Hudspeth, membership and outreach coordinator for the co-op association, said she believes that a Maynard co-op would be the first such market in the Boston suburbs, although there are start-ups in the works in Dorchester, Lawrence, and other communities throughout New England.
"In the last five years especially, there's been an explosion of communities starting their own cooperatives to meets their needs,'' Hudspeth said.
Tiana Chase, co-owner of Legends Comix and Games on Main Street in downtown Maynard, said a nearby market would be a boon to her, both personally and as a business owner.
Chase, who works evenings, said it would be helpful not to have to drive out of town to get food after work, and parents who frequent the local store might drop their youngsters off at her shop.
"We prefer to be paying into a local business and help them out because so many of the businesses in town have helped us out,'' Chase said.
That's exactly the sentiment the co-op organizers are banking on.
"I think there are a lot of people who would be interested in buying local produce, or local eggs,'' said Siobain Mitchell, a member of the co-op steering committee.
While she thinks there are a lot of people in Maynard who would welcome a downtown grocery, Mitchell said, her group will conduct a feasibility study to determine whether the co-op would be economically viable, knowing that the study might conclude otherwise.
"I would be sad, but that would be that,'' Mitchell said. "I don't think that's going to happen. I think there's a real opportunity here. I think we can thrive.''