NoPrimaryTagMatch
Authorities seek leads in 20-year-old unsolved slaying of Susan Taraskiewicz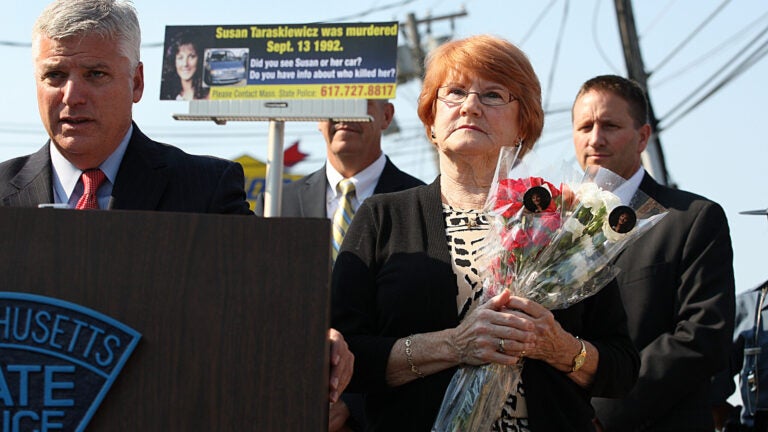 REVERE — Twenty-years after her daughter, Susan, was slain, Marlene Taraskiewicz can still remember small details — like the Halloween costumes Susan used to make for the neighborhood kids.
[fragment number=0]"She was very smart, she was talented. She was a giving person who wanted to help everyone; she was really a good girl,'' the 70-year-old Peabody mother said today, clutching two bouquets of red and white carnations she brought to lay at the site where her daughter was found. "I know Susan's murder is going to be solved. I have a lot of faith.''
Suffolk District Attorney Daniel F. Conley and top officials of the State Police and Revere police joined Marlene Taraskiewicz at a news conference this morning in Revere to remember a life that was taken too soon, to remind the killer or killers that police are still investigating, and to seek the public's help in solving the mystery.
"Investigators believe, and I believe, that our best shot at solving Susan's murder will be someone with direct knowledge of the person or persons who committed it,'' Conley told reporters Wednesday.
On Sept. 13, 1992, Susan Taraskiewicz, a 27-year-old Saugus resident, left her job at Logan International Airport, where she was a baggage supervisor for Northwest Airlines, with a list of sandwiches. She was making the nightly run for her co-workers to the local sub shop.
Thirty-six hours later her body, stabbed and badly beaten, was discovered, stuffed in the trunk of her Toyota Tercel outside an auto body shop at 281 Lee Burbank Highway, site of today's news conference.
Officials are hoping that three digital billboards, donated by Clear Channel, in Medford and Stoneham, will inspire someone to step forward and provide the tip that will crack the case.
"Since that day, investigators have pursued countless leads in an effort to find the truth,'' Conley told reporters as trucks sped past the nondescript auto shop. "They've explored many different theories and considered many potential suspects. They haven't stopped yet and they won't stop while the case remains open, for one simple reason: Each of us here believes this case can be solved.''
After the newsconference Conley acknowledged that while his office and police are actively pursuing leads, no new suspects have been named nor do they have new evidence to share with the public.
"All I can say is for the past 20 years we've gotten little bits of information and explored many theories,'' said Conley. "We are getting information, but it hasn't risen to the point where we can charge someone.''
The Globe has reported that Taraskiewicz's murder came after a number of Northwest baggage handlers testified before a federal grand jury investigation surrounding a credit card theft ring that stretched across the nation.
Court documents uncovered by the Globe alleged that some of her co-workers, who might have been involved with the ring, viewed her as a "snitch.'' Taraskiewicz, who was the first female to hold her position, also suffered harassment at work.
"The detectives over the years have looked at whether or not that was connected in some way to Susan's murder,'' Conley told reporters. "But the evidence has not risen at this point to where we can say with the kind of confidence that we need that we have identified a suspect or suspects, and that's why we are calling once again for more information.''
Investigators and the Taraskiewicz family hope that enough time has passed that someone will come forward and put an end to decades of grief and sleepless nights.
"I know there are people out there that have information pertaining to Susan's murder. You know who you are and it doesn't matter where you are, please come forward, tell us what you have. … Bring peace to my family and bring justice for Susan. She did not deserve to be murdered the way she was,'' Taraskiewicz told reporters. "I know I will never give up, I will never go away until I get peace and justice for Susan.''