NoPrimaryTagMatch
Pats' home game will be test of parking-for-pay ban in Foxborough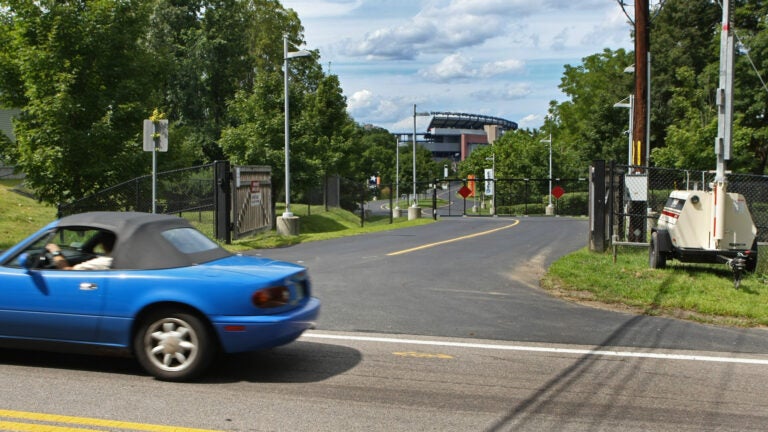 The real test of a new Foxborough bylaw that bans parking cars in residential areas for pay will come at the New England Patriots' season home opener this Sunday, when thousands of people converge for the game against the Arizona Cardinals and police patrol against scofflaws.
Passed by Town Meeting in May and certified in August by the state attorney general's office, the ordinance forces property owners near Gillette Stadium who allowed ticketholders to park on their lawns and driveways for a fee to stop immediately, or face a $100 per car fine. 
But some neighborhood residents say they fear enforcement of the ban could be capricious and a violation of basic rights. They plan to seek an opinion from the American Civil Liberties Union of Massachusetts — and potentially the courts — after the town rejected a request last week to write a policy to clarify what police can, and can't do, as they patrol.
A spokesman for the ACLU declined comment on Tuesday.
Nancy Campany, a lawyer who lives on Messenger Avenue, said many residents have carloads of family and friends over for a variety of reasons on event days at the stadium and no one should be unfairly subjected to police scrutiny for just living their lives.
Campany was the chairwoman of a town committee formed recently to look at enforcement ideas that ranged from issuing placards for legitimately parked vehicles to requiring residents to register their guests with police on game and concert days.
During a meeting last week with selectmen, Campany referred to an Aug. 8 approval letter from Assistant Attorney General Margaret Hurley stating the town planned to adopt policies so that the bylaw "is applied only to parking 'for a fee' and not to other non-commercial parking of vehicles.''
Yet, during the meeting, Foxborough officials said they never planned to adopt policies.
The bylaw allows police to issue fines for vehicles that are parked in a way that creates a risk or congests traffic, or are a general nuisance to the neighborhood. But North Street resident David Elias said at the meeting the town needs to define what constitutes a nuisance.
"You have created a legal standard that is likely to become problematic,'' Elias told selectmen. "Public nuisance is open to interpretation. I have a feeling that it will come up in a little lawsuit over in Wrentham court.''
Campany urged the town to draw up a policy for enforcement because, she said, without clear dos and don'ts Foxborough is no better off with the new law than it was without it. "This is something that could be done, and would be a good thing for selectmen to do,'' she said.
But town attorney Richard Gelerman told selectmen no action is needed. "You have outlawed parking vehicles for a fee. There is no need for further regulation, unless you want to,'' he said.
The parking ban is applicable to events where 15,000 or more tickets are available for sale. The measure is enforceable by police, who will issue civil citations for infractions, and then criminal summons if those who are ticketed don't pay.
Foxborough officials had looked the other way for years, allowing residents to park as many as 10 cars on their lawns during games and concerts at Gillette without having to purchase a commercial license. The homeowners typically charged a fraction of the $40 to $50 per car fee at stadium lots.
For many, in a down economy, the cash helped keep families afloat. But Police Chief Edward O'Leary made a move to have the practice banned last year after some residents crammed as many as 50 or 60 cars onto their property at a time.
The result was clogged streets and potential safety risks, he said, including emergency vehicles unable to get by. Building Commissioner William Casbarra said as many as a dozen residents in the North Street area waved him toward their property in recent weeks, trying to entice him to park therewhile the ban was still not in effect.
Besides the danger of children running out into the street holding parking signs, officials have also noted drivers urinating on private property for lack of any toilet facilities, and driving recklessly to try to beat the rush out of town.
Selectman Mark Sullivan assured Campany that police and code enforcement officers will be able to discern who belongs on a certain street, and who doesn't. The resulting action will be clear, he said.
"If you are parking friends and family over, I think we understand that,'' Sullivan said at last week's meeting. "Just don't get caught taking money, ladies and gentlemen, or you'll get a fine.''