NoPrimaryTagMatch
'Liberal Arts,' a bittersweet film about college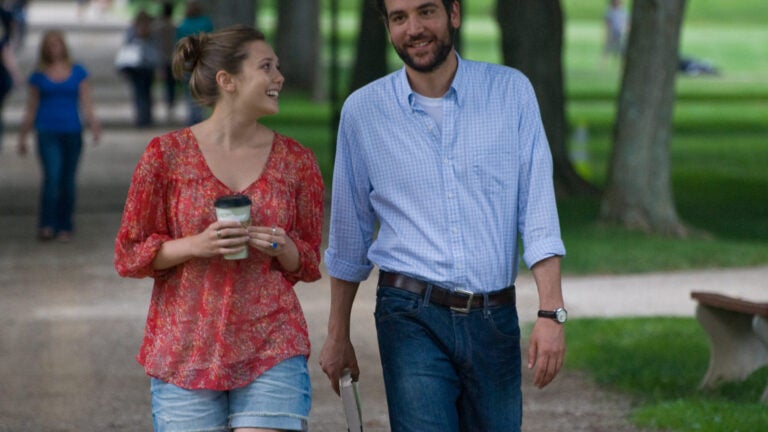 'Enjoy college!'' That's the awkward parting phrase that Jesse, a 35-year-old alum, tosses to Zibby, the attractive sophomore on the leafy Midwestern campus where Jesse was once an English literature student with big ideas and dreams.
Jesse, played by Josh Radnor, who also wrote and directed, was happiest when he was a student at the film's unnamed university (Radnor shot it at his alma mater, Kenyon College, in Gambier, Ohio). He leaves his lackluster life in New York to attend the retirement party for one of his favorite professors, Peter (played without a false note by Richard Jenkins). Out of place among kids half his age but wallowing in nostalgia, Jesse connects with Zibby (Elizabeth Olsen, intelligent and radiant), a sophomore theater major who's the daughter of Peter's friends.
Mature beyond her 19 years, Zibby invites Jesse to visit her again on campus. Just as Peter is out of place in retirement and longs to be a brash young teacher again, Jesse realizes that the 16 years between him and Zibby are more than numbers. (Jesse briefly tries to console himself with the arithmetic: When he's 87, she'll be a not-so-distant 71.) College is generally the province of the young and hopeful, not the stunted or disillusioned.
Radnor's script is more bittersweet than laugh-out-loud funny. There's a sharp middle scene with Allison Janney as Jesse's cynical former Romantics professor, who is unimpressed by his gushing over memories of her class. Janney, like Jenkins, nails her scenes so efficiently that it makes Radnor's character seem more a cipher. Olsen is eminently likable and lights up the screen, but she seems too smart and sophisticated for the naive, sexually inexperienced Zibby.
Radnor directed 2010's "Happythankyoumoreplease'' and his second effort is, refreshingly, smarter if more sentimental than the typical college comedy about frat house hijinks and hooking up. It's talky, but this suits the idea of college as the last bastion of animated and engaging conversation for its own sake.
If traditional higher education is under fire right now as a debt-inducing waste of time, "Liberal Arts'' is a paean to coffee-fueled discussions about Blake's poetry and the "whoa'' moment when Beethoven's music not only makes sense but makes the world seem beautiful.