NoPrimaryTagMatch
Outside the lines
At Boston's MICE comics convention, artists gather to share their indie comics, find new fans, and nurture newbies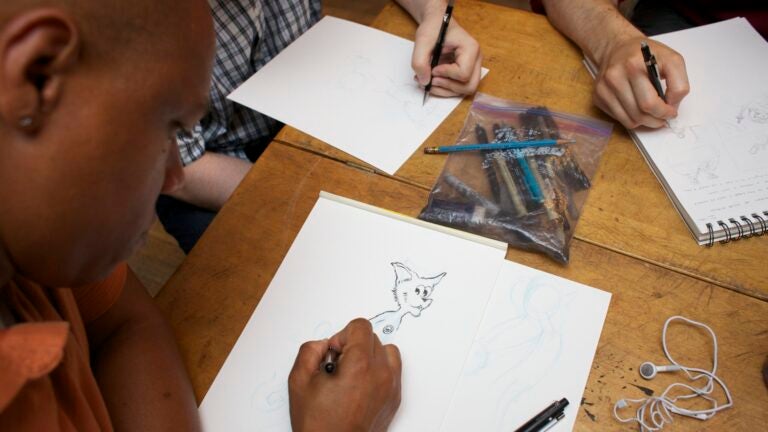 At most comic-book fan gatherings like the huge San Diego Comic-Con International,
you'll see members of the tribe dressed as their favorite characters — Iron Man, the Joker, Wonder Woman. You'll see blinged-out trade show booths. If artists are in attendance, they tend to be legends of the industry, worshiped at a distance.
While these "cons'' have long shed their humble origins to mine the more lucrative veins of pop culture, quietly, here in Boston, an alternative is flourishing. Independent artists are producing less epic stories in graphically innovative ways. About 100 of them will exhibit and sell their works at next Saturday's third annual Massachusetts Independent Comics Expo, or MICE, at Lesley University's University Hall.
Splashier events like Boston Comic Con offer a "broad stroke'' of the genre, said Dave Kender, cofounder of the Boston Comics Roundtable, a collective of comics artists and writers that teams with the Art Institute of Boston at Lesley to sponsor MICE. "But [they are] not creator-focused. There was a great talent pool of people creating comics but no venue to showcase them.''
MICE to the rescue.
The free event — Boston's sole expo dedicated to alternative comics, 'zines, and Web comics — taps into a more modest, personal, handcrafted comics movement.
"The expo is a chance to share with the public, to say, 'This is us, this is what we do,' '' said Dan Mazur, the Comics Roundtable's other cofounder. "Ninety percent of what's being sold at MICE are 'mini' comics,'' Mazur said. These are limited-run and self-published, often hand-stapled and hand-sewn by the artist. "Cheap and democratic.''
And what these artists "do'' is smallish, not superhero-scaled, and has found its own niche.
The so-called mainstream comics industry, dominated by Marvel, DC, Dark Horse, and major distributors, feeds into the current superhero movie craze. An alternative comics and graphic novel movement, which sprung from the DIY punk scene of the 1980s, has also become "mainstream,'' said Mazur. Cartoonists like Chris Ware, Alison Bechdel, and Dan Clowes are published in The New Yorker and celebrated in high-culture circles. The growing indie scene that MICE exemplifies represents a third way — one that harkens to the roots of this most populist art form and is more democratic than ever.
Shows at The Museum of Comic and Cartoon Art in New York and the Alternative Press Expo in San Francisco have become "pretty huge,'' Mazur said. Small presses are multiplying in cities everywhere. "You can't throw a rock without hitting an indie cartoonist in Brooklyn.''
Besides allowing fans to connect with artists, the gathering also gives artists a chance to network and talk shop with their peers.
"I really appreciate the social aspects,'' said Shelli Paroline, a Watertown-based artist who is one of MICE's best-known. Paroline met her husband, Braden Lamb,
at a Comics Roundtable event. Key organizers behind MICE, together they freelance for Kaboom! Studios, illustrating comic book tie-ins for the "Ice Age'' movies and Cartoon Network's "Adventure Time'' program.
The convention also draws novice and would-be artists seeking advice from veterans: How do you work? What kind of pen or brush do you use? Do you draw on digital tablets?
"At MICE, I'm hoping to meet other quirky artists and 'the public' who likes us, and I sure would love to sell a few prints and books,'' wrote Martha Hull in an e-mail. Hull, who has never before shown her work at an expo, will be traveling from Portland, Ore., to sell her first book, "Untimely Death Alphabet.'' "More than anything, I want to get my work seen by a bunch of new people who will hopefully like it.''
The expected 1,000 visitors to this year's festival can browse booths by exhibitors from across New England, New York City, and elsewhere; attend panels and workshops on issues relevant to the art ("Injury-avoiding Exercises for Artists''; "Character Drawing''); hear talks from noted indie creators such as this year's guest of honor, Robert Sikoryak, author of the graphic novel "Masterpiece Comics.'' There are also portfolio reviews, an art show, and "Iron Cartoonist,'' a live drawing competition.
In the MICE exhibit hall, booths marked with a "cheese'' emblem mean they are new exhibitors to MICE; balloons denote those vendors selling especially kid-friendly content. Not that many indie comics today shoot for the crude. The days of R. Crumb and his ilk's sexually explicit "underground comix'' movement are largely over.
"The Sixties were about throwing it back in everyone's face and spinning it around,'' said Kender. "But alternative comics have been around for almost three generations, so the topics and tone really run the gamut.'' Kender said you still get "funny talking-animal comics and sci-fi,'' but ever since "Maus'' and "Persepolis,'' you're more likely to see personal and domestic story lines closer to memoir, historical nonfiction, and literary fiction, ranging in tone from the dark to the goofy.
"It's reminiscent of the explosion in music, when everyone was afraid of it being a monoculture in the 1970s and 1980s,'' said Susan LeVan, an illustration professor at the Art Institute. "Instead there's more genres than you can think of.''
"Comics can be about anything,'' said Lamb.
To wit: Cathy Leamy, a comic artist who will lead a "Comics and Medicine'' panel discussion at MICE. Leamy, who works at Massachusetts General Hospital as a Web developer, has been experimenting with education and comics; one of her creations teaches patients about diabetes and erectile dysfunction. "Indie comics go back so far. It's so rich. I like the personal empowerment behind it,'' Leamy said.
Founded in 2006, the roundtable, which has about 150 members, assembles every Thursday evening at Harvard Square's Democracy Center. Artists and writers discuss group business, talk about issues, and share their work.
"I jokingly like to call it reverse AA meeting,'' Mario Bermejo, an Uruguayan artist better known by his pen name "Roho,'' wrote in an e-mail. "If you have a 'Comics Problem' we help you make it worse.'' At a recent meeting, Roho showed the group proofs of a new anthology called "Hellbound III: Darkness,'' the third in a series of collaborative horror comics the roundtable has published, which will debut at MICE. "Everything we do as a collective is a step forward into showing local artist and writers that all you need to make comics is to want to make comics.'' 
The atmosphere at the roundtable is collaborative, not competitive. There's not a lot of money at stake in the indie comic business, said Mazur. "We're not fighting over who gets a gallery show.''
In lieu of galleries, local comic book stores are key links to the indie comic scene. "Million Year Picnic is our best friend,'' said Lamb of the Harvard Square store. Others indie-friendly shops include Hub Comics in Union Square, Comicopia in Kenmore Square, and Comicazi in Davis Square.
You'd think that given the advent of the Internet, every indie comic artist would publish only on the Web. Rather, Mazur said, fans want to keep the "book'' in "comic book.'' "[You] walk away with the physical object in your hand, signed by the artist.''
"It's still mostly analog,'' said Lamb. Reading a comic, he said, "It's a direct personal experience. This came out of my head. Do you like it?''