NoPrimaryTagMatch
Former Boston University president John Silber dies at 86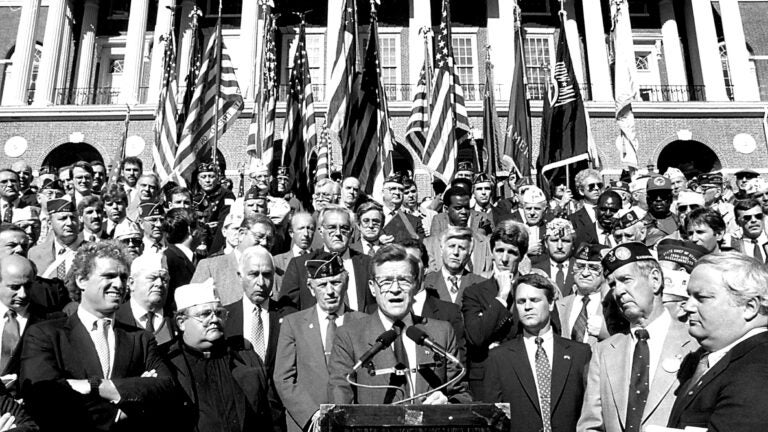 John R. Silber, whose tempestuous quarter-century as president of Boston University brought the school to new levels of academic excellence and financial stability while creating an atmosphere of conflict and controversy, and who in 1990 came within 77,000 votes of becoming governor of Massachusetts, died of kidney failure Thursday morning in his Brookline home. He was 86.
"Boston University has lost a great leader,'' Robert A. Brown, the university's president, said in a letter to the school announcing Dr. Silber's death.
"John — with the support of the people he gathered around him — is responsible for the transformation of a regional, primarily non-residential institution with minimal research and scholarship into the modern Boston University,'' Brown wrote.
Dr. Silber's impact extended far beyond the BU campus. Proudly elitist and forthright in his traditionalism, he gained a national reputation with his attacks on moral relativism, low academic standards, and "instant culture.''
"His passion for education spanned every corner of our state,'' Boston Mayor Thomas M. Menino said in a statement. "It wasn't just in speeches or policy – under his leadership Boston University provided the resources to our students in the form of scholarships and PILOT payments – he gave opportunity to thousands of Boston Public School students and that legacy continues today. The City of Boston could not have asked for a better friend.''
Also, as chairman of the state Board of Education from 1995 to 1999, Dr. Silber was a chief architect of the MCAS exams, which are taken annually by public school students throughout the Commonwealth.
Still, it was BU that most fully felt the force of Dr. Silber's personality and intellect. Few contemporary figures better illustrated Ralph Waldo Emerson's adage that every institution is the lengthened shadow of one man.
Dr. Silber was the university's president from 1971 to 1996 and chancellor from 1996 to 2003. In the latter capacity, he continued to play a major role at BU during the presidency of his successor and protege, Jon Westling. When Westling unexpectedly resigned in 2002, Dr. Silber ran the school for 16 months, until the naming of acting president Aram Chobanian.
It is a mark of Dr. Silber's centrality at BU that even after stepping down as president, he remained better paid than his successor. In the 1999-2000 academic year, he was the nation's highest paid academic leader with a salary of $815,222, almost twice as much as Westling.
The lavishness of Dr. Silber's compensation at BU was often noted by his critics. But it was his temperament that inspired the harshest criticism of him. To opponents, Dr. Silber was a tyrant and bully – "the meanest SOB on campus,'' Nora Ephron called him in a 1977 Esquire article — who fostered a cult of personality at the nation's fourth-largest private university.
Certainly, Dr. Silber preferred shaking up to soothing. He referred to the English department, a quarter of whose tenured faculty was female, as a "damn matriarchy.'' At his urging, the university successfully sued to have the faculty union overturned. He had honorary degrees awarded to such controversial figures as El Salvador's Jose Napoleon Duarte and Zulu chief Mangosuthu Buthelezi.
"During the Silber administration, we essentially had … the academic equivalent of road rage,'' James Iffland, a professor of Spanish at BU, said in a 2004 Globe interview. Dr. Silber's autocratic rule antagonized students and faculty. By large margins, the latter twice voted for his dismissal.
Dr. Silber professed puzzlement over his critics' complaints.
"Whether you believe it or not,'' he told Boston magazine in 1980, "I'm a model of civility.''
To Dr. Silber's admirers, he was a top-down, can-do administrator whose fierce dedication to the highest intellectual standards won him enemies, but also made him a hero to others as a champion of academic excellence and scourge of political correctness.
When he stepped down as president, in 1996, the Globe asked what he was proudest of accomplishing at BU. "My major contribution,'' he said, "has been to declare that there is one university in the country with no interest in intellectual fads, in following propaganda and ideology.''
Dr. Silber had a long list of accomplishments. When he arrived at BU, it teetered on the brink of insolvency. "Dr. Silber will pick us up and throw us,'' one member of the presidential search committee said at the time, "and I'm afraid we need to be picked up and thrown.''
He soon improved the school's finances, largely through his emphasis on raising its academic standing. During his presidency, BU's endowment went from $18.8 million to $430 million and its physical plant more than doubled.
To get such results, Dr. Silber did not always act in the most prudent fashion. Questions were raised about BU's acquisition of the Commonwealth Armory from the state at below market value. Dr. Silber sought to raise money for the school by taking out life insurance policies on students (nothing came of the idea). Most notoriously, he oversaw BU's investing more than $80 million in a biotech firm, Seragen, that was eventually sold for $30 million. Nonetheless, a 1985 survey of 485 college and university presidents ranked Dr. Silber as the nation's fifth most effective academic leader.
It was on his watch that BU began the Huntington Theatre Company; founded a secondary school, Boston University Academy; opened the Tsai Performance Center; and sponsored the celebrated intellectual quarterly Partisan Review. Although Dr. Silber's proposal that BU take over management of the Boston Public Schools was not acted on, the university did assume responsibility for the Chelsea public schools in 1989.
"John Silber is an education Superman,'' Lincoln Tamayo, a former Chelsea High School principal who also was an assistant to the president under Dr. Silber, said in a statement released by BU. "He passionately defended real opportunity for all schoolchildren, and the courage of his convictions, along with his considerable intellect and drive, directly led to the creation of one of the most unique and inspired ventures in the history of American education – the Boston University/Chelsea Partnership. Two generations of Chelsea's children benefited because one great man dared to insist on higher standards for them.''
Dr. Silber brought luster to the BU faculty with such high-profile hires as Nobel Prize winners Elie Wiesel, Derek Walcott, and Saul Bellow (a character in Bellow's novel "Ravelstein,'' Dr. Starling, is inspired by Dr. Silber); a future US poet laureate, Robert Pinsky; soprano Phyllis Curtin; and literary critics Christopher Ricks and Roger Shattuck.
Dr. Silber's talent to provoke proved a double-edged sword in the political arena. With the state reeling economically and memories of Governor Michael S. Dukakis's failed 1988 presidential campaign still fresh, voter resentment of the political establishment ran high in 1990. Dr. Silber — a political outsider with a sharp-tongued, no-prisoners approach — seemed the right man in the right state at the right time.
Initially, voters responded to Dr. Silber's candor and unconventionality. A series of undiplomatic statements on such sensitive topics as immigration and health care for the elderly became known as "Silber shockers.'' He won by 10 percentage points in an upset victory over Attorney General Francis X. Bellotti in the Democratic primary.
Going into the final week of the campaign, Dr. Silber held a 9 point lead over his Republican opponent, William F. Weld. Then came what is likely the most notable interview in Massachusetts political history. WCVB's Natalie Jacobson went to Dr. Silber's Brookline home to film an up-close-and-personal segment, having done a similar interview with Weld.
Jacobson, a uniquely popular and even beloved figure in local television, asked Dr. Silber to name his foremost strength and weakness. "You find a weakness,'' he snapped at her. "I don't have to go around telling you what's wrong with me. The media have manufactured about 16,000 nonexisting qualities that are offensive and attributed them all to me. Let them have their field day. You can pick any one of them.''
Viewers were shocked. The question had been innocuous, the response sulfurous. Dr. Silber's lead crumbled. He ended up losing to Weld by 4 percentage points, a 13 point swing in just a week. That Dr. Silber's defeat hinged on his personality was underscored by the fact that a controversial ballot question he opposed and Weld backed, which mandated a tax rollback, lost by 20 points.
"If I had been a more experienced candidate,'' Dr. Silber lamented in a 1999 Globe interview, "she would have been in my house for 15 minutes, not two hours.''
Dr. Silber's style of aggressive give-and-take had its origins in the classroom. He taught philosophy at the University of Texas from 1955 to 1971. Although his classes were consistently oversubscribed, he was known to reduce students to tears with his demanding classroom manner.
"Grate on their sensitivity?'' Dr. Silber said of students in a 1990 Globe interview. "I want to grate on their minds. I want to grate on their conscience. I want to make a difference in the way they perceive reality.''
Dr. Silber was an expert on the thought of the 18th century German thinker Immanuel Kant. But he modeled himself as teacher (and leader) on the ancient Greek philosopher Socrates, who employed probing interrogation to help a student arrive at wisdom. What some complained of as Dr. Silber's confrontational style, others saw as the pursuit of the Socratic method by other means.
"I am a philosopher, one whose trade is describing the impossible or proving the obvious,'' he wrote in his 1989 book, "Straight Shooting: What's Wrong with America and How to Fix It.''
William Bennett, a onetime student of Dr. Silber's who served as US secretary of education under Ronald Reagan, praised his mentor's pedagogic style in a 1986 Globe interview.
"It wasn't intimidating; it was quickening,'' Bennett said. "Silber is frank and manly and direct. There isn't enough of that these days. He believes human beings should be spoken to as if they were human beings, not as if they were flowers.''
John Robert Silber was born on Aug. 15, 1926, in San Antonio. His father, Paul G. Silber, was an architect who emigrated from Germany. His mother, Jewell (Joslin) Silber, was a schoolteacher.
Dr. Silber was born with a malformed right arm, which ended in a stump, just below the elbow, with a rudimentary thumb. Schoolmates dubbed him "One-Armed Pete.'' Many of his critics would later see his combative manner as a response to those childhood taunts. Dr. Silber, who had his shirts and suits tailored to expose the arm, dismissed all such speculation.
A gifted student, Dr. Silber spent a year at Trinity University, in San Antonio, then went to Northwestern University, in Evanston, Ill., to study music. He decided he was only "an amateur'' and returned to Trinity, where he graduated summa cum laude with a bachelor's degree in philosophy and fine arts in 1947.
At Trinity, he was on the debate team. One of his partners was Kathryn Underwood. She and Dr. Silber married in 1947.
Dr. Silber tried divinity school (two semesters at Yale University) and law school (a semester at the University of Texas) before settling on philosophy. He obtained his master's degree and doctorate from Yale.
In Texas, Dr. Silber was considered a liberal, because of his opposition to the death penalty and support for civil rights. He liked to recount how the John Birch Society would tape his lectures to send to the FBI as evidence he was a communist.
In 1967, Dr. Silber was named dean of the university's College of Arts and Sciences. He held the post for 2½ years, during which time he replaced 22 of 28 department chairmen.
Running afoul of the university's board of regents, he was fired as dean in 1970. His removal provided a valuable lesson, and during his tenure at BU he assiduously cultivated the school's trustees.
Dr. Silber was appointed in 1983 to the National Bipartisan Commission on Central America, popularly known as the Kissinger Commission, after its chairman, former secretary of state Henry Kissinger.
In the late 1980s, there was talk of presidential aspirations. That might sound farfetched until one considers that Dr. Silber can be seen as a blend of two candidates who met with considerable success in 1992: a hard-hitting political amateur from Texas (Ross Perot) and a fiscal conservative from Massachusetts (Paul Tsongas). He also entertained thoughts of a rematch with Weld, ultimately choosing not to return to politics.
Instead, he remained in academe, while continuing to proceed in his own singular fashion. "If you think that I have forfeited my right to be an objective reporter of events around me because I'm a college president, you've got me wrong,'' Dr. Silber said in a 1990 Globe interview. "Now most college presidents would go out of their way to avoid controversy. … I don't think that's the function of an educator. What you call provocative, I call educative.''
Dr. Silber leaves six daughters, Rachel Devlin and Martha Hathaway of Newton, Judith Ballan of New York City, Alexandra Silber Mock of Carlsbad, Calif., Ruth Belmonte of State College, Pa., and Caroline Lavender of Atlanta; a son, Charles Hiett of Hot Springs, Ark.; a brother, Paul of San Antonio; 26 grandchildren; and three great-grandchildren.
Dr. Silber's wife died in 2005. A son, David, died in 1994.