NoPrimaryTagMatch
James punches the clock in 'Here Comes the Boom'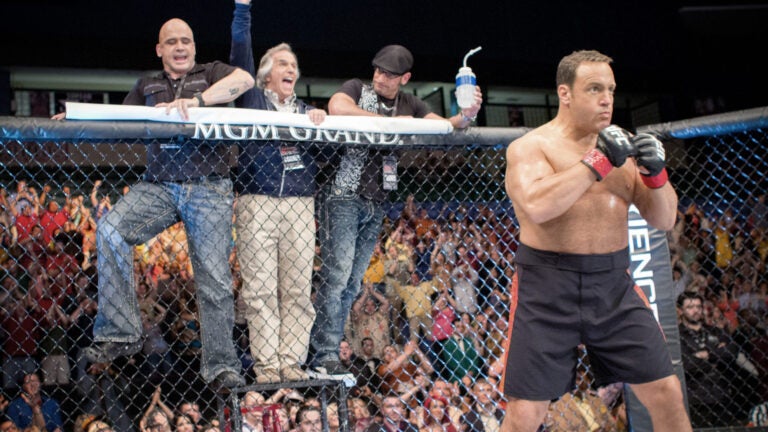 Kevin James's latest comedy doesn't promise any bing or bang, only boom. Take it at its word.
"Here Comes the Boom,'' while again rated PG and set in Boston, isn't "Zookeeper.'' It's got no talking animals. Its cages are for people. It's a lean (get a look at its newly slimmed star), mean (get a look at that star being pummeled), ultimate-fighting machine that delivers repeated blows — to the abdomen, to the head, and to the groin, but not often enough to the funny bone.
James, who dropped something like 70 pounds to play a burned-out high school biology teacher reborn with the help of mixed martial arts, will probably never be less than lovable. But he's not very likable for a good chunk of this new movie's first half. In fact, his character, Scott Voss, is basically a self-involved jerk, long removed from his Teacher of the Year days.
Scott needs a kick in the pants. Enter the Fonz, or at least Henry Winkler wearing pleated corduroys and Richard Gere's hair. Winkler's Marty Streb is a dedicated music teacher who will lose his job to budget cuts if someone can't raise $48,000 to keep his student orchestra going. (Don't get hung up on the mention that all other extracurricular activities are being axed as well. Their rescue is left to another movie.)
At first Scott's crusade to save the orchestra is more boastful than charitable. Maybe it will also help him win over the school nurse (Salma Hayek, whose salary is wasted here). But it's not long before he's emotionally invested and one of his night school students mentions that Ultimate Fighting Championship competitors can earn $10,000 just for losing a match. "Hey, I can lose matches,'' Scott thinks. Cue the training montages and brutal introductions to the sport — soundtrack courtesy of everyone from P.O.D. to Neil Diamond.
The movie then becomes a kind of "Rocky''/"Warrior'' meets "Mr. Holland's Opus,'' by way of "Glee.'' It even invites that shorthand by featuring the Filipino singer Charice, who actually appeared on "Glee,'' as a band Gleek whose Tiger Dad just doesn't understand the value of arts education. But its plot wouldn't fare any better in longhand.
"Rocky'' had Burgess Meredith as its corner man. "Here Comes the Boom'' has Winkler, whose Marty says inspirational things like "without music, life would be a mistake.'' It took James and two writer pals — Rock Reuben ("Zookeeper,'' TV's "The King of Queens'') and Allan Loeb ("The Dilemma'') — to come up with that head-scratching meditation.
The real head-scratcher, though, is why anyone thought "Boom'' should take itself so seriously. James isn't anything special when he plays it straight. And he's hard to accept as a championship-caliber fighter, even at fighting weight. The only time "Boom'' comes close to landing all its punches is when its star is allowed to slip fully back into his goofy, underachieving, pudgy, off-balance self. And whenever real-life mixed martial artist Bas Rutten is onscreen as Niko.
Rutten is a bald-headed ham in sweatpants. He's apparently gobbled up everything that James removed from his diet, because he's got all the energy in this film, and better comic timing than anyone. Acting as Scott's head trainer, Niko doesn't just pull focus from the star; he swings it around the room like a body part ripped from a socket. Mark DellaGrotte, owner of the Somerville-based Sityodtong gym chain, also lends beefy support as a member of Team Scott.
Director Frank Coraci helmed "Zookeeper,'' "The Waterboy,'' and "The Wedding Singer,'' a hit and miss track record if ever there was one. "Boom'' is a long way from "Wedding Singer.'' And James as a cage fighter is a long way from home. He needs to get back to Queens, even if it means leaving Boston, for good.