NoPrimaryTagMatch
Community colleges try new approach to remedial math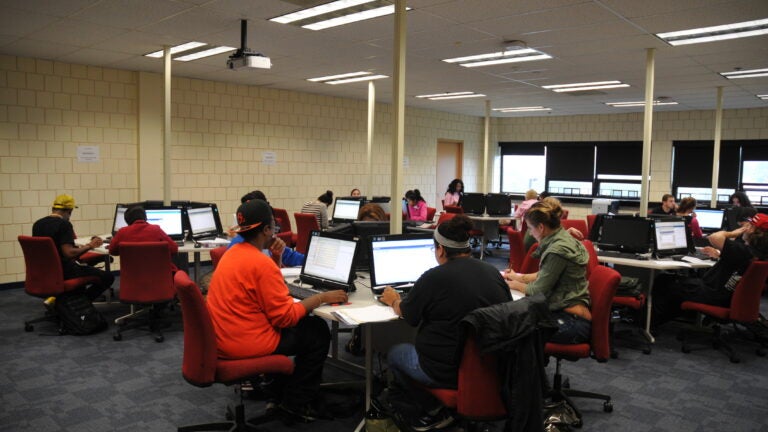 North Shore Community College is trying a new approach to meet the needs of incoming students who have struggled with math.
The college this semester introduced "math redesign,'' an instructional format in which students in remedial or developmental math courses work at their own pace using an interactive online program.
During class sessions, students sit at computers, receiving their math instruction on a special website. Teachers are present to answer questions. Students can also log on to the website outside of school.
The math redesign model, which is being used more and more around the country, is intended to help remedial students succeed by actively engaging them in the learning process and giving them the time they need to master the material. It also enables motivated students to complete their remedial classes in a relatively short period of time.
Walter Stone, chairman of North Shore's math department, said the model is a response to the large number of students entering community colleges with weak backgrounds in math and English.
About 57 percent of incoming students in Massachusetts two-year colleges test into developmental courses for math, and 33 percent for English, according to North Shore officials.
"In math, a lot of our students are coming in without having mastered the basic math skills needed to succeed in college,'' Stone said.
North Shore, which had used math redesign on a small pilot basis the past 2½ years, joins two other area community colleges that have adopted the model.
Middlesex Community College,
 the first community college in Massachusetts to use math redesign in a major way, began its program in January 2011. Northern Essex Community College has been offering its program since the fall of 2011.  
About 540 students are enrolled in the North Shore program on the college's Danvers and Lynn campuses. The program, which the college plans to eventually extend to all its developmental students, is being offered through part of a US Department of Labor grant North Shore received last year.
Until now, students needing remedial math at North Shore were placed into one of four classes based on their level of proficiency. For those starting at the most basic class, it could take as long as four semesters to finish their remedial work.
Under the redesign system, students progress through those courses in a series of online units. Students starting at the basic level can potentially finish their remedial work in as little as two semesters if they advance quickly.
"A major plus of the program is that the students are working individually on what they need, the gaps they need to fill,'' Stone said. "In the traditional classes, it isn't always obvious what the gaps are. Now the students have to confront their math weaknesses and work through them.''
Stone said by helping students move expeditiously through their remedial work, the program opens the way for them to move more quickly into college-level courses. For some, that could mean saving money because they need fewer remedial courses.
Anne O'Shea, a professor of math at North Shore who has been teaching in the redesign format since the college began using it on a pilot basis, sees real benefits.
"I love the fact that students can get feedback immediately,'' she said, "the fact that they can move at their own pace, and that they don't have to sit and listen to me lecture on something they already understand. . . . And the fact that they need to show mastery before they move on. From what I'm seeing it's really helping them build confidence.''
One of O'Shea's students, Jessica Dahlquist, also praises the math redesign approach.
A 32-year-old single mother of two from Chelsea, Dahlquist said she has "struggled with math my whole life,'' including when she tried three times without success to make it through a traditional developmental pre-algebra course while previously at Bunker Hill Community College.
But Dahlquist said the computer program used in math redesign identifies the areas where she is weak and then provides a "custom fix'' to help her master them.
"So I'm confident I can understand the concepts when I'm done,'' she said. "It's really enabled me to make progress.''
Middlesex Community College started with 427 students in its "RAMP Up'' math redesign program in the spring of 2011. That number has now risen to 2,001,  according to Joanna DelMonaco, professor of math at the college.
DelMonaco said the program is helping students to move more quickly into college-level courses.
"It's on-demand learning. When students don't know something, they ask questions and we help them,'' she said. "We know our students so much better personally than in a traditional classroom setting. . . . And students are doing things at their own pace. They are not bored in the back of the room.''
Northern Essex Community College is also pleased by the results of its redesign program, which now has about 200 students enrolled, according to Linda Murphy, the college's curriculum coordinator for developmental mathematics and a math professor.
"We are happy with the results showing that students are able to advance through the developmental math sequence more quickly,'' she said.