NoPrimaryTagMatch
Deval and Diane Patrick head to White House for social dinner with Obamas tonight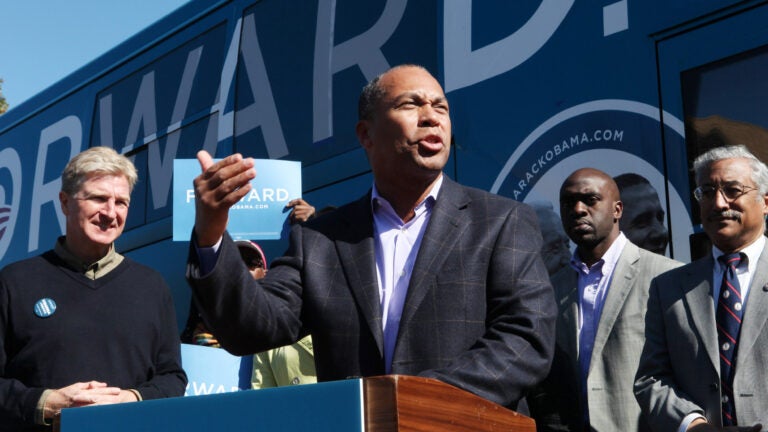 Governor Deval Patrick is heading to Washington today for what he billed as a "social dinner'' with President Obama.
Patrick and his wife, Diane, will be joining the president, first lady Michelle Obama, and a small group for dinner tonight at the White House.
"It's fun,'' the governor said during a brief interview in a State House elevator. "It's a social dinner. It's a small group, but I don't know all the people who are going to be there.''
He said the president invited him to the gathering on Thursday night, when the two spoke on the phone.
"We were told to come informal, and we were asked if steak was OK,'' Patrick said.
Asked if he was going to stay overnight at the White House, Patrick said, "Oh, gracious no.''
The Patricks were departing after the governor attended an official event in Quincy this afternoon. They will return to Massachusetts on Saturday. Earlier today, the governor convened a Cabinet meeting that lasted for over 90 minutes.
Patrick was a surrogate campaigner for the president in the reelection campaign he won this week.
The two Chicagoans and Harvard Law School graduates have shared political advisers, and the governor urged the president to take stock of his own successful 2010 reelection campaign as Obama embarked on his 2012 race.
Obama similarly emphasized an agenda that included investment, innovation, and infrastructure.
The Obamas and Patricks shared a similar dinner in August 2011, when the first family was vacationing on Martha's Vineyard. And the Patricks were invited to the White House for late-night dessert with the Obamas after the 2009 inauguration.
Patrick has been mentioned as a possible successor to Attorney General Eric Holder in a second Obama term, as well as a potential Supreme Court nominee.
The governor has repeatedly vowed to serve out his term, which ends in January 2015.