NoPrimaryTagMatch
Dwayne Moore receives four life sentences in prison without parole for Mattapan massacre killings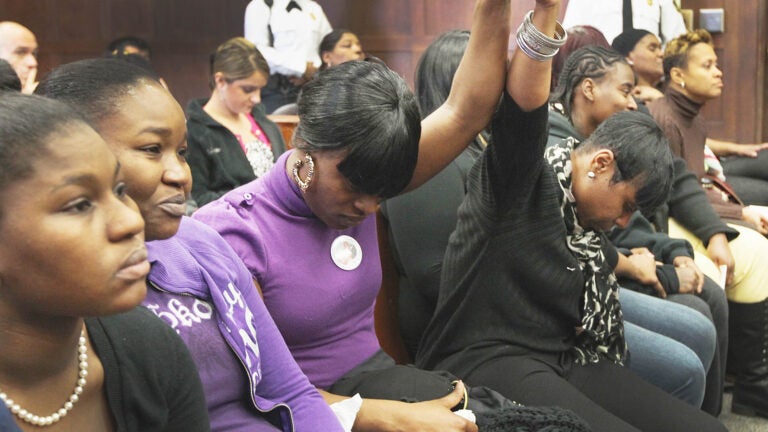 The man convicted of murdering four people, including a 2-year-old boy, in the notorious Mattapan massacre in 2010, was denounced today at a sentencing hearing by relatives of his victims, who said they hoped his deeds would haunt him for the rest of his life.
A Suffolk Superior Court judge then sentenced Dwayne Moore to life in prison without the possibility of parole.
Moore, 35, was convicted of four counts of first-degree murder on Monday by a Suffolk Superior Court jury. He was sentenced today by Superior Court Judge Jeffrey Locke, who said from the bench that Moore is now being held accountable for his actions.
"Mr. Moore made choices,'' Locke said, who then used a street slang for a robbery. "One of those choices included 'doing a lick.'''
Moore was convicted of killing Simba Martin, 21; his girlfriend Eyanna Flonory, 21; her 2-year-old son, Amanihotep Smith; and Levaughn Washum-Garrison, 22, who had been sleeping on Martin's couch the night of the killings.
Moore faced mandatory sentences of life imprisonment without parole. Locke ordered Moore to serve consecutive life sentences for the murders of Flonory and her son and a similar sentence for the murders of Martin and Washum-Garrison.
Locke imposed the sentences after hearing victim impact statements from the victims' relatives, including Flonory's aunt, who told Moore she wanted him to remember how they died for the rest of his life.
"I hope the brutal and savage way you killed Eyanna and Amani haunts you for the rest of your life,'' she said.
Patricia Washum-Bennett, the mother of victim Levaughn Washum-Garrison, who just happened to be visiting his friend that night, welcomed Moore's convictions. But, she said, it does not replace the loss of her 22-year-old son.
Moore's mother, Diann, who has insisted her son is innocent, was in the courtroom, sitting just behind Martin's relatives who wore purple, the color of peace.
After sentencing, Diann Moore struck a photographer from the Boston Herald with an umbrella as she was leaving the courtroom. Moore, who has repeatedly said she fears for her safety, had asked not to have her photograph taken.
A fifth victim, Marcus Hurd, was shot in the head, but survived. The jury acquitted Moore of the charges connected with the shooting of Hurd, who testified against Moore.
Suffolk Assistant District Attorney Edmond Zabin had asked Locke to impose five consecutive life sentences — a request that defense attorney John Amabile ridiculed as an attempt to "cover up'' the fact that law enforcement was "snookered'' by the man he alleges was the real killer, Kimani Washington.
Amabile called Washington "the real killer of the woman and child.''
During this trial — and the first trial that ended with a hung jury — prosecutors relied heavily on the testimony of Washington, a 37-year-old career criminal who admitted to playing a role in the armed robbery, but said he left before the shootings took place.
He testified against Moore in exchange for a recommendation of a sentence of 16 to 18 years on armed robbery charges. Moore was convicted Monday shortly after the jury drawn from Worcester County residents reported that it was deadlocked 11-1, with the one juror refusing to participate in deliberations. Locke then urged the panel to try once more to reach a unanimous verdict, which they did around 4 p.m.
Two jurors told the Globe today that they convicted Moore under the legal theory of joint venture, which holds a defendant equally responsible for a murder even if they do not shoot the victims but are a full participant in the crime leading to the deaths.
It was the second time Moore had been tried for the massacre. A previous jury had deadlocked 11-1 over in March, with one juror refusing to convict, during Moore's first trial, and acquitted his co-defendant, Edward Washington.
The jurors this time spent two months on the case and were bused to Boston every day from Worcester County, escorted by state troopers. The five men and seven women were picked after Amabile successfully argued that news coverage of the case would make it difficult to find an impartial jury in the Boston area.
Deliberations had appeared arduous. Twice, the jury was forced to begin deliberating anew, once after a juror was excused for discussing ballistics evidence that had not been introduced at trial and again after another juror was excused when his brother suffered a stroke.
During the retrial, Zabin played statements that Moore made to police during two interviews in the weeks following the September 2010 killings.
Moore was inconsistent, telling police at first that he was nowhere near the murder scene. In his second interview, he told detectives he was there, standing on the porch of Martin's house, but that he left before anyone was shot.
There was no physical evidence tying Moore to the crimes. Neither his fingerprints nor his DNA were found on one of the guns recovered or the safe that was stolen from Martin's house.
The Supreme Judicial Court, the state's highest, will automatically review Moore's trial.