NoPrimaryTagMatch
Firefighters honored at Worcester awards ceremony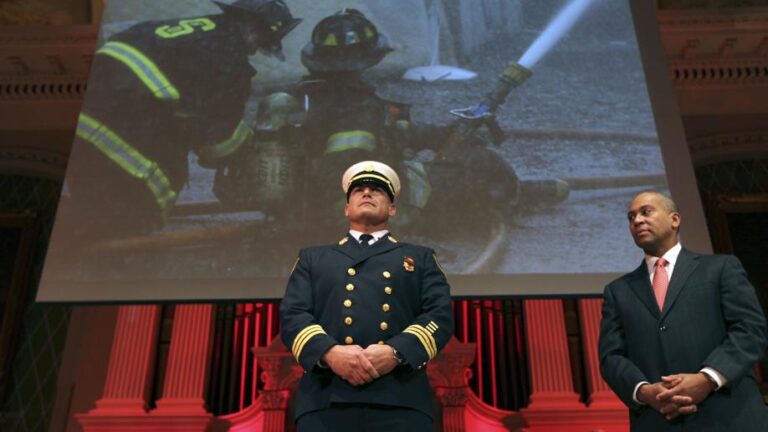 His Army patrol had just been blasted by an improvised explosive device in Afghanistan, but Joel Beaulieu was not thinking of himself.
He crawled through the dust despite his injuries — and under fire — and dragged a civilian interpreter to safety.
Beaulieu, a firefighter with the Swansea Fire Department, was deployed as a US Army security force platoon leader to Afghanistan and was promoted and honored for his selfless act under fire by the military.
Today Beaulieu was honored by his home state along with dozens of other Bay State firefighters during the annual "Firefighter of the Year'' ceremony held in Worcester. Beaulieu received the Patriot Award for his military service.
Swansea Fire Chief Peter Burke said today he is humbled by Beaulieu's service to others.
"It means a lot, the fact that he did it on the battlefield under enemy fire and saved lives,'' Burke said. "His bravery, his leadership skills, and his valor, it all came into play. Those are all the things you look for in a soldier and a leader.''
Governor Deval Patrick, Mary Elizabeth Heffernan, secretary of public safety and security, and Fire Marshal Stephen D. Coan recognized individual acts of heroism as they presented 31 awards to 72 honorees at Mechanics Hall in Worcester.
"On behalf of the Commonwealth, we thank all the firefighters, their families and loved ones, for their service and courage to keep us safe,'' Governor Patrick said in a statement. "We appreciate, honor, and value your sacrifices and selflessness in the face of danger.''
Peabody firefighter James Rice and Worcester firefighter Jon Davies, both of whom died last December in unrelated incidents, received the highest honors, Medals of Honor, at today's ceremony.
Rice, 42, rushed into a three-family home just two days before Christmas last year. The 11-year veteran Peabody firefighter was searching for victims of the three-alarm fire on Hancock Street, but was met by choking smoke and leaping flames.
Deputy Chief Eric Harrison learned of a downed firefighter on the second floor and raced up the stairs with his crew. Despite heavy fire and smoke, Harrison located an unresponsive Rice and carried him out of the home. Rice was taken to Salem Hospital, but did not survive.
Rice leaves his wife, Amy, and three children, Alyssa, 13, Katelyn, 10, and Ryan, 8.
In Worcester, firefighter Davies dashed into a blaze on Arlington Street on Dec. 8, looking for a person thought to be in the rear bedroom of the three-family home. While Davies, a 17-year veteran of the Worcester Fire Department, was on the first floor, the roof, attic, and second and third floors of the building collapsed on top of him.
Davies was pulled from the rubble by fellow firefighters but did not survive.
Davies leaves three sons _ two of whom are in the military, with one currently serving in Afghanistan, and a third serving as a Worcester firefighter.
Firefighters from Bridgewater, Brookline, Easton, Hyannis, Leominster, Lynn, Maynard, Peabody, Salem, Saugus, Stow, Swansea, Westfield, and Worcester were also honored during the ceremony.
"Firefighting is one of the most honorable professions. Day in and day out, firefighters answer the call without regard to their personal safety,'' Heffernan said in a statement. "I want to recognize their bravery and sacrifice, and thank them for always going above and beyond to keep us safe.''
State Fire Marshal Stephen D. Coan presented the Fire Marshal's Award to four Worcester Polytechnic Institute professors who worked to improve firefighter safety. The professors were inspired by the loss of six firefighters in the 1999 Worcester Cold Storage warehouse fire.
"Professors James Duckworth, John Orr, David Cyganiski, and Kathy Notarianni were honored for their work on three projects that will improve firefighter safety for decades to come,'' Coan said.
"They imagined what could be and then invented it,'' Coan said.
The team worked on three projects: One to improve technology used to locate firefighters in a building, a second to gauge when everything in a room reaches the same temperature and ignites, and a third to detect deadly gases, the governor's office said.