NoPrimaryTagMatch
From teen celebrity hound to autograph entrepreneur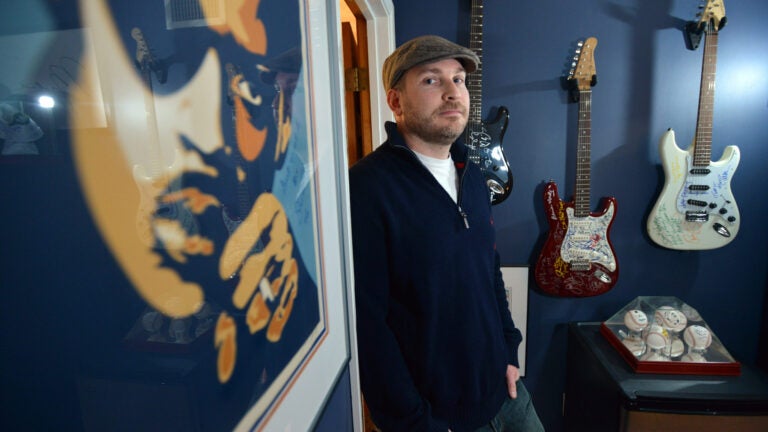 Jared Gendron deals in volume. Right now his workspace is cluttered with plastic bags full of tambourines. They're useful for warding off Anika, his feisty mixed-breed puppy, he jokes: She's terrified of them.
It's a good thing, because he wouldn't want her to sink her teeth into one. Each instrument is signed by a famous musician, among them Aretha Franklin ($195) and Kid Rock ($89).
"You wouldn't believe how well those sell,'' says Gendron's brother, Trevor.
Trevor, 37, recently began working for Jared, 33, who founded his company, JG Autographs, when he was still a teenager in the mid-1990s. What was once a modest operation run out of their parents' home in Peabody has become a well-respected brand name in the world of celebrity autographs and ephemera.
It's still a family business of sorts: The brothers' father, Paul, helps with shipping and financial operations. But the company now has a team of Web developers, a network of inventory providers, and online customers numbering in the tens of thousands. Jared Gendron recently helped Amazon.com launch the site's new collectibles hub.
On a daily basis, he deals with people's obsessions. Neatly stacked against one wall in the office are dozens of boxes that contain the company's latest acquisition, a huge collection of hockey-related autographs — nearly 10,000 of them.
Yet unlike so many of the folks he does business with, Jared Gendron doesn't think in terms of collecting. "I sell to real people,'' he says. "I don't view this as some weird fetish hobby.''
Gesturing to an item hanging on the wall — a photo of Earth from the surface of the moon, mounted with an autograph by astronaut Neil Armstrong — he says, "I think this should be hanging in anybody's house.''
His business booms during the holidays, when online shoppers are looking for unique gifts.
How he arrived at a career dealing in other people's memories is explained in what he calls his "broken record story.'' As a boy, Gendron often tagged along to Celtics games with a friend of the family, who volunteered at the old Boston Garden. Gendron wasn't expected to help, so he began to kill the hours before game time by asking players — like Larry Bird and Reggie Lewis and visiting stars such as Patrick Ewing — for their autographs during warmups.
Soon he began selling some of his stuff on consignment at an old card shop on Route 1. That led to his first ventures into the eccentric world of collectors' trade shows, where he began accumulating the autographs of D-list celebrities who are often paid to do signings. Over time, he befriended the former child actors from the original "Willie Wonka & the Chocolate Factory'' and got to know one of the actors who played the monster in "Creature from the Black Lagoon.''
"He was a cool guy,'' says Gendron, who keeps a trim beard and, like his brother, wears his flat cap indoors.
At one event he met Jerry Pearlswig.  "Crazy Old Jerry'' as he called himself, who was known to haunt stage doors and hotel lobbies, having his picture taken with every celebrity he encountered.
"He'd walk away, put his hands in the air and yell, 'We're stars!' '' recalls Gendron.
When Gendron was a teen, selling autographs was more a pastime than a business. "The money helped support the hobby, basically,'' he says. But after attending Bishop Fenwick for its "non-traditional'' art program, Gendron went to Massachusetts College of Art and Design, where he effectively used his class projects to launch his autograph business online. It was the early days of eBay, which he first learned about through a radio ad. He says JG Autographs was one of the first to sell signatures on the site.
A few of his teachers weren't thrilled that the student was using his courses to design a business, but Gendron ignored them. Though he says he's not the vindictive type, he admits it felt good the day he pulled up in the parking lot in his new Infiniti, right next to one of his faculty detractors.
In hindsight, he considers JG Autographs to be his lifelong art project. "I created my own career,'' says Gendron. "It is artistic, in a way . . . sculpting this thing out of nothing.''
For years, he says, his idea of business development was simply to add more inventory. Now, however, he has seen the light: Half of his work these days involves Web development, "making things more efficient, opening our marketplace.''
He was in on the ground floor when Amazon recently launched its collectibles hub. It's one indication of the reputation he's earned: "Our goal is to team only with the most reputable sellers to provide these unique items,'' Peter Faricy, vice president of Amazon Marketplace, said via e-mail.
One of the rooms in Gendron's North Shore office space (for security reasons he'd rather not say precisely where) features a state-of-the-art computerized matte-cutting machine.
All framing is done in-house; it's one of the ways the company adds value to its autographs, which are often scribbled on scraps of paper or index cards. Pulling out a collector's binder full of signed 8 x 10 glossy photos, Gendron flips it open.
"Boring!'' he says.
The kid who once gawked at his favorite basketball players has grown into a self-made connoisseur of history. He and his brother are set to launch a separate entity that will deal in ephemera, art, and cultural artifacts.
At the moment, Gendron is infatuated with a plastic bin of items from the files of the late Chester V. Clifton Jr., who was a military aide to Presidents John F. Kennedy and Lyndon Johnson. He acquired it at an estate sale, on a tip from one of the many industry "treasure hunters'' he knows.
He reaches into the bin, pushes aside a stack of curled black-and-white photographs, and pulls out an old copy of Life magazine, addressed to "The President, White House.''
"That stuff's gone crazy,'' he says.
He's especially proud that he befriended Sir Edmund Hillary
before the adventurer's death in 2008, showing a visitor a snapshot of Hillary signing a stack of photos at his New Zealand home.
These days, Gendron is most interested in epic undertakings — Hillary's Mount Everest ascent, or Armstrong's moonwalk. In its own way, his business has grown into something he could not have imagined.
"Building something bigger and better has always motivated me,'' he says.
Surprisingly, for such a fastidious curator of things of value, he's not sure what became of the old basketball cards he used to have signed at the Garden.
"They might still be in my parents' closet,'' he says.