NoPrimaryTagMatch
Olivia Culpo's parents proud of their Miss Universe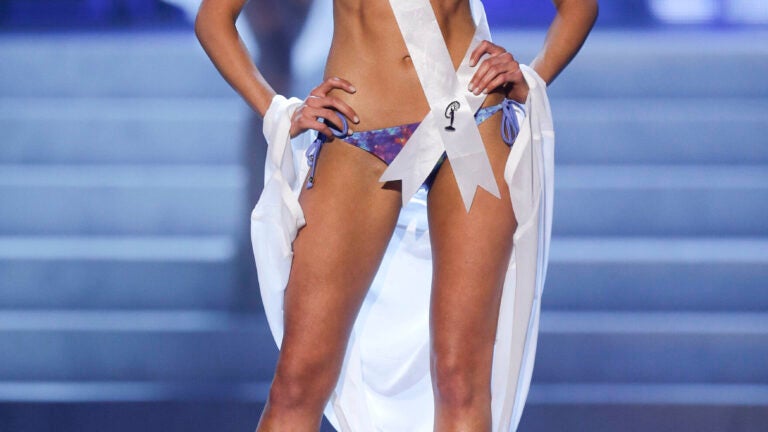 Peter Culpo is a proud father, and not bothered at all that men (and some women) around the world were ogling his 20-year-old daughter, Rhode Island-bred Miss Universe Olivia Culpo, as she walked across the stage in heels and a bikini this week.
"You know what? The thought that some percentage of the population was looking at her in that way never dawned on me,'' said Peter Culpo, who's back in Cranston, R.I., after watching his daughter win the title of world's most beautiful woman in Las Vegas.
"But, really, you go to the beach and see girls in bikinis, you watch volleyball and see girls in bikinis,'' said Culpo, a businessman who owns several Boston restaurants. "Why wouldn't men have the same reaction when watching [a pageant]? It's fine. She's such a good kid.''
Olivia Culpo (pictured), who was a Boston University sophomore before taking a leave to prep for the pageant, was chosen from among 89 contestants representing countries around the globe. The petite brunette is the eighth winner from the US in the pageant's 60-year history, and the first Miss USA to take the title since 1997.
Her family was in Las Vegas to watch the competition, and though they were thrilled with the outcome, they say there were plenty of anxious moments along the way.
"You think in your head, 'OK, she's really pretty and smart and is going to stack up well,' '' said her dad. "But then you look at some of the other girls, who are pretty outrageous and you say, 'Nah, there's 89 countries.' ''
The beauty queen's grandmother, 78-year-old Madeline Cantarella Culpo, a ballet teacher in Pittsfield, said the competition was incredibly stressful to watch.
"My goodness, I thought I'd have a heart attack,'' she told us Friday. "But it worked out. My grand niece, who's 6, summed it up when she said, 'Does this mean she's the queen of the world?' ''
The newly crowned Miss Universe couldn't be reached Friday. She'll be back in Rhode Island for Christmas, and then will embark on a year of travel promoting HIV prevention. In the meantime, friends, family, and assorted others around the Ocean State are checking in to congratulate her parents.
"Governor [Lincoln] Chafee called and Congressman [David] Cicilline both called,'' said Peter Culpo. "People are excited.''
He confirmed that his daughter is unlikely to return to BU. He said she's interested in eventually getting into the entertainment industry — acting or broadcasting — and that will probably take her elsewhere.
"Olivia loves Boston, but in all likelihood, she'll end up in New York or Los Angeles,'' said her father. "We'll support her whatever she wants to do.''