NoPrimaryTagMatch
Snow to arrive tonight, making for a picturesque Christmas — and possibly some slippery driving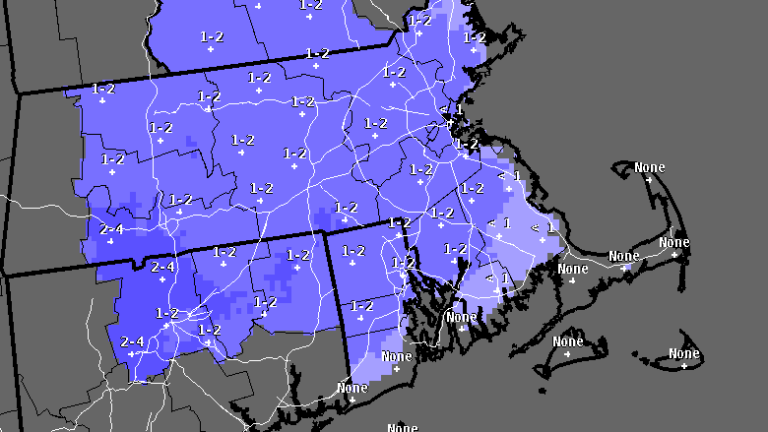 The holiday could be beautiful, with pristine snow blanketing the earth. But driving over to grandma's house Tuesday morning could be tricky in some areas, the National Weather Service advises.
[fragment number=0]The weather service says parts of Southeastern Massachusetts might see a combination of light snow and light freezing rain or drizzle in the morning that could lead to slippery conditions on untreated roadways and sidewalks.
The service also says the Berkshires may see a moderate to heavy snow.
Meanwhile, the rest of the state is expected to see 1 to 2 inches of snow, with some pockets of 3 inches. There's a low chance of light ice accumulation from freezing rain or drizzle, the forecasters warned.
A weather service snowfall forecast map showed only rain on Cape Cod.
The good news is that the wet weather will clear by the afternoon.
Temperatures on Christmas Day will get up to 37 and dip to 26 by nighttime.
Wednesday will bring lots of sun and temperatures in the mid-30s.
A stronger storm will move into the region Wednesday evening, said National Weather Service meteorologist Charlie Foley.
Snow is likely, but it will transition to rain during the overnight hours.
The best chance of significant accumulation of snow is in southwestern New Hampshire and northwestern Massachusetts.
Both the Wednesday evening and Thursday morning commutes could be impacted by the storm, the weather service said.
The forecasters say another storm could hit during the weekend.
Barry Burbank, meterologist with WBZ-TV, said much of the state will see a wintry mix during that storm, but Southeastern Massachusetts, including Boston, will get hit with strong winds and heavy rain.