NoPrimaryTagMatch
Together in sickness and in health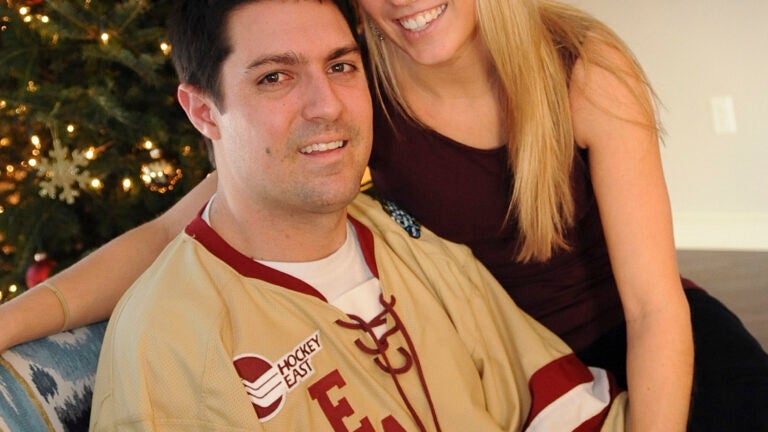 They met on the Fourth of July in 2011 on a beach in Marblehead. She was pretty and blond, going into her senior year at Boston College. He was handsome and dark-haired, a former Boston College baseball star, with a promising career in insurance.
Pete Frates, 28, of Beverly and Julie Kowalik, 22, of Marblehead, fell in love fast. They are engaged to be married on June 1, 2013, but they have already been tested like a long-married couple.
In March, Frates
was diagnosed with amyotrophic lateral sclerosis, also known as Lou Gehrig's disease. The neurological disorder occurs when nerve cells in the brain and spinal cord die, causing muscles to weaken. Paralysis is common, and death is often certain.
But Frates and Kowalik are committed to beating the disease together.
"My goal is live a long and fruitful life with her,'' Frates said, smiling as Kowalik strung tiny white lights on their Christmas tree.
Kowalik moved out of her BC dorm two months early to help care for Frates at his parents' Beverly home. "I just knew I wanted to help him get well,'' said Kowalik, who graduated in May.
She now is his full-time caregiver and jokes that the couple has already fulfilled the vow to love one another "in sickness and in health.''
"We've got that one nailed,'' she said, smiling at her fiance.
Frates is inspired by her devotion.
"I know it's not easy,'' he said. "I'm sure she never thought she'd be taking care of her 28-year-old boyfriend who walks around like he's 90.''
Frates, who is unable to work, is devoting his time to educating people about ALS. Scores of fund-raisers have been held to benefit The Pete Frates #3 Fund. Money is used to help pay for his living costs, as well as experimental drugs he hopes will stop the progression of the disease.
"There are very smart people doing research on this,'' said Frates, who is being treated at Massachusetts General Hospital. "I am at their mercy. . . . But all things considered, I am feeling pretty good.''
A former three-sport athlete at St. John's Prep in Danvers, Frates has worn No. 3 since he was a 10-year-old playing for the Cubs in Beverly Little League. "I got to pick my uniform, and my grandmother said, 'Well, you've got to pick number three, because Babe Ruth wore that,' '' he recalled.
Now Frates is battling a disease associated with another famous New York Yankee. His diagnosis came after he was hit with a pitch while playing for the Lexington Blue Sox in the Intercity League.
He is now a member of the league's hall of fame and was inducted into the St. John's hall Nov. 20.
"Both were very surprising, very welcome,'' Frates said of the athletic honors.
He now hopes to achieve what Lou Gehrig never could, to play ball again.
"I am not an old man,'' Frates said. ". . . It wasn't very long ago that I was out there, smacking the ball around. . . . As soon as I'm better, I'll be back out there.''
Kathy McCabe