NoPrimaryTagMatch
MIT hacking case lawyer says Aaron Swartz was offered plea deal of six months behind bars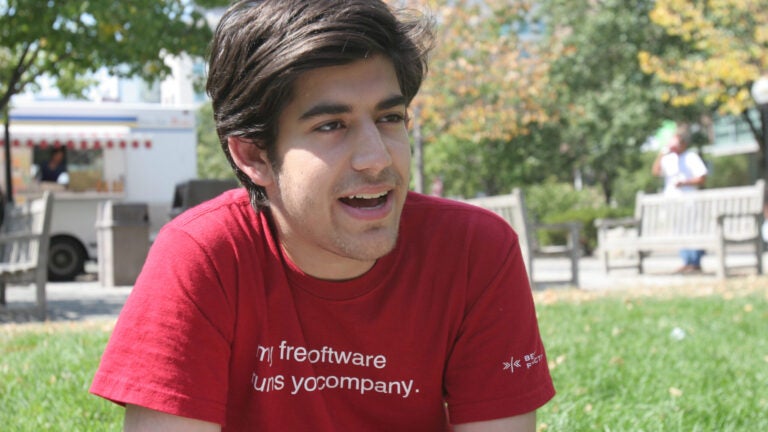 During plea talks held in the months before his death, federal prosecutors told Aaron Swartz and his attorney that the computer prodigy must spend six months behind bars and plead guilty to 13 federal crimes in order to resolve the criminal case short of a trial.
Swartz's lead defense attorney, Elliot Peters, said today that both he and Swartz rejected the plea deal offered by the office of US Attorney Carmen Ortiz, and instead were pushing for a trial where federal prosecutors would have been forced to publicly justify their pursuit of Swartz.
But at the same time, Peters said, he was worried about Swartz's emotional vulnerability and planned to try and bypass trial prosecutors, Stephen Heymann and Scott Garland,
and use a letter-writing campaign from local academics to convince Ortiz to change the proposals.
"As eager as I was to try to win it, I didn't want to expose Aaron to the risk,'' said Peters.
Peters said that the academics would attest to Swartz's brilliance and lack of malicious intent.
In July 2011, Swartz, who acknowledged battling depression, was charged in US District Court in Boston with hacking into the archive system JSTOR on MIT's network during 2010 and downloading more than 4 million articles, some of which were only available for purchase.
Authorities said Swartz planned to distribute the information free on file-sharing websites. At the time, he was a fellow at Harvard University's Edmond J. Safra Center for Ethics.
Swartz pleaded not guilty Sept. 24.
Swartz, 26, hanged himself in his Brooklyn apartment Friday, according to the statement and the New York Medical Examiner's Office.
In a statement after his death, Swartz's family linked the criminal charges to his suicide.
"Aaron's death is not simply a personal tragedy,'' read the statement. "It is the product of a criminal justice system rife with intimidation and prosecutorial overreach. Decisions made by officials in the Massachusetts US attorney's office and at MIT contributed to his death.''
A spokeswoman for Ortiz said in an e-mail that the top federal prosecutor for Massachusetts will not publicly discuss the case today. Ortiz's office filed paperwork with the clerk' s office today, formally dropping the charges against Swartz.
"We want to respect the privacy of the family and do not feel it is appropriate to comment on the case at this time,'' spokeswoman Christina DiIorio-Sterling wrote in an e-mail.
On Sunday, MIT President L. Rafael Reif said he had appointed MIT professor Hal Abelson to review the school's handling of the Swartz case. Abelson is a computer science and electrical engineering professor and a founding director of Creative Commons, the nonprofit dedicated to sharing works on the Web through free legal tools.
According to records filed in US District Court in Boston, both Peters and prosecutors were still engaged in a heated legal battle on Friday – the day Swartz killed himself in New York.
They were battling over the admissibility of a laptop and other electronic equipment seized from Swartz after his arrest in Cambridge on Jan. 6, 2011.
The evidentiary hearing on the defense's motion to suppress had been set for Jan. 25.