NoPrimaryTagMatch
Dedham museum hosts talk on 'Saturday Evening Girls' and Paul Revere Pottery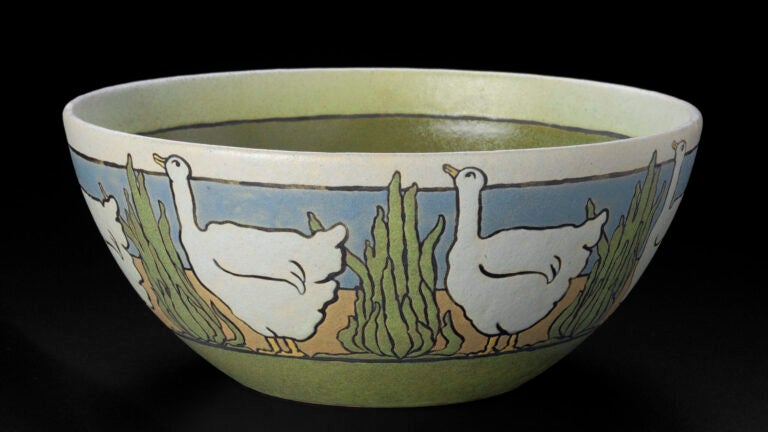 The calling card of the Dedham Historical Society and Museum is its fine collection of Dedham Pottery, locally produced and highly prized.
A senior curator at the Museum of Fine Arts in Boston, Nonie Gadsden, will deliver a presentation at the society's headquarters Thursday on another small pottery that flourished during the same period, the Paul Revere Pottery in Boston's North End. The story she tells is the basis of her book, "Art and Reform: Sara Galner, the Saturday Evening Girls, and Paul Revere Pottery.'' 
A representative of the Arts & Crafts movement potteries of the early 20th century (like Dedham Pottery), Paul Revere Pottery created museum-quality forms and designs.
"It's a great match in terms of our interest in pottery,'' Vicky Kruckeberg, the society's executive director, said of Gadsden's participation in the society's lecture series. "The great story is the Saturday Evening Girls, immigrant women who were being taught how to make pottery and be able to earn a living that way.''
Gadsden said she learned about the "Saturday Evening Girls'' when a visitor to the MFA recognized the look of a piece of pottery on display. It looked a lot like his mother's pottery. He searched for the signature on the piece and "fell over,'' Gadsden said. The signature was by his mother, Sara Galner.
The curator and researcher "got into her'' (Galner) after meeting her son, David Bloom of Boston. She decided to tell the story of the women who produced the pottery — and of the immigrant experience that lay behind it — from Galner's point of view.
The social reform movement of the period focused in part on improving conditions for an urban immigrant population that was offered only low-paying jobs. "Settlement houses'' in immigrant neighborhoods such as Boston's North End created grass-roots programs to help immigrants from southern and eastern Europe assimilate into their new country. One of these, the North Bennet Street Industrial School, was founded at a time when the North End was home to many Italian and Jewish immigrants.
Along with classes in skills like sewing and cultural subjects such as folk dance and art, the school had a library reading room to promote learning English. Under the direction of Edith Guerrier, the reading room hosted a girls' club that became "the Saturday Evening Girls,'' to provide further educational and social opportunities for teenage girls.
The club was tightly organized, Gadsden said. It had a half-hour business meeting, a half-hour lecture on subjects from literature to sociology, a half-hour of dancing and singing, and a final half-hour of socializing. And it "grew tremendously,'' she said.
Gadsden said her talk Thursday in Dedham will delve into both art and history.
"Art and social history overlap in a lot more ways than people think.''