NoPrimaryTagMatch
Helping children deal with a sick parent: 7 tips from a 12-year-old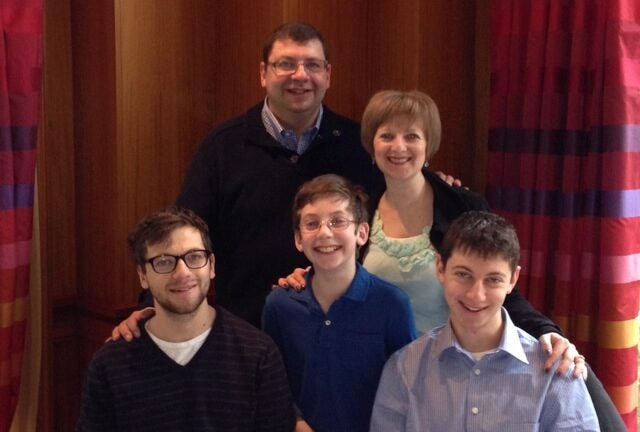 A friend of mine discovered she had the gift of a writer, creating a popular health blog, after her husband fell ill over a year ago with a rare nerve condition, called trigeminal neuralgia; it causes stabbing facial discomfort and has the damning distinction of being considered one of the most painful conditions seen in medicine.
Family members sit around helplessly and watch their loved one suffer through unpredictable bouts of pain that's managed, but not cured, with drugs and complicated surgery.
While my friend, Gilly Cannon, drew comfort in writing about her experiences as a caregiver, she had no idea that her 12-year-old son, Jacob, had been inspired by her to create his own blog, grappling with his experiences dealing with his father's chronic illness and frequent hospitalizations.
"He wants adults to know how they can help children like him, who suddenly find themselves in a situation where someone they love very much is very sick and has to have major surgery,'' wrote Gilly in her blog. "He also wants to bring comfort to other children by letting them know they are not alone in having these feelings.''
Gilly and Jacob gave me permission to reprint the blog post, so parents can use Jacob's advice to help children deal with a loved one's illness:
About a year ago, my dad had something called Trigeminal Neuralgia. He had something going on with a nerve in his face, and had to have brain surgery. As an 11 year old child, I was scared. I couldn't handle it on my own. I needed some things to help me feel better:
1. Information: I needed to know what was going on. If they did the CAT scan, or even that they gave him a new drowsy medicine, it really helped.
2. Comfort: If it was from my friends, or my parents, it was important to me that people cared about how I was feeling. Of course it was hard on my dad, but I was depressed sometimes too.
3. Other parent: Another thing that mattered was my mom. I understood that the priority was to be with my dad, but if something happened like she was staying the night, at the hospital without me knowing beforehand, I was sad, and upset. It was very important that my mom kept me in the loop.
4: Talking with someone: It was important that I shared my feelings with somebody. It helped me feel better, and I could tell them that I feel upset.
5: Time to think: I'm going to say that this one is a minor, but even so, I needed time to think by myself. Even if it was just for a few minutes. Just to not be bothered.
6: Talking with the sick parent: When my dad was sick, talking to him in person or on the phone even meant a lot. It is good to hear their voice.
7: Hospital visits: I wanted to visit as much as I could, because I liked knowing where he was staying, I could see his face.. All those things.
So these 7 things are what helped me, while my dad was sick. I hope they help you too.