NoPrimaryTagMatch
Medical examiner in Gerhartsreiter trial describes three blows to head, copious blood likely at scene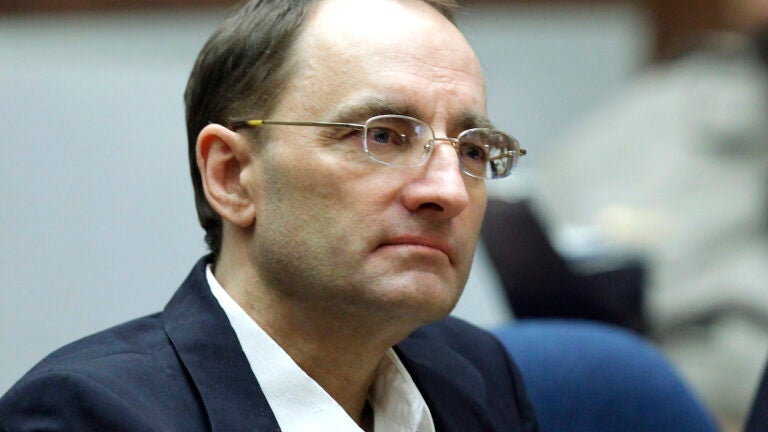 LOS ANGELES — A medical examiner testified today in the murder trial of Christian Karl Gerhartsreiter that Gerhartsreiter's alleged victim, John Sohus, died after being struck at least three times in the head by a blunt object.
"It is a significant amount of force. It wasn't a light tap. Any one of these three blows would have rendered him unconscious,'' said Frank Sheridan, a forensic pathologist and the chief medical examiner for San Bernardino County.
The resulting skull fractures were "adequate enough to cause death'' and would have likely created a bloody scene, Sheridan said in Los Angeles Superior Court.
It was the second day of testimony in the trial of Gerhartsreiter, the German con man who made headlines after his masquerade as "Clark Rockefeller'' in Boston began to unravel in 2008.
Prosecutors say Gerhartsreiter, who was using the name "Christopher Chichester'' at the time, lived in 1985 in a guest house in San Marino, Calif., owned by Sohus's mother, while Sohus and his wife, Linda, lived in the main house.
Sohus's remains were found buried in the house's back yard in May 1994; Linda Sohus is missing and presumed dead.
Other witnesses testifying today included a man whose house Gerhartsreiter stayed at when he was an exchange student in Connecticut in the late 1970s, and a Loma Linda, Calif., man who met Gerhartsreiter even earlier, in Germany, and later was friendly with him in California.
Elmer Kelln testified that he even visited Gerhartsreiter at the Sohus home. "He made me believe that he owned the property and the car,'' he said, referring to the Sohus home and a late-model Chrysler that Gerhartsreiter claimed to drive.
Sheridan, the medical examiner, testified that he personally examined the skull removed from the San Marino back yard, paying special attention to the "fracture edges'' which revealed that the injuries occurred at or before the time of death — meaning that Sohus was alive when the strikes occurred and died immediately after.
Sheridan spent much of his testimony using medical terms describing the various regions of the skull, as he used a laser pointer to point out areas of Sohus's skull, which was displayed on a large projection screen.
During Sheridan's testimony, Gerhartsreiter wrote notes and looked at the images on the screen.
Gerhartsreiter's charade began to collapse when he was arrested in 2008 for abducting his 7-year-old daughter and questions were raised about his mysterious past.
California authorities charged him in the unsolved muder in 2011.
Gerhartsreiter is being held on $10 million bail. He faces 26 years to life in prison if convicted on the murder charge.