NoPrimaryTagMatch
Are temporary tattoos toxic? FDA warns against them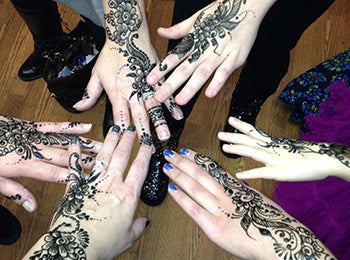 As spring break season gets underway, the US Food and Drug Administration has issued a warning against a dangerous practice that many college kids engage in while on vacation. No, not binge drinking or using tanning oil instead of sunscreen: getting a temporary tattoo.
These typically last from three days to several weeks and use a dye like henna to tint the skin without piercing beneath the skin's surface — as with a permanent tattoo.
"Just because a tattoo is temporary it doesn't mean that it is risk free,'' said Dr. Linda Katz, director of the FDA's Office of Cosmetics and Colors. Some consumers report reactions that may be severe and long outlast the temporary tattoos themselves as the photo below illustrates.
The FDA said it has received reports of problems associated with the tattoos such as redness, blisters, raised red weeping lesions, loss of pigmentation, increased sensitivity to sunlight, and, in rare cases, permanent scarring.
Inks marketed as black henna may be a mix of the red plant-based dye henna along with other ingredients, or may be hair dye alone. The reason for adding other ingredients is to create a tattoo that is darker and longer lasting, but use of black henna is potentially harmful, according to the FDA. That's because the black hair dye often contains p-phenylenediamine (PPD), an ingredient that can cause dangerous skin reactions in some people.
While PPD has been banned in skin cosmetics, it's still cropping up in temporary tattoos applied at local beaches and foreign resorts. Massachusetts has a number of temporary tattoo artists, who advertise their services online for weddings and other special events, and it's best to ask them if they use black hair dye in their products; some airbrush them on with skin paints.
The state Department of Public Health regulates tattoo parlors that provide permanent tattoos, but doesn't have authority over artists or kiosks offering temporary ones.
If you have a reaction to or concern about a temporary tattoo or any other cosmetic, the FDA recommends filling out a complaint form online on its MedWatch website. You can also call 1-800-FDA-1088 to file the report.