NoPrimaryTagMatch
Malden teacher takes hands-on approach to learning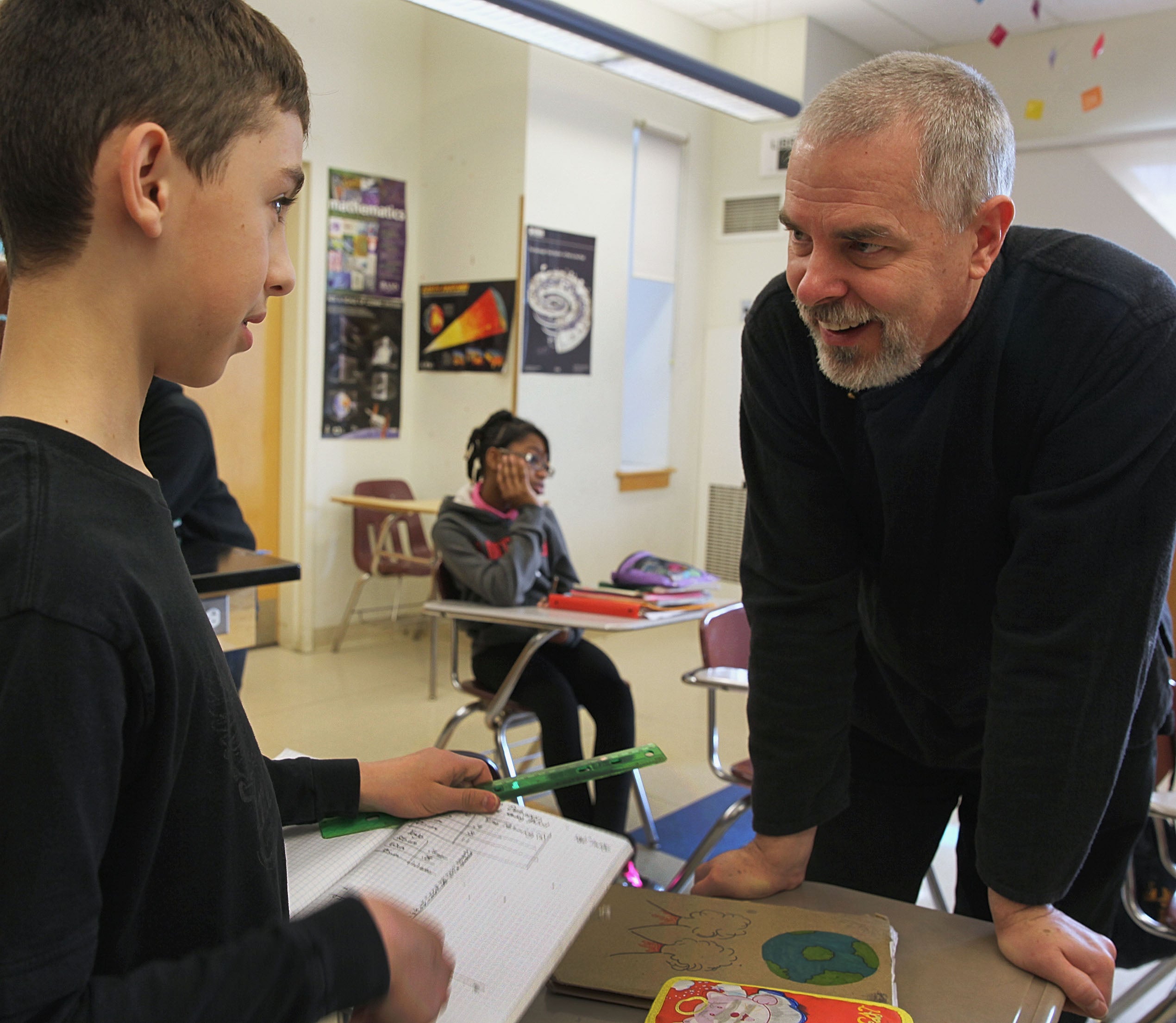 MALDEN — In Michael Hansen's sixth-grade science class, the wheels are turning. Big wheels in 12-year-old heads are figuring out climate change, measuring the shift in the earth's tectonic plates, and discovering that they too can take photos of the solar system.
Getting students to think on their own and realize that science is all around them is what makes Hansen's methods of using real tools and data — the same as professional scientists — stand out.
Last month, those hands-on methods helped him reach the top eight in online voting for the Great American Teach-Off, a national contest that will award two $10,000 grants to support innovation in the classroom.
Hansen said he didn't know about the contest until a former student e-mailed him and asked if she could nominate him.
"That, more than actually being in the competition, was a bigger honor,'' Hansen said. He noted that the student, Irene Wong, who is now a senior at Matignon High School in Cambridge, worked in cancer research last summer and published a paper on it.
"Mike is my inspiration to pursue a career in science,'' Wong wrote on her former teacher's nomination page.
Hansen teaches at the Linden STEAM Academy
, a public K-8 school specializing in science, technology, engineering, arts, and mathematics. Last year it was designated a
state innovation school, giving it broader freedom than other public schools in the city have over staffing, scheduling, fund-raising, and curriculum. Enrollment in Malden schools is based on a citywide choice system, where parents select their three top schools and a determination is made on which school their child attends based on several criteria, including proximity to the school and what grade level the child is entering.
Although hands-on learning is part of being an innovation school, principal Richard Bransfield said Hansen has been doing that a lot longer.
"I really can't say he's the prototypical science teacher,'' Bransfield said. "He gets kids to think. To me that's a real important part of education, to not only get kids to sit there and take notes and listen but to really think and be interactive with their learning. And that's something he does that's really unique.''
Some of the outside-the-box class exercises Hansen uses include:
■  Going outside and using a solar telescope to study sunspots.
■  Projecting the loss of Arctic ice in the future by using the same software and data climate change as scientists.
■  Figuring out how fast the plates of the earth are moving by using GPS data collected from around the world in real time on the motion of the large plates.
■  Using online robotic telescopes to take black-and-white photos of planets and then using the same image editing tools professional astronomers use to create color images.
Hansen said most of these tools and data sets are free and easily accessible to anyone online.
Five years ago, when he taught seventh grade, he had students don swimsuits and submerge themselves in a tank of water. Other students measured the amount of water displaced so they could figure out the density of a human body.
Although Hansen, 56, said he's been involved in education programs over the past 20 years, including at the Mass. Audubon sanctuary in Belmont and as a staff naturalist at the Ferry Beach Ecology School in Maine, he didn't get his teaching certification and head to the classroom full time until eight years ago.
In 2009, he took a one-year leave of absence to get a master's degree in science communication and education at the University of Glasgow in Scotland. The Cambridge resident said one reason he chose to study there was because many Malden students come from diverse immigrant populations and he wanted to experience what it was like to live in a different culture.
Putting himself in the shoes of his students is something Hansen thinks about often and is evident in the way he interacts with students, letting them explore on their own and giving guidance only when needed.
However, when he was in sixth grade at East Junior High in Walpole, he was forced to put himself in a teacher's shoes.
"I got upset at my teacher because she said something that was incorrect, and being stupid I jumped out of my seat and blurted out, 'Suzie, that's wrong!' . . . As a punishment, she had me teach the class and put together a lesson plan and a test which she counted,'' Hansen recalled. "For the next six years, students hated me because they failed that test. So I'm sort of back to where I started, I guess. Karma!''
Experiences in sixth grade can have a big impact in shaping what students end up doing to make a living, according to Bransfield. He thinks the positive experiences Hansen provides will spur many of them to consider science careers.
"There's a lot of data out there that says if you don't get kids interested and involved with science during the middle school years, by the time they get to high school it will be too late,'' Bransfield said. "They won't go into those careers later on. So Mike is at the forefront of getting kids interested in science and that's what it's all about.''
Hansen said he realizes not every student will pursue a science career, but something even bigger is at stake. "I want my students at the end of the year leaving here wanting to do more science,'' he said. "I want them to leave not being turned off to this subject.
"So many of today's decisions are science-based, whether it be climate change, whether it be health care.''
Hansen said his biggest goal is for students to become educated members of society who can make their own decisions and "not be so reliant on what people tell them to think.''