NoPrimaryTagMatch
Jury begins deliberations in L.A. murder trial of con man known as 'Clark Rockefeller'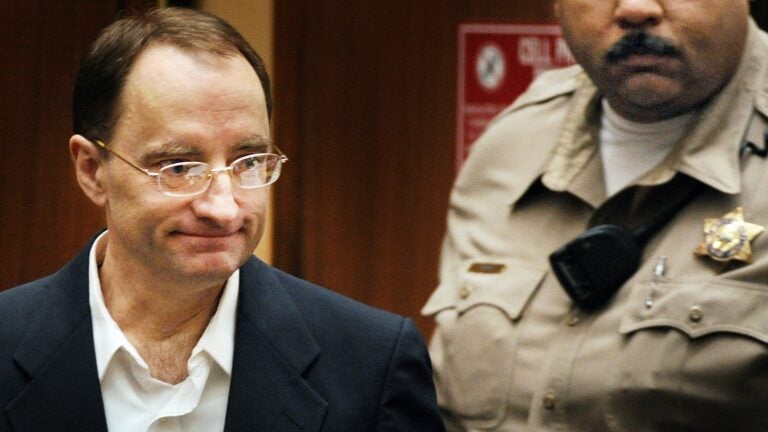 LOS ANGELES — After a presentation by the prosecutor that seemed to have many in the court spellbound, jurors today began deliberating in the murder trial of Christian Gerhartsreiter, the con man known as Clark Rockefeller in Massachusetts, who is accused of killing the son of his former landlord in 1985.
The panel left the courtroom for their closed-door deliberations around 1 p.m. Eastern Daylight Time after hearing a nearly hourlong rebuttal closing argument from the prosecutor, Habib Balian, who stitched together the circumstantial case against Gerhartsreiter.
Gerhartsreiter faces 26 years to life in prison on charges that he killed John Sohus while living in the guesthouse of a San Marino, Calif., residence owned by the victim's mother, Didi Sohus. John Sohus and his wife, Linda Sohus, lived in the main house and disappeared in early 1985.
At one point, Balian told jurors that since 1985, Gerhartsreiter may have had some success in cleverly manipulating the people who crossed his path, but when it came to the killing of John Sohus, he showed none of that skill.
On Monday, Boston-based attorney Jeffrey Denner told jurors in his closing argument that John Sohus was the victim of violence at the hands of his wife, not Gerhartsreiter. "The totality points far more to Linda Sohus than it does to the defendant as the killer of John Sohus,'' Denner said.
He acknowledged that Gerhartsreiter had a "portfolio of illegal behavior,'' but there was no proof he was involved in a murder.
Gerhartsreiter, Balian said today, was a "master manipulator,'' but he was "not a master murderer'' because he left clues that linked him to the killing, including burying Sohus's remains in two bags with logos from the University of Southern California and the University of Wisconsin Milwaukee, both of which Gerhartsreiter attended.
Moreover, Balian reminded jurors, they had heard how Gerhartsreiter, while living in the United States, sent a postcard to a woman he was romantically interested in that appeared to have been sent from Europe. After John Sohus and his wife, Linda, disappeared in 1985, postcards purportedly sent from Europe by Linda Sohus arrived in California.
Gerhartsreiter left California for Connecticut in 1985, the same year the couple disappeared. He moved to New York, then New Hampshire, and eventually to Boston.
The prosecutor told jurors that Gerhartsreiter's American dream was to become a Hollywood producer.
"If you're an aspiring producer, where do you want to be?'' Balian said. "Hollywood, not Connecticut. Something happened to make him run … murder … He's gotten away with it for 28 years.''
Gerhartsreiter's tales unraveled in 2008 after he snatched his 7-year-old daughter from a Back Bay street and brought her to Baltimore, where he was arrested six days later. He was going by the name Clark Rockefeller at the time, passing himself off as a relative of the famous industrialist.
Jurors heard from 45 witnesses and were given 160 exhibits during the past four weeks in Los Angeles Superior Court. If convicted, Gerhartsreiter faces 26 years to life in prison.