NoPrimaryTagMatch
Three killed, including 8-year-old boy, in explosions at Boston Marathon finish line; President Obama vows to bring perpetrators to justice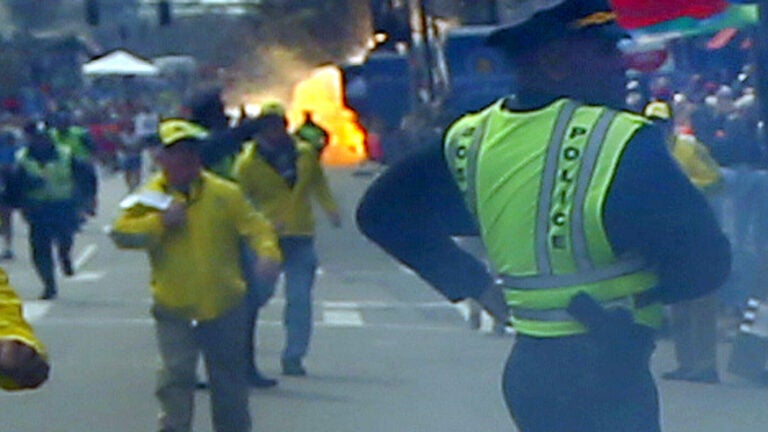 Three people were killed and 144 others were injured this afternoon as two powerful explosions detonated in quick succession near the Boston Marathon finish line in Boston's Back Bay section, transforming a scene of athletic celebration into bloody chaos.
When the smoke cleared from the apparent terrorist attack, dozens of victims lay in the street, some unconscious, some grievously injured, including some whose limbs had been torn off by the blast.
The dead included an 8-year-old boy, according to two law enforcement sources briefed on the investigation. Boston Children's Hospital reported that those treated there included a 9-year-old girl, a 7-year-old boy, a 12-year-old, and a 2-year-old.
President Barack Obama vowed that whoever planted the explosives would be found and brought to justice.
"We still do not know who did this or why. And people shouldn't jump to conclusions before we have all the facts,'' he told reporters at the White House shortly after 6 p.m. "But make no mistake, we will get to the bottom of this … Any responsible individuals, any responsible groups will feel the full weight of justice.''
At a news conference this evening, Richard DesLauriers, head of the Boston office of the FBI, said his agency wouild take the lead in the probe of the blasts. "It is a criminal investigation that is a potential terrorist investigation,'' he said.
A White House official told the Globe, "Any event with multiple explosive devices, as this appears to be, is clearly an act of terror, and will be approached as an act of terror.''
Blood and broken glass covered sidewalks in the area after the blasts occurred at about 2:50 p.m.
"It was just immediately [evident] there were injuries, right in the middle of the spectator crowds,'' said boston.com sports producer Steve Silva, who was on the scene to cover the race, which is normally an upbeat spectacle that draws elite athletes and determined runners from across the world.
"There was blood everywhere; there were victims being carried out on stretchers. I saw someone lose their leg. People are crying. People are confused,'' Silva, who captured one of the explosions on video, said moments after the blasts.
The injured were brought for treatment to eight area hospitals. Massachusetts General Hospital treated 29 people, 8 of whom are in critical condition, Dr. Peter Fagenholz, a trauma surgeon, told reporters at a briefing late this evening. He said "several'' people had to have limbs amputated. Dr. Ron Walls, chairman of emergency medicine at Brigham and Women's Hospital, said at a separate briefing that his hospital had treated 31 patients.
Both doctors said those injured had metal debris embedded in their bodies, but they didn't think that the metal was shrapnel that was built into the bombs.
"We will turn every rock over to find the people who were responsible for this,'' Boston Police Commissioner Edward F. Davis said.
No suspects have been arrested, Davis said, though police were questioning many people.
Just before 8 p.m., a "person of interest'' was being questioned at Brigham and Women's in connection with the bombing, according to an official briefed on the investigation. The individual was hurt in the explosion, the official said. But Davis said at a mid-evening news conference attended by DesLauriers, Governor Deval Patrick, and other officials, that "there is no suspect at Brigham and Women's Hospital as has been widely reported.''
Neither Davis nor DesLauriers would discuss any specifics of the case at the news conference.
The Federal Aviation Administration said it had implemented a no-fly zone around the Back Bay area of Boston to allow medical aircraft to evacuate victims. The agency also said it had halted inbound flights to Logan International Airport for a half-hour so runways could be reconfigured to keep aircraft from flying over the area.
Davis said the attacks had occurred without warning. "There was no specific intelligence'' suggesting an attack would take place, he said.
Governor Patrick said there was a "horrific attack here in Boston'' and authorities were focusing on making sure the area around the Copley Square finish line was safe. He urged everyone to stay away from the area.
He said an area of several blocks around where the explosions occurred had been sealed off and was considered a crime scene. "The city of Boston is open and will be open tomorrow,'' he said, "but it will not be business as usual.''
Davis had initially said there had been a third explosion at the John F. Kennedy Library in Dorchester. But the police department later downplayed those comments, suggesting that the incident might not have been an explosion and might have been a fire.
Hundreds of police officers and firefighters descended on the scene immediately after the blasts, clearing out the finish-line viewing stands. FBI, State Police, and agents from the Bureau of Alcohol, Tobacco, Firearms and Explosives were among the investigators, officials said.
Bomb squads searched the area, said Steve MacDonald, a spokesman for the Boston Fire Department. Officials said another explosion, heard in the city around 4 p.m., was a "controlled blast'' staged as part of bomb squad activity.
Davis, the police commissioner, said the two explosions had happened near the finish line 50 to 100 yards apart. Silva's video showed the explosions happened about 12 seconds apart.
MacDonald said one explosion had happened in front of the Marathon Sports store at 671-673 Boylston and the windows were blown out at a LensCrafters optician's store, where "the sidewalk is loaded with blood.''
Boston.com's Silva said, "I was there at the finish, shooting finish line scenes, and then, bang!, it just went off, and then less than 15 to 20 seconds after, there was a second explosion, closer to Fairfield Street.''
"It was just an explosion. It came out of nowhere. … I saw dismemberment. I saw blood everywhere.''
Obama said he had directed the full resources of the federal government to "investigate and respond'' to the blasts and that he had assured Governor Patrick and Mayor Thomas M. Menino that "every single federal resource necessary'' was available to them.
"The American people will say a prayer for Boston tonight,'' Obama said. "We will find out who did this and we will hold them accountable.''
Menino said, "Let me just say that this is a tragedy. We're going to work together on this.''
Dave Benson, 41, was in the stands across Boylston Street from the explosion.
"I thought it was an end-of-the-event celebration with fireworks. Then I saw a huge plume of smoke and people falling down.''
Andrea George, 39, who was also across the street, said, "We heard a noise and heard the glass shatter. My friend was right there, and I can't get in touch with them. I just started running. Everyone was running in different directions. It was the scariest thing I ever saw.''
John Boyden, 57, of Jamaica Plain was standing near the Lenox hotel when he heard a blast and, seconds later, another blast knocked him off his feet.
"When I looked up, I saw people with bloody heads, people with their shirts blown off, and what looked like a 10-year-old boy who was unconscious.''
" I feel like I'm going to throw up. It's like we're in the Middle East or something,'' he said.
John Lagoudakis, a chef at Proper Slice, said he heard an explosion and came out to see a woman with a severed leg. He said, "You could see the bone sticking out and stuff, so I took off my apron and tied it to try and stop the bleeding.''
Davis said many people who fled the scene on Boylston Street left bags and parcels strewn along the route, and each of those items was being "treated as a suspicious device'' and might be detonated by authorities.
Davis said he could not confirm reports that the bombs were placed in trash cans.
The blasts came long after the elite runners had finished the race — at a time when hundreds of amateurs were crossing the finish line. About 27,000 people were slated to participate in the race, an annual rite of spring in Boston that has been held for more than a century.
The Boston Athletic Association, which organizes the race, said this evening, "Today is a sad day for the City of Boston, for the running community, and for all those who were here to enjoy the 117th running of the Boston Marathon. What was intended to be a day of joy and celebration quickly became a day in which running a marathon was of little importance.''
The organization said that all the runners who were out on the course when the explosions happened had been returned to a community meeting area.
Governor Patrick said it was not yet clear how businesses in the cordoned-off area would be affected, but said workers "in most cases'' would probably not have access to their offices Tuesday morning.
He also said MBTA riders should be prepared for random searches of backpacks and parcels on Tuesday.
Davis said authorities were continuing to comb through bags left behind at the scene of the blasts but, as yet, no additional explosive devices had been found. "I'm not prepared to say that we are at ease,'' Davis added.
The blast came on Patriots Day, Obama noted, which is a state holiday in Massachusetts that celebrates the beginning of the American Revolution.
"It's a day that celebrates the free and fiercely independent spirit that this great American city of Boston has reflected from the earliest days of our nation,'' Obama said. "And it's a day that draws the world to Boston's streets in a spirit of friendly competition. Boston is a tough and resilient town. So are its people. I'm supremely confident that Bostonians will pull together, take care of each other, and move forward as one proud city. And as they do, the American people will be with them every single step of the way.''
Davis gave out two emergency phone numbers for people to call. Relatives of victims and anyone missing can call the mayor's hotline at 617-635-4500. Anyone with information about the explosions should call police at 800-494-TIPS, he said.
The FBI also said it had set up 800-CALL-FBI (800-225-5324), prompt #3, for anyone who had information or visual images regarding the explosions.
"No piece of information or detail is too small,'' the FBI said in a statement.