NoPrimaryTagMatch
At last, Donna Summer gets her due from Rock and Roll Hall of Fame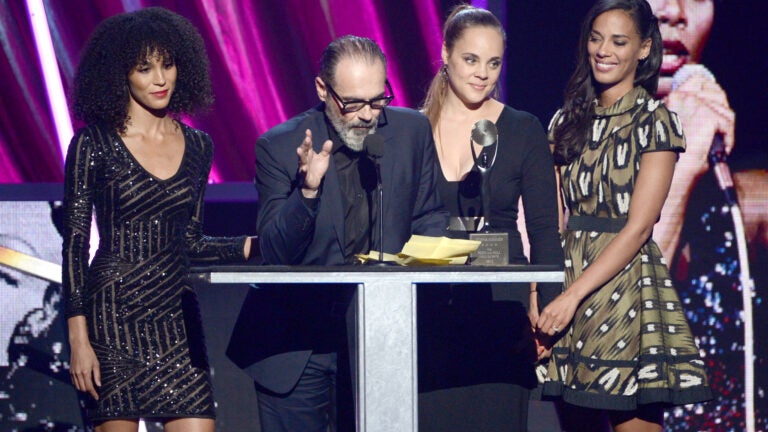 Boston native Donna Summer, who lost her battle with cancer last May, was posthumously inducted into the Rock and Roll Hall of Fame Thursday during a star-studded ceremony at the Nokia Theatre in LA.
Kelly Rowland of Destiny's Child began her tribute to Summer — who won Grammys in dance, R&B, rock, and gospel categories during her long and illustrious career — by saying: "Dim the lights, sweet darlings, because we're about to induct another queen into the Rock and Roll Hall of Fame.''
In lively, sweet, and funny remarks, Rowland described Summer's voice as "sent from above'' and praised her ability to inhabit the characters she sang about in songs like "She Works Hard for the Money.'' Of Summer's famously sensuous disco hit, "Love to Love You Baby,'' Rowland joked, "I'm sure me, and a lot of y'all up in here, were made to that record.''
Summer's husband of nearly 32 years, Bruce Sudano, and her three daughters Mimi, Brooklyn, and Amanda took the stage to accept the honor for their mother, who was finally inducted in the Hall after being nominated four times previously.
"This is obviously a bittersweet moment,'' said Sudano, "but as a family we determined that tonight we would lean on the sweet side of the occasion.''
Sudano, who co-wrote songs with his late wife and also performed in her band, said if Summer had been able to attend she would have been very excited and grateful, and perhaps cracking jokes.
"She was a very funny girl,'' Sudano said.
Though Summer won many awards during her career, she never displayed them around the house, he said, because she didn't want her husband or kids "to live under the shadow of 'look what I've done.' '' Sudano said she was always looking forward to the next project.
Paying musical tribute to the diva was Oscar winner Jennifer Hudson, who in a glittery outfit performed classic Summer hits "Bad Girls'' and "Last Dance,'' propeling the packed crowd out of its seats to boogie in the aisles.
Summer was ushered into the Hall along with a diverse class of other honorees, including hip-hop firebrands Public Enemy, legendary producer Quincy Jones, famed record producer Lou Adler, blues dynamo Albert King, hard-rocking sister act Heart, Oscar-winning tunesmith Randy Newman, and beloved Canadian prog rock trio Rush. An edited version of the nearly five-hour hour ceremony will air on HBO on May 18 at 9 p.m.