NoPrimaryTagMatch
Slain MIT Officer Sean Collier remembered as brave, devoted policeman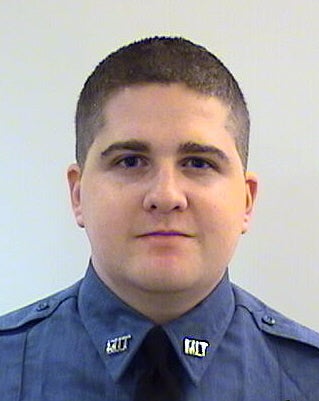 SOMERVILLE — American flags began to appear on a cordoned-off block of Curtis Street as the news spread that 26-year-old Sean Collier, an MIT police officer who lived in a three-story house there, had been killed in a late-night confrontation with the two suspects in the deadly Boston Marathon bombing.
Through tears, his roommate — who trained with Collier at the police academy and did not provide his name — said Collier was "awesome,'' his only fault being that was he was too brave.
"He was the guy who went to help,'' his roommate said. "The best guy got shot down by the biggest scumbags.''
In a statement, Collier's family expressed their grief.
"We are heartbroken by the loss of our wonderful and caring son and brother, Sean Collier,'' the family wrote. "Our only solace is that Sean died bravely doing what he committed his life to — serving and protecting others. We are thankful for the outpouring of support and condolences offered by so many people.''
Expressions of love for Collier came from all corners of his life. MIT police chief John DiFava called Collier "a home run,'' with every quality one could want in a police officer. A distraught student rode her bike to the MIT police station Friday morning to give her condolences after hearing of the death of the police officer, who had become a friend to many graduate students.
Somerville police Lt. William Rymill, who had known Collier for five years, said that in just two months, he would likely have fulfilled a longheld dream. Collier had scored high on a civil service exam, and was likely to be called to join the Somerville police department in June.
"Anybody could relate to him. Sean could talk to anybody,'' Rymill said. "The girls here in dispatch haven't stopped crying.''
Friends of Collier said they were still reeling from the news, trying to process their grief over the loss of a man who was funny, charismatic, and always willing to help others.
His trainer at the Boston Sports Club in Davis Square, Chrissy, said she first met Collier as a client. They quickly became friends outside the gym, too — they both liked country music and planned to attend a concert together this summer.
Chrissy, who did not give her last name, said that Collier protected everyone around him. When she was assaulted in the fall of 2011, she had to report to the Somerville police station to identify suspects in a lineup. She was upset and scared, but to her surprise, when she arrived at the station, Collier greeted her at the front desk and then stayed with her throughout the process.
"He sat with me while I was waiting to go in for the lineup and drove me home after to make sure I was okay,'' Chrissy said, saying his presence helped her get through that day and the days that followed.
Holly Dixon, whose 28-year-old son, Travis, was Collier's roommate in Somerville, said Collier loved camping and the outdoors and was incredibly generous.
"He is one of the nicest guys you can imagine, funny, everybody liked him,'' said Holly Dixon. "He was a nice, nice kid, who would do anything for you.''
She said her son worked at Boston College as a police officer, similar to what Sean did at MIT, and was able to then get hired by the Wellesley Police Department six months ago — a route that Sean hoped to follow onto the Somerville force.
DiFava said that Collier worked a 3-to-11:15 p.m. shift and was on duty Thursday night. Acccording to a statement from the Middlesex County district attorney's office, at 10:20 p.m, gunshots were reported to police, and 10 minutes later Collier was found shot in his car. He suffered multiple gunshot wounds and was pronounced dead after arrival at Massachusetts General Hospital.
DiFava said Collier was a remarkable officer and person — the same funny, charismatic, and committed individual in the uniform and in street clothes. He said that a particular problem MIT police face is that many students come from countries in which law enforcement officers are not respected. Collier, he said, was able to overcome cultural barriers and integrate himself in the community.
"Besides this being absolutely heartwrenching, it's also a tremendous loss of a huge talent,'' DiFava said.
"The loss of Officer Collier is deeply painful to the entire MIT community,'' MIT President L. Rafael Reif said in a statement. "Our thoughts today are with his family, his friends, his colleagues on our police force and, by all accounts, the many other members of our community who knew him. This is a senseless and tragic loss.''
Collier was a 2009 honors graduate of Salem State University, receiving a degree in criminal justice.
"The MIT Police serve all of us at the Institute with great dignity, honor and dedication,'' Israel Ruiz, MIT's executive vice president and treasurer, said in a statement. "Everyone here — those who knew Officer Collier, and those who did not — are devastated by the events that transpired on our campus last night. We will never forget the seriousness with which he took his role protecting MIT and those of us who consider it home.''