NoPrimaryTagMatch
Cabbie believes he had close encounter with Marathon bomb suspects; picked up unusually heavy backpack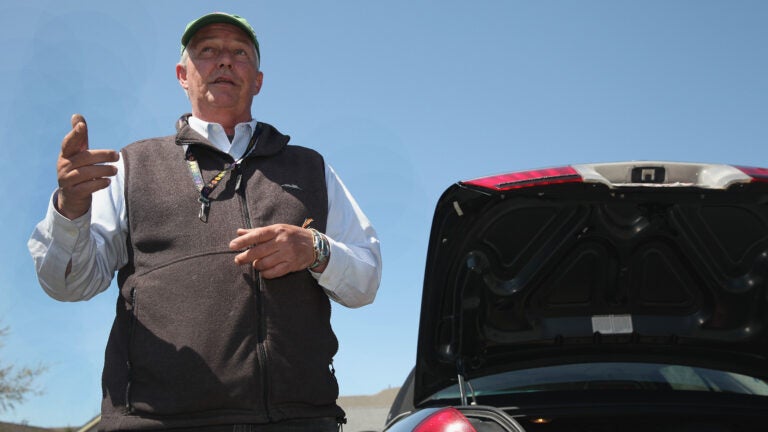 MALDEN — A local taxi driver says he believes he had a close encounter with the Boston Marathon bombing suspects in which he even picked up a heavy backpack that one of them had placed in his cab's trunk and remarked aloud on how heavy it was.
[fragment number=0]Jim Duggan picked up two young men on April 14, the day before the terror bomb attacks, at the Malden MBTA Station and they instructed him to head to Norfolk Street in Cambridge.
He decided to engage the two, who were sitting in the back of his cab, in a bit of light conversation, said Duggan, who said he has also told his story to federal investigators.
"Great day tomorrow for a marathon — you guys going?'' he asked them.
The younger male, wearing a white cap responded, "Ah, marathon,'' Duggan said.
And then, suddenly, the older male cut the younger one off, yelling at him in a foreign language, clearly angry, his outburst startling Duggan.
Tamerlan Tsarnaev, 26, and Dzhokhar Tsarnaev, 19, allegedly planted the bombs that exploded on Marathon Day, killing three and injuring 264. They lived on Norfolk Street in Cambridge and allegedly carried the two bombs they detonated in backpacks.
Duggan says the two men he picked up appeared to be the suspects.
After his attempt at small talk, Duggan said, the two men told told him to make an abrupt stop.
Duggan said he told Department of Homeland Security agents, during an hour-long interview in his backyard in Malden, that he almost drove away with the two backpacks that the men had deposited in his trunk after they hailed him at the T station.
"They certainly wanted to get my attention, because they slammed their hands repeatedly on the back. Bang bang, bang!'' he said.
Duggan said he stopped, popped the trunk open, and got out.
"They were angry at me, so I tell them, 'Excuse me, I'm a human being, I made a mistake and I'm sorry.'''
Duggan lifted the hood and reached for the dark backpack that the older man had carried. He was shocked by its weight.
"It was as full as it could be and it was very heavy, so heavy that I had to brace myself and try to lift it again,'' Duggan said.
The older man started screaming and snatched the backpack. "I told him to relax, that I was just trying to help,'' Duggan said.
Duggan said he also remarked to the younger man, "You know what, that is the most packed backpack I've ever picked up. I don't know what you got in there, but hey, have a nice day.''