NoPrimaryTagMatch
Celebrities and their pets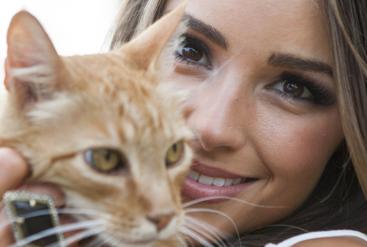 Many pets of celebrities live in the spotlight too. Some of the pets we're about to show you have inspired books, attended film festivals, been featured on popular TV shows (hint: there is a ballroom involved), rallied for good causes, and more. Check out these high-profile pets of TV and movie stars, royalty, politicians, sports stars, and more.

DWTS pup

"Real Housewives of Beverly Hills'' personality Lisa Vanderpump and her dog, Giggy. Vamderpump was a contestant on "Dancing With the Stars,'' so Giggy snagged some camera time on that show too (all dolled up in his ballroom best, of course!).

First dog Bo

President Obama arrived with his dog, Bo, to read "Chicka Chicka Boom Boom'' during activities at the annual Easter Egg Roll on the South Lawn of the White House last Easter.

Snowboarder sidekick

Lindsey Jacobellis of the US Snowboardcross Team and her dog, Gidget, talked to Luke Mitrani after the FIS Snowboard Halfpipe World Cup at the Sprint US Grand Prix at Park City Mountain in February.

Poodle for PETA

Bollywood film actress and model Sherlyn Chopra held her pet poodle as she left after an awareness campaign by People for the Ethical Treatment of Animals India in Mumbai in February.

Baba Murphy

Gary Dell'Abate, the longtime "Howard Stern Show'' producer also known as "Baba Booey'' who now co-hosts the VH1 show "For What It's Worth,'' hugging his dog, Murphy, at his house in Old Greenwich, Conn., in February.

Literary pup

Fashion designer Harald Gloeoeckler posed with his dog, Billy King, in Berlin in February. His dog inspired him to write the book "Billy King – My Life with Harald Gloeoeckler.''

Always with Henry

Phoebe Price, right, posed with her mother and dog, Henry, during Day 3 of "Village At The Lift 2013'' in Utah in January. According to the Huffington Post, Price is rarely seen without Henry and even pushes him around in a specially made push chair for dogs.

Political pooch

Senator Scott Brown brought his dog Koda (held by daughter Arianna) to a campaign stop last fall.

Sponge Bob and the beauty

Miss USA winner Olivia Culpo from Cranston, R.I., played with her family cat, Sponge Bob, last summer.

Royal pup

Prince William and his dog, Lupo, attended the Golden Metropolitan Polo Club Charity Cup polo match in June.

Kisses for Maddie

Host Kristin Chenoweth lifted her dog, Maddie, for a kiss at the Hero Dog Awards in Beverly Hills in October. The event honored America's most courageous canines.

Rescued by a Golden Globe winner

Liv Ullmann is a Golden Globe-winning actress living in Boston who rescued her dachshund, Chelsea, from the MSPCA in Boston. Read our Q&A with Ullmann.

Sen. Kent Conrad of North Dakota carries his dog Dakota to the senate floor on Capitol Hill in Washington, ahead of the senate confirmation vote on Elena Kagan as Supreme Court justice in 2010. Dakota, who has since passed away, became a Washington fixture as he attended congressional meetings alongside the former senator.

Former first dog

President George W. Bush holds his dog Barney as he walked out of the White House in Washington in 2002. Barney died of lymphoma at the age of 12 in February.

Soaking up Sundance

Actor Mickey Rourke sat with his dog on Main Street during the Sundance Film Festival in Utah in 2003.

Pooch gets the scoop

Pulitzer Prize-winning photojournalist Stanley Forman and his dog Glossy, who used to accompany him on stories, posed for a photo in 1977.