NoPrimaryTagMatch
Dedham's James Joyce Ramble convenes this weekend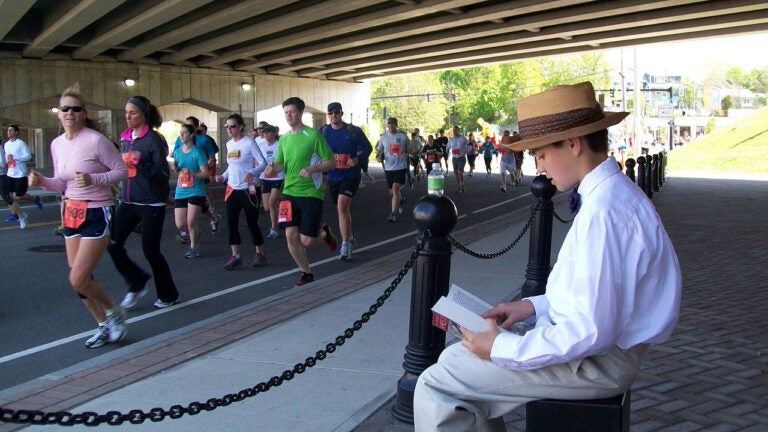 Named for an iconic author, dedicated to political prisoners, and linked to a fund-raiser for cancer research, the James Joyce Ramble in Dedham will celebrate its 30th running on Sunday.
The quirky event, with its tradition of actors who dress in period garb and read passages from "Ulysses,'' "Dubliners,'' and other works by the Irish writer as the runners race by, has become a beloved community tradition.
"They applaud us,'' Lyn DeBenedictis, who has read passages in unison with her twin sister, Jan, each April for decades, said of the 10-kilometer race's participants. At most road races, "you applaud the runners.''
This time, however, the James Joyce Ramble's significance will extend beyond the borders of Dedham, or even the region's running community.
The race will serve as the USA Track & Field's American Masters 10K Championship,
attracting 500 to 1,000 top runners from around the country. And being held less than two weeks after the Boston Marathon bombings, it is also taking on a somber urgency.
"We are going to soldier on,'' said race organizer Martin Hanley, who said he would have canceled the event only if public safety officials had requested it. "I hope that people can feel secure enough to come join us and come together as a community, and just feel the love we have for each other.''
In the early 1980s, Hanley was a marathon runner hoping to organize a race that was a little different and connected to his Irish heritage. He came upon the idea of using Joyce as an inspiration, naming the race after the author's notoriously difficult, "rambling'' way of writing, he said.
A passage from "Finnegans Wake'' — "riverrun, past Eve and Adam's, from swerve of shore to bend of bay, brings us by acommodious vicus of recirculation back to Howth Castle and Environs'' — could be seen as a vision for the race, which originally was held in the Riverdale section of Dedham.
From the 244 runners lining up for the first Ramble in 1984, the race has grown in size and renown, with as many as 2,000 runners and many, many times more spectators, so it had to find a larger venue.
The race now begins and ends at the town-owned Endicott Estate,
and winds through Dedham Square and the Noble & Greenough School
campus on its loop through town.
For Selectman Michael Butler, who has run about half of the races over the years, the Ramble is a chance to connect with residents, talk with old friends, and show off the town to outsiders.
The sense of tradition is also alive in Tracey White, who began volunteering at the race in 1987, when she was a student at Dedham High.
"The same people that originally ran are the people that are running now or walking with their kids,'' White said. "I like seeing my Dedham friends I grew up with. Some people that don't live in Dedham anymore, they come back for the weekend of the Ramble.''
In the first few years, the race's connection to Joyce wasn't so obvious, according to Hanley. "One gentleman ran with 'Ulysses' and was reading aloud as he ran,'' he said. "I didn't want people running with books in their hands because that was going to be a safety hazard.''
In the second year, Hanley sought out actors to fan out along the race course and read from works by Joyce.
Each mile of the six-mile course is assigned a different work: Mile 1 is "Finnegans Wake'' (published in 1939), Mile 2 is "Ulysses'' (1922), Mile 3 is "A Portrait of the Artist as a Young Man'' (1916); Mile 4 is "Exiles'' (1918); Mile 5 is the short-story collection "Dubliners'' (1914); and the last stretch of the 6.2-mile route is "The Dead,'' a "Dubliners'' story.
Jonathan Niles, a friend of Hanley's, has been stage manager since the late 1980s, coordinating the 20 or so actors. He encourages them to dress in clothing from Joyce's era in the early 20th century.
"We basically just say, 'It's up to you and your own imagination,' '' Niles said. "We tell them to look through their closet and find a tweed coat, a straw boater, or a bow tie. Sometimes someone wears an eye patch,'' as did Joyce. "And the women wear long skirts.''
Over the years, some of the performers have displayed amazing dedication in all kinds of weather, Niles said.
One year, Diana Rice read in the rain for too long and suffered hypothermia. "She did it until she dropped, and I've always commended her, but I put her at the starting line now, where there's a lot of food and water,'' Niles said.
Nancy "Zinnia'' Politzer, who has been reading for the race for about 20 years, said she always gets a kick out of acting in front of athletes.
"It was just this whimsical idea,'' Politzer said. "It's an opportunity to be an actor and to contribute to something that makes a difference.''
A copy of her passage, written in a stream-of-consciousness style with no punctuation — ". . . and then I thought well as well him as another and then I asked him with my eyes to ask again yes and then he asked me would I yes to say yes. . . '' — from the Penelope section of "Ulysses,'' is kept in her car's glove compartment all year long, she said.
The performers will have a new audience this year.
USA Track & Field holds its national 10K competition for the masters age group, runners aged 30 and older, at a different venue each year. This year's race was scheduled for Michigan, but when those plans fell through the Ramble was chosen as the replacement venue.
"I'm so happy Martin got the national recognition of this being the American Masters 10K Championship,'' said Dick Smitley, who as the race's codirector strikes a gong to start the runners each year. "It means a lot to him and to me.''
Tom Derderian, president of USA Track & Field New England, has run the Ramble numerous times. He said the combination of culture and athletics makes the race similar to the original ideals of the Greek Olympics. Besides that, it's well organized, which helped it land the national championship.
However, Derderian admitted, the Joyce readings would be "pretty irrelevant to top runners who are flying by.''
The Ramble will also include "Take a Walk,'' a 4.5-mile fund-raising trek for the Dana-Farber Cancer Institute.
Hanley always wanted the Ramble to have meaning, and used to donate race profits to Dana-Farber. But as expenses rose, the annual donations fell.
The fund-raising role was assumed by Take a Walk, which is organized by Dedham Savings Bank and the family of Janice Stanley, a bank employee who died of cancer. The walk has raised $12,000 to $22,000 a year for Dana-Farber, said Robert Stanley, Janice's son.
The race also dedicates each race to people whom organizers describe as "prisoners of conscience.''
The first was Vaclav Havel, the dissident writer who became the first president of the Czech Republic. This year's race is dedicated to a Bahraini activist, Nabeel Rajab, who has been imprisoned for his opposition to the government.
The Ramble this year will also give participants and spectators a way of responding to the Marathon bombings.
When she heard about the bombings, Politzer said, she knew instantly how important the Ramble would be. Though she doesn't like crowds, she hopes people will show up in droves and enjoy the race.
"I don't care what happens, I am going to be there and I am going to read,'' she said. "I will not let an act of terrorism limit the size and scope of my world.''
244
runners in the first James Joyce Ramble in 1984
1,971
runners in last year's installment