NoPrimaryTagMatch
Federal investigators search New Bedford landfill near where Marathon bombing suspect went to college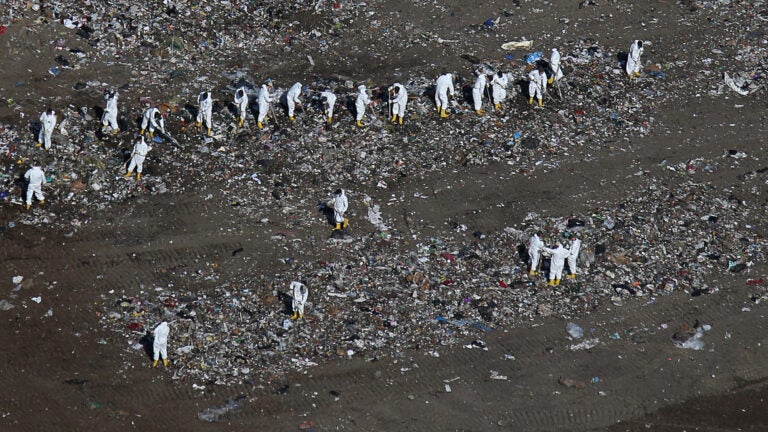 Federal investigators today resumed searching a New Bedford landfill in connection with the Boston Marathon bombing investigation, according to law enforcement officials briefed on the investigation.
The officials said the search had been going on for at least three days. The Crapo Hill landfill is several miles from the University of Massachusetts Dartmouth where Dzhokhar Tsarnaev was a sophomore. Students saw him on campus after the terror attack.
In his UMass dorm room, the FBI said in court papers, investigators recovered a "large pyrotechnic,'' a white baseball hat, and a black jacket similar to the one Tsarnaev was allegedly wearing when two bombs were detonated at the Boston Marathon April 15, killing three people and wounding 264.
An FBI spokesperson today refused to confirm the search, only saying, "We are conducting searches in many locations as part of a far-reaching investigation.''
Dzhokhar Tsarnaev is in fair condition at a Beth Israel Deaconess Hospital. Officials allege that Dzkhokhar and his brother, Tamerlan, set off the bombs, and also assassinated MIT Police Officer Sean Collier and wounded an MBTA police officer.
Tamerlan was fatally wounded during a ferocious gunfight with police early Friday in Watertown; Dzhokhar was captured later that day after a massive manhunt that shut down parts of Eastern Massachusetts for most of the day.
Dzhokhar is charged in US District Court in Boston with killing people with a weapon of mass destruction and malicious destruction of property causing loss of life, charges that could bring him a life sentence, or even the death penalty. The Obama administration has not decided whether it will seek the death sentence.
The Globe reported today that US officials disclosed that the CIA had placed Tamerlan Tsarnaev on a terrorism watch list several months after the FBI had placed him on a different watch list. Russian authorities had provided alerts about Tamerlan.
The bomb attacks have raised questions about what motivated Tamerlan Tsarnaev, a Kyrgyzstan national, and his younger brother, Dzohkhar, a naturalized US citizen. The attacks have also raised questions about whether authorities should have been able to prevent the attack.
Also today, the owner of a Watertown supermarket said that the FBI, the Bureau of Alcohol, Tobacco, Firearms and Explosives, and state and local police descended on the Francis Food Mart at about 12:30 p.m. Wednesday after a worker unloading a clothing donation bin spotted a suspicious package inside.
Michael Caira said he walked up to the item and saw a black plastic bag inside of which was a white plastic shopping bag, like the ones used by a large regional supermarket chain.
Caira said he was told by people at the scene that the bag contained fireworks, but he did not see them himself. An employee at Planet Aid, which operates the bins, told WBZ-TV that there were four or five fireworks each of which looked like a "big firecracker.'' One appeared to be empty.
Caira said that initially, the public safety response was small, but it grew in intensity and eventually led to the closure of Belmont Street for a hour or so while experts examined the contents of the black plastic bag.
He said the bag and two Planet Aid donation boxes were removed Wednesday.
The elder Tsarnaev purchased fireworks in New Hampshire prior to the bombing, a store official has said.
Caira was out of state last week, and he said the mini-drama that played out in front of his store was out of the ordinary for Watertown, just like the armed search was.
"This is not something that happens around here every day, even though Watertown has been in the news,'' Caira said. "It's really a quiet town and a nice place to hang out.''
Michael Tambosi, operations manager for Planet Aid, said the bins where the fireworks were discovered are emptied three times a week: Wednesday, Saturday, and Sunday.
That means, he said, that the fireworks must have been dumped in there sometime after 5:20 a.m. Sunday morning when it was last emptied. Tamerlan Tsarnaev was killed and Dzhokhar Tsarnaev was captured two days earlier.
Still, Tambosi said, the FBI agents he spoke with on the scene on Wednesday seemed grateful to the non-profit for alerting them to the discovery. He also said that if no connection is found, he believes both he and his organization did the right thing in contact police.
"If it is related or not, I think we did the right thing,'' Tambosi said in calling for the police to investigate.
He described the fireworks in question as each being about six inches long, one inch in diameter, and made of some corrugated material. He said they were affixed, possibly by glue, to a rectangular frame made of one-inch wood. He said one of the fireworks fell off the frame and that at least one of the items appeared to have been opened and emptied of its contents.
Tambosi said the FBI took the two collection boxes because they wanted to fingerprint them.