NoPrimaryTagMatch
'Newman' is more of the same old thing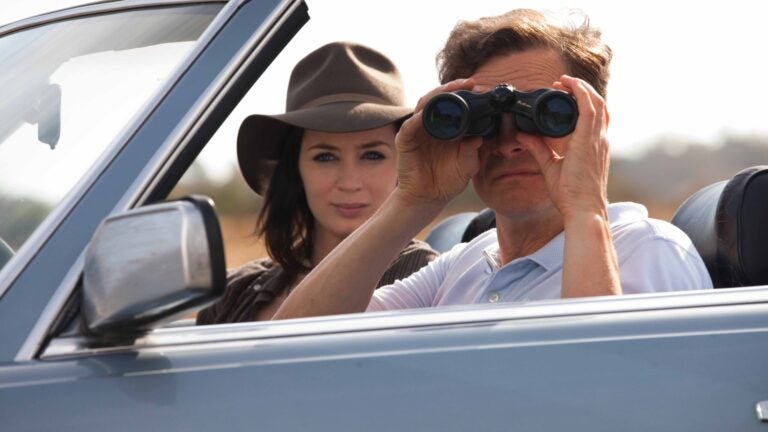 We all wonder, at some point in our lives, what it would be like to drop everything, disappear, and take on a new identity. Actors do it all the time and get paid for it; why should they have all the fun?
But the closest most people will get to that state of existential freedom is watching actors in a movie about it, and the pleasure usually comes with a price — a reminder that identity, though arbitrary, is also inescapable. In movies like Dante Ariola's debut feature, "Arthur Newman,'' so, too, are the cliches and platitudes.
Wallace Avery (Colin Firth) is tired of his life, and who can blame him? A middle management drone at the Orlando FedEx, he once aspired to becoming a golf champion. Can he still achieve his dream? To do so he buys a fake passport from a seedy dealer (M. Emmett Walsh, five minutes on the screen, but one of the best things in the film) and takes on the symbolically overdetermined name of the film's title. He tells everyone he knows (not many, and they don't really care) that he's vacationing at the beach. There he leaves his shoes and wallet in the sand and takes off in a Mercedes with a bag full of cash, headed for Terre Haute, Ind.
But, as we all know, such a stunt is just a way to meet interesting women. Sure enough, before he even gets out of town, the newly christened Arthur Newman locks eyes with Mike (Emily Blunt) as the police haul her away, drunk and noisy, for stealing the car of some bozo she had lured into a motel. Mike displays all the symptoms of the typical manic pixie dream girl — she's kooky, she's horny, she's got major psychological problems, and she's a liberating wish-fulfillment projection of the nerdy, uptight loser whom she seduces. Not that there's anything wrong with the motif — Jonathan Demme's "Something Wild'' (1986) perfected the genre, and you could say Jean-Luc Godard's career is an extended variation on the theme.
However, in lesser hands, this emblem of free-spiritedness and spontaneity deteriorates into just one more invidious stereotype. Though Blunt gives it her best, her character is amorphous. You can sense Ariola and screenwriter Becky Johnston flipping through index cards for the right formula: Identical twin? Schizophrenic? Kleptomaniac? No matter what they finally settle for, rest assured that family values will be vindicated.
Until then, the wacky pair do their best to flaunt convention. They follow strangers, break into their homes, try on their clothes, and have sex on their beds. Meanwhile, back at his old apartment, in one of the film's few inexplicable and potentially interesting kinks, Wallace/Arthur's son Kevin (Lucas Hedges) has been engaging in an odd ménage with his father's girlfriend Mina (Anne Heche). "He was kind of boring,'' Kevin says to Mina about his dad. "I mean, the lectures.''
And boring he remains. Once Arthur — and the movie — are done with their walk on the wild side, no doubt the lectures will start again.