NoPrimaryTagMatch
No vote on new Blocksidge Field in Swampscott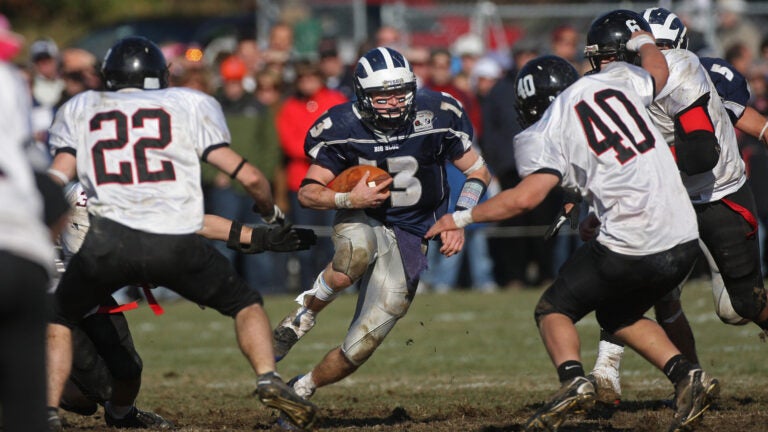 The Swampscott Board of Selectmen won't be bringing the newest proposal to rebuild a town athletic field up for a vote next month, but that doesn't mean it won't be coming up again.
Ultimately, Swampscott town officials explained, the decision not to bring the Blocksidge Field plan before the May 6 annual Town Meeting was based on timing and priorities.
"We want to wait until the five-year capital plan is complete, to see where it fits in,'' said Rich Malagrifa, chairman of the Board of Selectmen. "We've also got some drainage issues and want to do a townwide drainage study, so that's thrown in also.''
At Town Meeting last year, members voted twice on a $2.55 million plan brought by a citizens' group that would rebuild Blocksidge — located at Phillips Park, the hub of town athletic activity — as a synthetic-turf, all-purpose field using $1.85 million in town funds and $750,000 in private donations. The plan did not require a tax increase because of debt coming off the town's books in fiscal 2014. Each time, the proposal failed to reach the two-thirds majority required for passage.
A synthetic field would be a boon to Swampscott youth teams especially; proponents say there is a frustrating lack of field space in town. All For One Field group president (and Finance Committee member) Linso van der Burg said after the plan's defeat last year that "from our perspective, we probably did go in thinking that this was a slam dunk.''
In July 2012, selectmen created the Athletic Fields Study Committee, which presented a $1.54 million plan to the board in February. The plan calls for Blocksidge Field to be developed in three phases, with private donations funding the second two.
However, after feedback from the Finance and Capital Improvement committees and Town Administrator Tom Younger, the board opted not to put it on the warrant. Instead, study committee chairman Christian Urbano is scheduled to give a presentation at Town Meeting, and hopes to bring the project up for a vote as soon as the fall.
"We don't want people getting the impression that we're jamming this down people's throats,'' said Urbano, who said that having more time will give the group the opportunity to better educate the public about the proposal. "While I was ready, willing, and able to send the e-mails, go door to door, and have open public forums, and so was the committee, it just didn't seem that the time was right.''
Blocksidge Field was not included in the projects that will be recommended to Town Meeting next month by the Capital Improvement Committee because the study committee had been unaware of the December deadline for requests. "To put it as a stand-alone warrant article was pushing it,'' he said.
Malagrifa said the board was concerned that another rejection at Town Meeting would doom the project.
"We don't want it to appear that we're just throwing it up against the wall to see what sticks,'' he said. "We want to make sure it's well thought out, fits into our five-year-plan, and is something we can afford and something the community wants.''
The town is in the midst of developing a five-year plan to prioritize capital projects and identify funding sources.
The field project could run up against efforts to address the storm-related flooding that has hit the town in the past couple of years.
Selectman Glenn Kessler said that following the heavy rain that caused flash flooding during an October 2011 storm, 600 Swampscott families unsuccessfully sought emergency relief. Some experienced sewer backup.
He said he'd like to see his daughter play soccer on the new field before she graduates from high school, "but for the betterment of the town, how do you look at your neighbors and say 'it's more important to get this field built' before you take care of your neighbors who've been flooded time and time again.''
Malagrifa said selectmen have discussed the need for a townwide study of drainage issues, which could be the precursor for larger changes, but are waiting for the results of a smaller study of flooding of Paradise Road. The board may seek funding for the townwide study within the next year.
"We want to wait until that's ironed out before we do the field, if [the field] fits into our capital plan,'' he said.
Younger has been researching capital projects going back to 2002, identifying funds that the town may be able to carry over to other uses, such as the flooding study.
Urbano said he's looking forward to presenting his committee's plan to the community. He also knows that there are other projects on the horizon for Swampscott, such as a new elementary school.
"I don't want to compete, or make it a zero-sum game, which has happened a lot,'' Urbano said. "I'm hoping we can find it within our budget to do all of these things through bonding over time, and not [overburden] the taxpayers, of which I am one.''
Malagrifa said that the board's decision not to bring the field proposal to Town Meeting should not be construed as a lack of support.
"Those stands are the same stands and it's the same field from when I was a kid, and I'm 51 years old,'' Malagrifa said. "I still think it's the right thing to do. What we have is an embarrassment.''