NoPrimaryTagMatch
Students bring poetry to Newburyport Literary Festival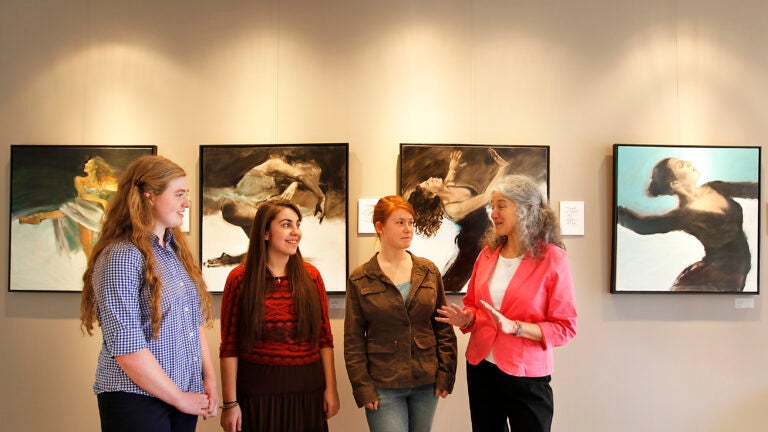 NEWBURYPORT — The former assistant principal at Newburyport High School has a booming voice that always intimidated the students, they say. So when Tim McCarron, now a principal in Lawrence, submitted a humble, self-doubting Walt Whitman poem to Newburyport's Favorite Poem Project, his onetime students were surprised to learn that the stern disciplinarian has another, altogether different side.
Deborah Szabo, who teaches the Newburyport High creative writing class in charge of the city's 11th annual poem project, said she always knew McCarron was a poetry lover.
"He had a poetry app on his iPhone,'' she said. "He used to come show me poems all the time.''
It's just one example of the literary tendencies of this revitalized old seaport, which will host the eighth annual Newburyport Literary Festival this weekend. Highlights of this year's festival include Pulitzer Prize winner Junot Díaz; a sneak preview of local resident Andre Dubus III's new work in progress; and an opening night ceremony honoring Matthew Quick, author of the book that inspired the Oscar-nominated film "Silver Linings Playbook.''
On Sunday, the festival will wrap at the Firehouse Center for the Arts with the local version of the annual poem project, a national initiative begun in the late 1990s by Robert Pinsky,
a poet and Boston University professor who was then the country's poet laureate. Szabo brought the event to Newburyport after taking a workshop with Pinsky and poetry project director Maggie Dietz in 2002.
Szabo said she felt strongly that the program would be a success in her community. Sitting recently with her class, their desks arranged in a circle, her tie-dyed socks and pink-laced running shoes poked out toward the space in the middle. Newburyport is home to the Powow River Poets, a nationally renowned writing collective.
"To me they're like a little Bloomsbury,'' Szabo said, referring to an informal writing group — which included Virginia Woolf — that gathered in London in the '60s.
The community has supported the Jabberwocky Bookshop for 40 years. Owner Sue Little will be honored at this year's literary festival for her lifelong service as an independent bookseller.
Little contends that Newburyport is no more or less literary than other communities on the North Shore, though she conceded the picturesque city is well-suited for visitors and good at drumming up the kind of community involvement that can make a festival flourish.
She opened her first storefront for Jabberwocky, now located in the Tannery Marketplace, with $2,000 to her name in 1972. She was 22, and a self-professed bookaholic.
"At the time, I was taking the bus into Boston, filling a backpack with books and coming back,'' she said. "I just felt if I was needing to go to Boston to bring back a load of books, other people must be looking for them, too.''
Szabo, a transplanted New Yorker who landed in Newburyport 30 years ago, was one of those people. In her classroom hangs a poster titled "American Authors,'' featuring a dozen black-and-white images of old men with various styles of facial hair: Whitman, Mark Twain, Ernest Hemingway, Edgar Allan Poe.
Poe's sullen image is featured on the flier Szabo's students posted around town for this year's poem project. He's a favorite of student Gabrielle Cole, who painted the skillful watercolor.
The poems the students selected to be read this year range from work by John Greenleaf Whittier, Pablo Neruda, and recent Pulitzer Prize winner Sharon Olds to the whimsical children's writer Jack Prelutsky. Each year, Szabo said, she makes an extra effort to bring in as many disparate voices as possible.
"We've had a Chinese student and a Greek teacher,'' she said. "I've gone to the Indian restaurants and asked, 'Would you be willing to read a poem in your native tongue?' ''
One year, she recalled, an exchange student read a poem called "My Mother's Hands,'' which relied on a refrain of the title phrase . . . in Russian. Even though no one understood the language, Szabo said, "Every woman in the audience was teary.''
As they do every year, Szabo's students are learning that a good poem can express any emotion: pride, sorrow, exultation, seething anger. One disturbing submission, a poem by the late, award-winning poet who called herself Ai — "love'' in Japanese — provided the class with an unplanned lesson in transgressive writing, said Szabo. They spent one class crafting a careful response in which they gently reminded the woman who suggested it that there would be young children in attendance, and they invited her to submit another poem.
"We were careful in rejecting the poem not to reject her,'' said Maggie McCool, a student in the class.
Their reply turned out to be an exercise in word choice, said Szabo — "the things English teachers try to teach kids. That was an extra perk of the project.''
It also helped the students see that readers can be moved by all kinds of writing. Two of the submissions they have been considering — one sent by a School Committee member, the other by a city councilor — are bleak lyrics by songwriters Randy Newman and Nick Cave.
Meghan Claflin, the class's music fanatic, said she could relate: "I like country music and angry music,'' she said.
Little, the Jabberwocky owner, said she is seeing young book lovers come back to the printed word after a brief flirtation with e-readers. In lieu of a tribute to her service — "that would be boring,'' she said — she persuaded festival founder and cochairwoman Vicki Hendrickson to let her organize a panel discussion on the future of the book.
Any future for books will require young people, and Little said she sees them in her store.
"They're delighted with books again,'' she said. "That I didn't expect.''