NoPrimaryTagMatch
Title IX battle looms in North Reading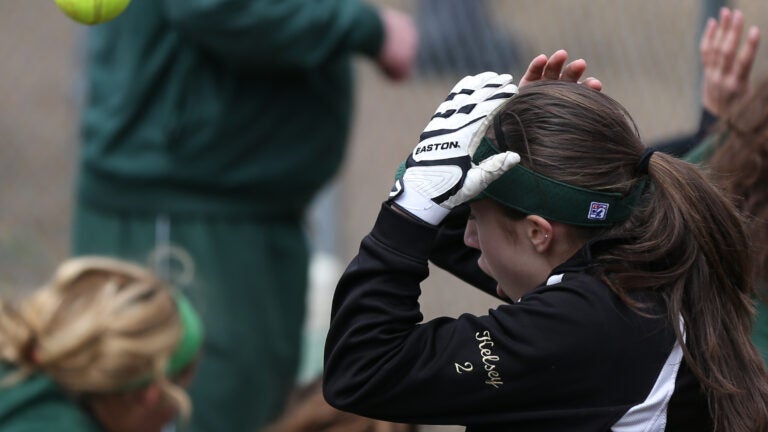 NORTH READING — The softball team plays nearly 2½ miles from the high school campus, and players have to provide their own transportation to home games and practices.
The baseball team plays adjacent to the high school, and has had access to amenities the softball team lacks: dugouts, locker rooms, and bathrooms.
All this was expected to change with construction of a new $122.7 million middle/high school complex, a project that is underway in North Reading. But somehow, two fields — one for baseball, the other for softball — became two for baseball, which for some people in town, was just too much.
The potential for a complaint to be filed over violations of Title IX, the federal law that requires equal treatment of male and female athletes, looms as a last resort if, as one of the organizers of North Reading Citizens for Equality said, school officials do not do the right thing.
"The reason we haven't referred it to the Office of Civil Rights yet, is we're just trying to work with them, especially with the high school project in such an early stage,'' said Jennifer Casoli. "We don't want to hold that up. So we're going to give them some time to make the decision.
But if they vote to keep the baseball field, we will be contacting the OCR.''
For more than a decade, the North Reading softball team has played its home games tucked behind the E. Ethel Little School, which is for kindergarten through Grade 5, on Barberry Road. The field has no dugouts and, until recently, was not maintained at the same level as the baseball field, North Reading Citizens for Equality said.
According to minutes of a School Committee meeting held last July, the original plans for new athletic fields at the 44-acre middle/high school complex designated a multipurpose field and a softball field at the lower end of the site. But the Secondary Schools Building Committee, a 21-member group tasked with supervising the project, recommended replacing the softball field with a small baseball field because the site plan called for the current baseball practice field to be paved over for parking.
North Reading High principal Jon Bernard and athletic director Dave Johnson presented the recommendation to the School Committee during that July meeting, with the backing of varsity baseball coach Frank Carey and softball coach Walter "Rusty'' Russell. The School Committee voted to accept the change, 4-0.
"Our recommendation was based on, we had a presentation from the athletic director, the principal of the high school, with input from the softball coach, all recommending strongly that the new field at the new school be made a baseball field because we're losing a baseball field with the construction of the two new schools,'' said Mel Webster, chairman of the School Committee.
Russell, who has notched more than 400 wins and led the Hornets to two state softball championships during his 28 years as coach, said he had mixed feelings about where his team should play.
"As far as I was concerned, I was very happy just staying down there'' at the Little School, Russell said. "But the more I thought about it, and I expressed this to the athletic director a few months back, that it really shouldn't be my call. I've been there for 28 years coaching, but I don't know how long I'm going to be and I think eventually the team should end up back at the high school.
"I'd hate to leave it, but I do believe in the long run, [the softball field] belongs at the high school.''
Casoli and another leader of the equity group, Joanne Lehner, decided the move to campus needed to be addressed now, in the early stages of construction for the school complex, which is scheduled to be completed in 2015.
Casoli, a retired lawyer, gave a presentation, citing case law, to the School Committee in January outlining the inequities and pointing out possible Title IX violations. Having to travel to their home field, without transportation provided or reimbursed, is just one example, she said, along with inadequate facilities, such as the lack of bathrooms and locker rooms at their home field.
Some of the issues have been addressed. The softball team now has a key to the Little School to use a restroom there. Care and maintenance of the softball field has been upgraded, although the baseball field recently had dugouts installed while the softball field did not. There also have been issues with equal access to the school's indoor batting cage.
"Some of the [issues] were raised for the first time this fall,'' said Kathleen Willis, who is in her third year as superintendent of schools. "And when some of those concerns came to my attention and the attention of the administration and the [School Committee] athletic subcommittee, it was the first time that we had a chance to really examine schedules and who had access when. And since we've done that, new schedules of access [to the batting cage] have been developed to make sure that there's equity.
"I think there was a longstanding practice of who accessed what when. It doesn't mean it was always right, but I think that's the way that I think that the softball team and the baseball team had progressed over the years. But as soon as those issues came to our attention it gave us an opportunity to take a look at past practice. And it doesn't mean that just because it's always been done that way that we should continue doing it.
"So when we identified that there was in fact a need to change, we made that change. And from what the parents have told me, they've appreciated that we've paid attention to these issues.''
The fact that the situation with the softball team's home field has been going on for so long does not mitigate it, Casoli said.
"Absolutely not,'' Casoli said. "It shows that they have been, at best, ignorant and at worst outright willfully in violation of Title IX.''
Erin Buzuvis, a law professor at Western New England University and a Title IX expert, has not been involved in the local discussion, but did a quick review of the situation in North Reading.
"It's not equitable for the girls to have to pay for their own transportation off campus or to not have fields of comparable quality,'' she said. "And it's even more egregious that at a moment when the school is adding new facilities, it's not seeking to correct that inequity but is perhaps going to exacerbate it.''
Like Casoli and Lehner, Tom Magner
does not have a daughter on the softball team. But the situation did not sit right with him, so he joined North Reading Citizens for Equality to support its efforts.
"I attended an [athletic] subcommittee meeting recently and I came away from that feeling that everybody involved genuinely wants to do the right thing,'' said Magner. "But there's a difference of opinion on what that means. And there are some people that feel very strongly that they can make a few changes to the existing facility and make it all right, and there are some others who are a little more open-minded about reworking the entire plan.
"But I don't think there's any malice. I do think they genuinely want to make it right. I just think we don't all agree on how to get there.''