NoPrimaryTagMatch
"MMM, Bacon!'' is a new manly scent from Yankee Candle's Man Candles collection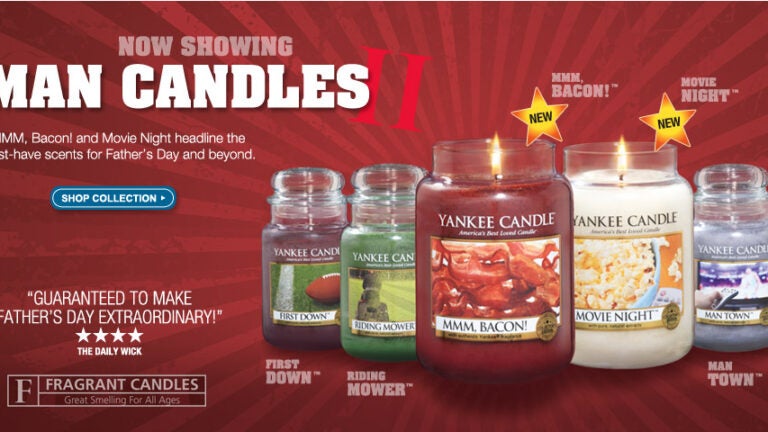 Just in time for Father's Day, the Yankee Candle Co. of Deerfield is unveiling some new offerings for its Man Candles collection, including one that is redolent of bacon and another that emits the fragrance of movie-house popcorn.
As many candle buffs know, the Man Candles collection launched last year on the theory that a man's den, basement, or garage could benefit from pleasing scents.
According to the company, the line's debut produced such a "tremendous response'' that a Man Candles II collection was in order.
Officially, the line's two new fragrances are titled, "MMM, Bacon!'' and "Movie Night.'' (In describing "Movie Night, the company says: "It doesn't matter what's playing … the enticing aroma of hot, freshly buttered popcorn is the feature attraction.'')
"The novelty of the original Man Candles collection proved to be a huge hit with our consumers, so it was important to incorporate additional fun fragrances for this Father's Day,'' Hope Margala Klein, the company's executive vice president of brand, innovation, and merchandising, said in a statement. "Based on feedback from last year's record-breaking launch, these new scents were a must-have for the collection, especially with bacon poised to be this season's hot trend. Who doesn't love the smell of bacon?''
Original fragrances in the Man Candles line include "Riding Mower,'' which features the intensely summery scent of freshly cut grass,'' and "Man Town,'' which is supposed to buck up a man cave with "a masculine blend of spices, woods, and musk.''
Yankee Candle specializes in premium scented candles; the company owns and operates 557 Yankee Candle stores.