NoPrimaryTagMatch
The Hyannis Sound comes to Rockland for church bicentennial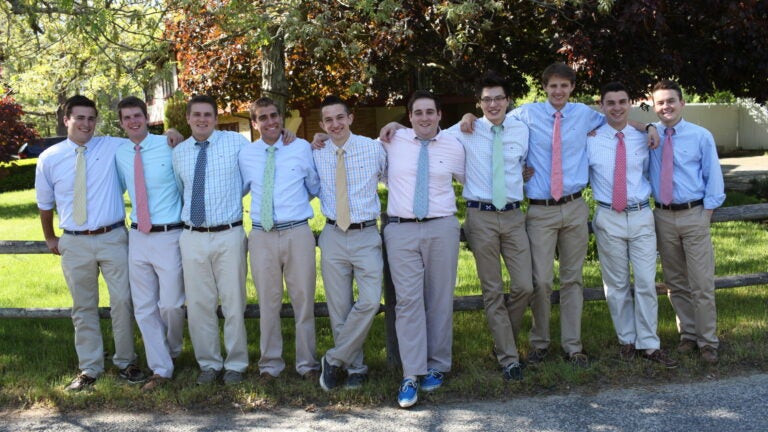 The pastel-tie-wearing and Oxford- and khaki-clad Hyannis Sound a cappella singers are bringing their fresh harmonies to Rockland this weekend.
The First Congregational Church will host the all-male a cappella crew Saturday
as part of its 200th anniversary concert series themed "When in Our God Our Music Is Glorified.''
The Hyannis Sound, consisting of 10 college students, performs on Cape Cod each summer with a weekly concert series at churches in Falmouth, Chatham, Hyannis, and Brewster, as well as private and public functions throughout the Cape and elsewhere. The group's varied repertoire spans many decades, and encompasses styles ranging from pop, rhythm and blues, and rock music to choral, folk, and jazz.
Now entering its 19th season, the Hyannis Sound is an auditioned group that attracts young men from the Cape, the south suburbs, and across the country. It recently wrapped up a rigorous training schedule to prepare for its busy performance season.
"We like to say that we're fun for the whole family — there's something for everyone,'' member and business manager Marc Whittington said. He said members work to include songs from every decade from the 1940s to today, and include everything from up-tempo tunes and ballads to jazz and mash-ups.
"We try to get a whole spectrum,'' he said. "It's good, clean family fun for everyone.''
The evening of musical entertainment and food begins with a three-course "old-fashioned church supper'' of baked ham and beans or macaroni and cheese at 6 p.m. The concert will follow at 7:30 p.m. in the sanctuary.
Concert tickets are $10 and available by calling 878-878-0060 or at the door. A dinner/concert combo is available for $15. Visit the church's website at www.firstchurchrockland.org
for more information.