NoPrimaryTagMatch
Brothers on new path in 'Kid With a Bike'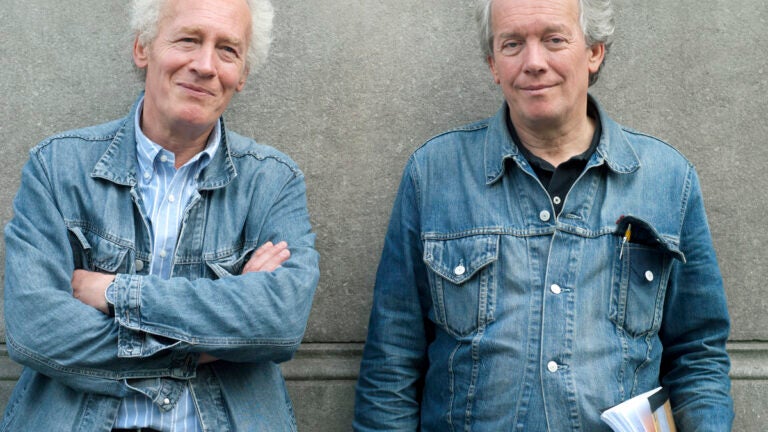 NEW YORK – You can tell a lot by where the Dardenne brothers choose to put their camera.
In "The Son'' (2002), it bobs behind the head of a teenage boy, succinctly capturing the viewpoint of Olivier (Olivier Gourmet) and Olivier's unwavering fixation with the boy who killed his son. In 2008's "Lorna's Silence,'' it lingers at a distance, afraid, like its protagonist, to get too close. In their latest film, "The Kid With a Bike'' (opening Friday), it is mostly fixed in place, eschewing the Dardennes' preferred brand of wobbly camerawork. It stands still as 11-year-old Cyril (Thomas Doret) continually storms away, on foot or on his bicycle – away from danger, away from complication, and away from the woman who has come to care deeply for him. Cyril, the most recent of the Dardennes' curiously fixated heroes, is intent on tracking down his deadbeat father, and no obstacle will stand in the way.
"Our characters are the result of an idea, an obsession,'' Luc Dardenne observed on a recent visit to New York with his brother Jean-Pierre. "Cyril wants to find his father; Rosetta [from the 1999 film of the same name] wants to find work; Francie [of "The Son''] wants to be adopted by Olivier, wants him to be his guardian; Lorna [of "Lorna's Silence''] wants to have her snack bar, her place in the sun. And this obsession is always in juxtaposition with a moral question, like, in order to have this, am I going to have to kill someone? Or am I going to have to do X, Y, and Z? What's the price? The way they can escape this conflict is by opening themselves up to another human being.''
For Cyril, that human being is Samantha (Cécile de France), who encounters him by chance and develops a growing interest in the boy and his dogged pursuit of his father. Cyril is like a detective working a case that remains a mystery to no one but himself. "In fact,'' notes Luc, "we called that part of the film 'Cyril's Investigation.' ''
The film's motivating factors – boy on bicycle, father fleeing responsibility – were born of a chance encounter the Dardenne brothers had in a small French town, and a burst of imaginative flight. "One day, we passed a boy on a bike,'' remembers Luc. A man in his 60s, who had been abandoned by his own father as a child, asked the filmmakers if they'd ever thought about such a boy running into his missing father one day, and Luc says a plot element was born. "We thought, well, why not? Maybe his father will change. And maybe he'll see him again later.'' The man's delight that the Dardennes thought the idea even plausible seemed to confirm its emotional weight. "He said, 'Well, thank you for saying that. I haven't seen my father since I was 9. He's probably dead by now, but I'm still waiting for him.' ''
Cyril's story of love lost and partially recovered is a muffled tragedy, portrayed as ordinary even though the film's audience is likely to view it as extraordinary and intimately painful. "Of course, he reacts,'' Luc says, noting on what's beneath Cyril's apparent calm after being abandoned by his father. "He cries, he screams, he bites. But it's as if he's adapting himself to survive, constantly. It's almost as if, as an adult, we felt that his story was more tragic than he experienced it.''
Cyril is reminiscent of past Dardennes protagonists, and yet the precise relationship between "Kid'' and their other films is elusive. "Maybe if we figured it out, we'd stop,'' says Jean-Pierre.
"The Kid With a Bike,'' like the Dardennes' other films, began with a script written by Jean-Pierre, but was fully fleshed out during a 45-day rehearsal process. "During the rehearsals, there's a lot of stripping away, and so the ornamentation is dropped and flows away,'' says Luc. Often, the ornamentation served as the tendrils linking one scene to the next, or the lull between one decisive moment and another. "The viewer is very bright,'' says Luc. "So you don't have to give him all the indicators, and the links for things. He can make the connections. The viewer is working, too.''
Rehearsals were also an opportunity for the filmmakers to make crucial decisions about refinements to their style. "Kid'' alternates between three key locations – the housing project where Cyril stays with Samantha, the gas station where he hopes to find his father, and the woods – with Cyril and his bicycle the sole visual and personal link between them. The joggling camera of "Rosetta'' was replaced early on by a new, crisper framing. "At a certain point we felt that's the way it needed to be done,'' says Jean-Pierre. "Even if we were discovering what we do as we work, even if we work very intuitively, we were always working from the standpoint that the camera needed to be as discreet as possible.''
On set, the Dardennes prefer to keep their own company, viewing the action separately. "It's very rare that one of us can be next to the camera. So we're often both of us in front of the monitor, and that's where we argue,'' jokes Luc. "That's why next time we decided we're going to put the monitors in our homes, and each be in our homes.''
For the Dardennes, the film is the record of the journey, even – or especially – if the final destination is out of sight. "He doesn't quite know where he's going,'' observes Jean-Pierre of Cyril. "We like the viewer to be a little bit like him. To not really know where it's going to go.''