NoPrimaryTagMatch
In impromptu show, a 5-year-old cancer patient dances, and shines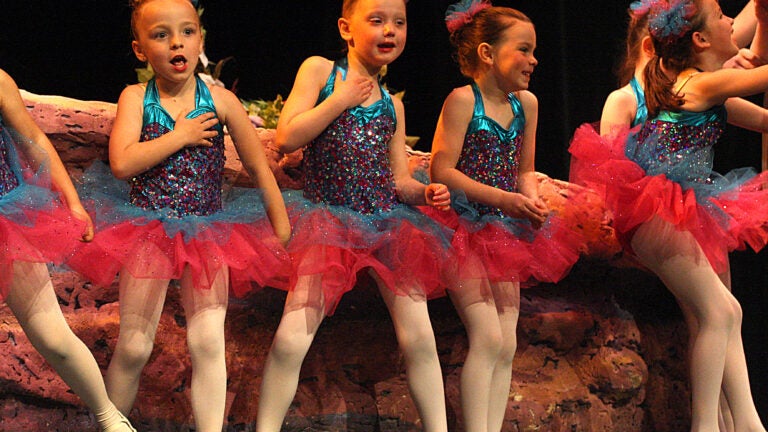 Fourth in an occasional series about Hope for Caroline.
SCITUATE — One evening late last month, a spunky 5-year-old girl from Norwell danced before a rapt audience of family and friends in an auditorium at Scituate High School. She gave them adorable, with a touch of inner goofball. It was a triumph.
Caroline Cronk, nicknamed Calle, twirled alongside other pint-sized colleagues in identical pink and blue costumes. Her movements were stiff, but still playful. She kept her balance by improvising on the fly. She graced the stage with singularity, and courage.
The impromptu May 21 dance recital known as "Calle's Big Show'' was scheduled just days after doctors told Rachael and Kevin Cronk that the rare and inoperable tumor located on their beloved kindergartner's brain stem had grown about 25 percent in six months. The Cronks described the information as "crushing.'' They asked that people pray for a miracle.
The tumor growth was the latest blow for the family in a health crisis that has unfolded at a frightening pace. This past fall, Calle's parents began to notice signs. Her coordination was off. She would fall walking across the floor at home. Her mother brought her to the hospital for tests.
On Nov. 15, Calle was diagnosed with a rare pediatric malignancy known as diffuse intrinsic pontine glioma, which has a median overall survival rate of nine months to a year from diagnosis. Only 2 percent of children, typically ranging from age 6 to 10, survive it. About 200 children are diagnosed each year in the United States.
On the heels of this news, the family founded Hope for Caroline, a nonprofit foundation to fund research and offer support to families of children suffering from the same condition. The Cronks' plight has inspired a Facebook site with nearly 15,000 followers and numerous happenings to raise money for new medical research, including a "Hope, Faith and a Cure Event,'' an auction that begins at 7 p.m. on Friday
at Granite Links Golf Club in Quincy (tickets will be available at the door).
Now the story that has moved countless people in the Boston area and beyond is entering a new chapter: Calle is exhibiting significant health symptoms after about four months of relative reprieve, a cherished pocket of healthier time that lasted from the completion of six weeks of radiation in the winter until early spring.
It was an interval that Sharon Ramos, Calle's aunt, had described as filled with hope. "We're getting used to happy times again,'' she said at a fund-raising beauty pageant in Plymouth in February.
It was a time of activity. Among the countless things she's done, Calle has been able to seize a microphone and hit the living room dance floor; to cover the wall above the bathtub with hearts and declarations of love for her favorite people; and to attend raucous princess parties. She has flown to Disney World in search of fairy tales and to a shrine in Lourdes, France, in search of healing miracles.
She has also experienced the normal trappings of a suburban childhood. She has regularly attended kindergarten in Norwell and a much loved weekly class at Dance Carousel in Scituate. She has palled around with brother, Connor, 7. She has enjoyed play dates and visits to the American Girl doll store. She has shouted out happy tidings to strangers before getting her ears pierced at Derby Street Shoppes in Hingham.
Now the tumor that her mother has described as a monster is making itself felt in Calle's world. She is having trouble walking, again. Over Memorial Day weekend, she struggled to move her left arm.
Dr. Mark Kieran, director of the pediatric medical neuro-oncology program at Dana-Farber Children's Hospital Cancer Center, says Calle's is an aggressive cancer that strikes a critical part of the brain that regulates breathing and heartbeat. It's one of the worst diagnoses possible for a child.
This is a reality that has been met with an outpouring of love. On the night of Calle's dance recital in Scituate, families from nearby communities packed the auditorium. Many dozens of children and parents arrived carrying bouquets of flowers for Calle, taking time out on a school night to support and celebrate the little girl.
Rachael Cronk greeted the families as they entered the auditorium. She smiled. She hugged people. Then she took a seat beside her husband in a row behind the youngest dancers, including Calle, whom she leaned toward often to touch and whisper encouragement. Much of the extended family was in attendance. At times, grandmother Kate Sowdon videotaped both the dances and images of the family themselves as they watched Calle's sassy self on stage.
Michelle Hayes, owner of Dance Carousel, organized the night. She demanded a strong performance but was also flexible with the children. At one point, she let the kindergartners frog-march and giggle, as they so chose, as they came forward to tell the audience about their favorite toy.
Calle was among the goofiest and most daring on stage. She made a comic show of approaching the microphone, which was mistakenly hung at a crooked and low angle. She bent over and down and shouted into it with good-natured enthusiasm before breaking into laughter.
When she performed her dance, she was all passionate business. She kept an eye on her teacher for signals and as best as she could moved in unison with the other young dancers.
She waited with total concentration for the signal to grab a rainbow stick and twirl, or to raise hands to her face to mimic tears during a sad moment in a song, or to break into laughter.
She later emerged from the group on stage to be presented with two long-stemmed roses, which she accepted with energy before quickly returning to her spot next to Lilah Magee, her BFF ("best friend forever'').
Only once did she break from the group on her own.
The children were leaving the stage by climbing down wide stairs at its front.
Calle stood before the audience in her pink and blue costume and assessed the situation. She needed help to balance on the way down. She spotted a staircase with railing, stage right.
She made her way there, and exited her own way.