NoPrimaryTagMatch
Tropical Storm Andrea remnants could dump 4 inches of rain on some areas of Mass.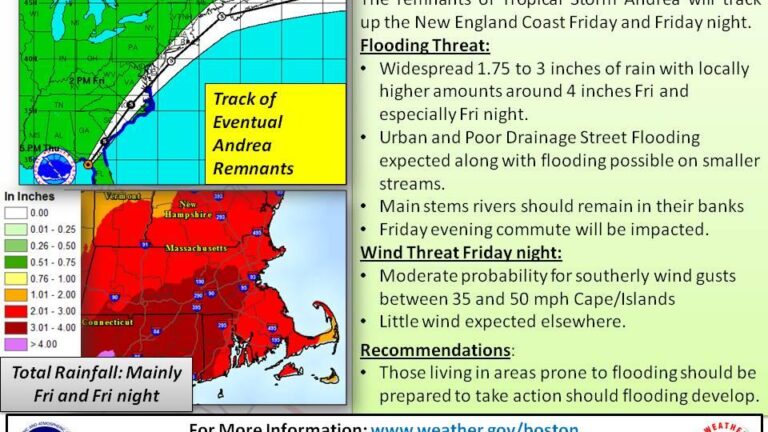 The remnants of Tropical Storm Andrea will sweep through Massachusetts Friday and Friday night, dumping 1.75 to 3 inches of rain in many places. Some places may even get 4 inches, the National Weather Service said, warning of a soggy Friday evening commute and possible urban and small stream flooding.
A low pressure system moving out of the Ohio Valley will bring the first round of rain into western Massachusetts late this evening, said weather service meteorologist Kim Buttrick. But those heading out to tonight's Red Sox game likely won't see any rain delay issues — Boston's first shot at showers arrives just after midnight.
Scattered showers are possible throughout the morning on Friday, with rain becoming more widespread as the day progresses, Buttrick said. Look for the heaviest rain Friday night as the remnants of Andrea arrive, Buttrick said. Highs will only reach the low 60s.
Buttrick said forecasters are most concerned about the storm's potential for flooding in urban areas and small streams. The weather service issued a flood watch for all of the state except for the westernmost edge and the Cape and islands.
Forecasters said winds could 35 to 50 miles per hour on Cape Cod and the islands but aren't expected to blow hard elsewhere.
A rainfall forecast map issued by the weather service showed the areas of heaviest rain generally southwest of Boston.
Rain showers will stick around through Saturday morning before the former tropical storm continues her track northward, clearing out of the Bay State by noon. On Saturday afternoon, things will dry out as clouds linger, though the sun may peek through breaks in the clouds at times, Buttrick said. Look for highs to reach 70 degrees.
The weekend should end on a high note Sunday with dry conditions and seasonal temperatures in the low 70s along the coast and the mid-70s inland.
The region will descend back into wet conditions for the start of the workweek as another low pressure system moves through the region Monday and Tuesday, forecasters said.