NoPrimaryTagMatch
Paul Cellucci, former governor and US ambassador to Canada, dies at 65 from ALS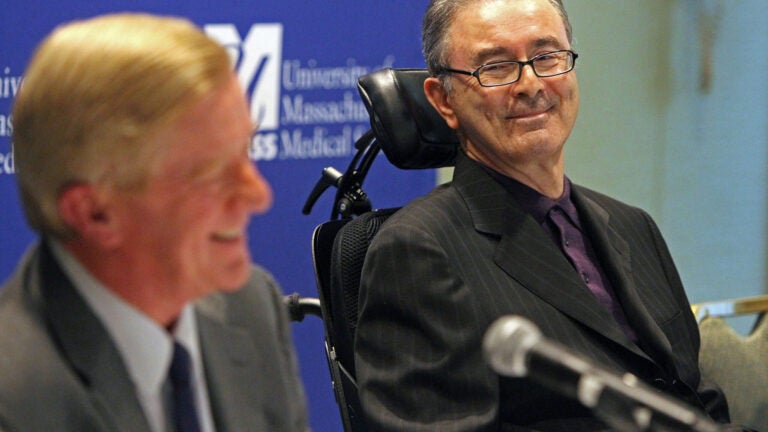 Argeo Paul Cellucci, a Hudson native who rose from a small-town selectman to become governor of Massachusetts and ambassador to Canada, died at his home in Hudson this afternoon after a five-year battle with Lou Gehrig's disease, according to two close family friends. He was 65.
Mr. Cellucci, who served as governor from 1997 to 2001, died from amyotrophic lateral sclerosis, or ALS, a degenerative and incurable neurological condition. He was surrounded by family, according to a statement from the University of Massachusetts Medical School.
A memorial service is planned at the State House for later this week in the House chambers. His body will lie in state at the Hall of Flags. A church service will be held at St. Michael's Church in Hudson. The dates will be announced later.
Mr. Cellucci, whose political experience spanned more than three decades and who never lost an election, was central to the creation of a new brand of Massachusetts Republicans, built on fiscal conservative principles, a strong environmental agenda, and advocacy of liberal social policies.
His close personal and political association with Governor William F. Weld, with whom Mr. Cellucci served as lieutenant governor, set the stage for a Republican resurgence in the 1990s that broke the Democratic liberal grip on Beacon Hill policymaking.
"My life was never quite the same when I matched up with Paul Cellucci to have a cup of coffee in 1989,'' Weld said. "It was clear to me that we had a similar political philosophy, and everyone I knew who knew Paul Cellucci absolutely swore by the guy. We agreed to run as a team, and we governed as a team. I don't think people realized quite how important Paul Cellucci was personally to the Commonwealth of Massachusetts in the 1990s.
"In the end, of course, he was the governor, but for the eight years before, he was probably as important to the state. We got a lot done in those years, and it wasn't possible without Paul's guidance, wisdom, and strength. I'd say Paul was the best partner and friend I ever had.''
While Mr. Cellucci spent four years as President George W. Bush's ambassador in Ottawa and wielded huge influence on Beacon Hill, he never moved from Hudson, the small working-class town midway between Boston and Worcester that formed his character and his political instincts. He was the only governor in the past few decades to speak with a distinct Massachusetts accent.
"He was a completely different type of governor in terms of his background,'' said Rob Gray, who served as a chief political adviser to Mr. Cellucci.
"Growing up outside the Boston-Route 128 bubble and continuing to hang out with average people on a daily basis really shaped his views of the issues,'' said Gray, president of Gray Media Group. "Paul was staunchly antitax and very frugal when it came to the budget, but he knew that certain types of government spending helped average people. He wasn't just symbolically a man of the people; that's what he really was.''
Mr. Cellucci set in motion two history-making events for equal rights. His choice of Jane M. Swift as a running mate for lieutenant governor in 1998 led to her becoming acting governor — the only woman to lead the state — when he left office for Canada.
He also elevated Margaret H. Marshall to be the first female chief justice of the Supreme Judicial Court. Under her leadership, the court legalized gay marriage in 2003, a decision she wrote. It sent shock waves around the world and ignited a marriage-equality movement that continues today.
In recent years, as he looked back over his career, which included six years as a state senator and eight years as a state representative, Mr. Cellucci would point to a list of accomplishments he thought highlighted his governorship. He was proud that he used his political skills to get approval for an extra runway at Logan International Airport — an issue that sparked huge political backlashes for decades.
Mr. Cellucci saw as one of his major legacies the tax cuts that he and Weld pushed through, which he believed turned Massachusetts into a more business-friendly state. When the Democratic Legislature refused to cut the state income tax, he made what was considered a daring move for a governor: He took the issue to the voters, who, in a 2000 referendum, approved his rollback.
Mr. Cellucci's wide-ranging positions made it hard to label his politics. While tax-cut conservatives praised him, he also drew support from moderates and liberals, and strong opposition from others, on several key issues.
His successful push to pass one of the toughest assault weapons bans in the country drew the wrath of the gun lobby and lavish praise from gun control advocates. The Catholic Church was sharply critical of his abortion rights positions, even banning him from delivering a commencement address at Hudson Catholic High School, his alma mater.
But his strong advocacy for the death penalty was denounced by many of the progressive groups that backed him on other issues. An opponent of capital punishment during his legislative years, he changed his position during his campaign for lieutenant governor in 1990 and came within one vote in 1997 of reinstating executions for especially heinous murder cases.
What perhaps defined his career was the relationship between him and Weld. Often described as alter-egos, they started out as rivals when both ran in the Republican primary for governor in 1990 before deciding to merge their campaigns.
It was an unprecedented move in a state where candidates for governor and lieutenant always ran independently, on separate primary tickets. With a coalition of Republicans, liberal Democrats, and independents, they beat Democrat John Silber, and in 1994 were reelected in the heavily Democratic state with a historic 71 percent of the vote, against Democrat Mark Roosevelt.
At first, it seemed an unlikely match. Shortly after Weld approached him about running as a team, Mr. Cellucci took the old-moneyed, Harvard-educated Yankee to Marliave's, a downtown Italian restaurant. Mr. Cellucci ordered two dishes of spaghetti marinara and a glass of red wine for himself. Weld ordered a glass of milk.
"I thought right then and there, this just wasn't going to work," Mr. Cellucci later told friends.
But it was the beginning of a potent political alliance; no other lieutenant governor played such an influential role in modern state history. It prepared Mr. Cellucci for a smooth transition to acting governor when Weld resigned in 1997 after being nominated for US ambassador to Mexico.
"As we approached power in 1991, I would say Paul was by a considerable margin the more important actor,'' Weld said. "He had a much longer track record in the broad polity of Massachusetts than I did. All I'd been doing is indicting people as US attorney. Paul really knew how the state worked.''
Much of the Weld-Cellucci relationship was based on personal chemistry; the two balanced each other's strengths and weaknesses. Mr. Cellucci, a shrewd veteran of Beacon Hill politics, guided Weld through the minefields that had plagued new governors in the past. Weld set the tone for the administration, using a quirky charm to win support for their agenda of fiscal conservatism, tough crime policies, welfare reform, and liberal positions on social and environmental issues.
"It was really a perfect match,'' said Stephen Tocco, who held several high posts in the Weld-Cellucci administration. "Paul brought that depth and knowledge and sense of how you can get things done as a team, and Bill Weld had a deep intellect but had never held elective office. It was one plus one equals three, frankly.''
Their personalities differed, too.
"Paul was really focused, high energy, a Type A, while Bill was much more laid back, laissez-faire,'' said Tocco, who often traveled to Hudson with other Italian-American political figures and associates to play a fiercely competitive bocci game with Mr. Cellucci. "Even in style, they complemented each other.''
Weld appreciated Mr. Cellucci's personal attributes as well as his politics. "His word was always as good as gold,'' Weld said. "Even if it was difficult for him to carry through on something, even if it seemed to be against his personal interests, once he said he would do something, he would do it.''
Mr. Cellucci was the one Weld always turned to for advice. "Bill depended more on Paul than he did on himself,'' said Tocco.
That was evident the day Jerry Garcia died in 1995. Weld, who had carefully crafted his image as a Grateful Dead fan, moved to have the State House flag lowered. Some of his aides tried to dissuade him, but it wasn't until Mr. Cellucci used the forcefulness only he could direct at the governor that the odd tribute was quashed.
Mr. Cellucci's election as governor in his own right in 1998 was an important personal triumph over the media and political skeptics who viewed him as a minor figure. He handily beat back a spirited challenge from Joe Malone, a popular state treasurer, in the GOP primary, then defeated the sitting attorney general, Scott Harshbarger.
In a statement, Boston Mayor Thomas M. Menino said, "Our city and our Commonwealth will miss him deeply and his type — a leader who wanted to help people.
"He was one of the very first people to reach out after I became mayor to offer a hand, and he did that over and over again. I will never forget what Governor Cellucci meant to Boston and to me.''
In 2001, Mr. Cellucci left to become ambassador to Canada for Bush. He served until 2005 and wrote a memoir, "Unquiet Diplomacy," about his experience and US-Canadian relations. In 2006, he joined the Boston office of the law firm McCarter & English.
In 1997, as governor, Mr. Cellucci had signed a bill allowing UMass Medical School to merge its clinical operations with a Worcester-based health care system. The deal helped create a $40 million research complex on the UMass campus, now home to the ALS lab directed by Dr. Robert H. Brown Jr., a leading expert on the disease, who became Mr. Cellucci's personal physician upon his diagnosis.
Mr. Cellucci had battled ALS for five years, but kept it private until January 2011. Just four months ago, while using a wheelchair, he joined Weld at the Boston lobbying firm ML Strategies to help on consulting projects. Because the disease had robbed him of strength and mobility, he telecommuted from home, using video-conferencing and dictation software to communicate.
According to friends and colleagues, Mr. Cellucci handled his illness much as he handled his political career: head-on, and with dignity.
"It was all about, 'OK, I'm going to tackle this. And how can I help others?' '' said Virginia Buckingham, who served as his chief of staff when he was governor and remained a close friend. "He really just focused on what he could do. There was no hiding from what it was, no glossing it over. There was a real sense of acceptance.''
In 2011, Mr. Cellucci teamed up with Weld in what he called his "last campaign,'' to raise money for Brown's ALS research at UMass Medical School. "This is a big, big cause and they're getting very close not just to ALS but a lot of other neuro-degenerative diseases,'' Mr. Cellucci said.
Buckingham, who recently visited Mr. Cellucci, said that although he could move only his head, they spent two hours telling stories and laughing.
"He talked about his illness very gracefully, about how his caregivers would help him exit when it was time to go,'' said Buckingham, who works in public affairs for Pfizer pharmaceutical company.
A devout newspaper reader, Mr. Cellucci told her he was still reading five papers a day, as well as Dan Brown's new novel, "Inferno,'' and answering e-mails.
He said he was grateful to see his fourth grandchild, a girl, born on May 17. His older grandchildren called his wheelchair "Command Central'' and they would climb on his lap and watch television with him. He enjoyed watching the playoff games between the Bruins and the Pittsburgh Penguins, the team for which his son-in-law, Craig Adams, plays, Buckingham said.
"The man was absolutely without self-pity,'' said Weld, who visited Mr. Cellucci regularly. "Just in the last two months, we've been working on projects involving Canadian businesses, large US businesses. He never stopped for a second, he never looked back.''
He was born on April 24, 1948, into a close-knit Italian-American family, and worked in his father's Oldsmobile dealership. His father, Argeo R. Cellucci Jr., was a Hudson civic leader and an important political mentor to his son.
During his junior year at Boston College, Mr. Cellucci married Janet Garnett, his high school sweetheart. The two created a strong partnership that allowed them both to pursue their careers. She went on to become at librarian the Bancroft School in Worcester and later a preservation librarian at Boston College.
"Jan, with her good-natured teasing, kept him grounded through his meteoric rise through politics,'' said Buckingham. She spent the last few years devoted full time to helping her husband of 41 years with his illness.
Mr. Cellucci received his law degree from BC Law School. He was a member of the Army Reserves and earned an honorable discharge in 1978, attaining a captain's rank.
Mr. Cellucci was undefeated in his long political career, which began at age 21 when he was elected to the Hudson charter reform commission and then to the board of selectmen. In 1976, he was elected a state representative, and in 1984, a state senator.
In the House, he was at the center of a raucus bipartisan band of reformers who challenged an iron-fisted leadership — an experience that created the political skills he displayed both as governor and the US envoy in Ottawa.
Unlike Weld or Mitt Romney, both wealthy elites who operated in the legal and financial power centers of Boston before they ran for governor, Mr. Cellucci served more than 25 years in public office before he ran for the post.
"They hadn't gone to a thousand town meetings and local events and parades,'' said Gray, Mr. Cellucci's political adviser. "Paul never became insulated from average people.''
Buckingham always appreciated his approach to the staff.
"He and Bill Weld were great, great friends and partners but two very different men to work for,'' she said. "Bill was the guy who left you shaking in your boots because you were fearful of getting something wrong, and Paul was the one who called you at the end of the day to say thank you for your hard work.''
She said he was a mentor for her and other young people in his administration. "He believed in politics and government and for young people, politics can be treated like a game. Paul taught all of us that it matters.''
Mr. Cellucci, she said, worked hard on domestic violence issues, and as lieutenant governor, he pushed for a bill that would allow dangerousness to be considered when setting terms of bail for an alleged perpetrator. The defense bar opposed it, as did Representative Salvatore DiMasi, who chaired the House Judiciary Committee.
"We were having a huge problem getting it through,'' said Buckingham. "Paul said, 'Sal, this matters. This is the right thing to do.' There was none of the horse-trading of politics. DiMasi said OK, and we were able to pass it and it changed thousands of people's lives.''
As a state representative, Mr. Cellucci had been an early backer of George H.W. Bush, driving him across the state in his 1980 campaign when he ran for the GOP presidential nomination against Ronald Reagan. He was a key player in Bush's second try for the presidency, against Massachusetts Governor Michael S. Dukakis, and was proud that he helped organize the candidate's famous tour of a then-polluted Boston Harbor, a classic political photo-op that undercut Dukakis's image as an environmentalist.
"He was always a Bush guy, very close to the Bush family,'' Tocco said. "Their devotion to public life, that's what Paul was all about."
As he stood behind George W. Bush at the 2001 inaugural parade, the new president beckoned him and quietly told him that he would appoint him ambassador to Canada. By all accounts, Mr. Cellucci loved his time in Ottawa. He relished the work. His daughter Anne held her marriage reception at the ambassador's residence.
"It was a big deal," said Gray. "You had the US ambassador's daughter marrying an NHL star. Hockey fans were lined up outside the church.''
Mr. Cellucci was there during a key time in US-Canadian relations. Andy Card, who has been close to Mr. Cellucci since they both served in the state Legislature, said that as ambassador, Mr. Cellucci used his keen political skills to build a bridge between a liberal Canadian government and Bush, who was not popular in Canada.
"He managed America's closest ally very well during an extremely challenging time,'' Card said.
After the Sept. 11, 2001, attacks, Canadian airports agreed to take in more than 200 planes diverted from the United States, and Canadian citizens opened their doors to thousands of stranded passengers and crew.
"Paul helped manage that phenomenal hospitality, and he traveled the breadth and width of Canada to thank people,'' said Card, who had served as Bush's chief of staff.
Mr. Cellucci also worked to get Canada to join the US coalition on the war against terror. And later, when Bush visited Canada, Mr. Cellucci had to deal with the antiwar protesters.
"He was highly respected by the Canadian government, business leaders, and the people,'' said Card.
Despite his failing health, Mr. Cellucci was a valued member of the ML Strategies team. "He worked with us until about three weeks ago,'' said Tocco, the firm's chief executive. "He was working with some of our senior consultants on three major initiatives. He was sharp as a tack, and followed up immediately on issues.''
But the issue that most drove him was raising money for the Champion Fund, which he helped create at the UMass Medical School in Worcester to fund ALS research.
"Once it became clear where this was all headed, he focused on using whatever time he had left to help advance treatments,'' Tocco said. "It gave him real energy.''
The fund has raised $1.7 million.
In addition to his wife, Mr. Cellucci leaves his daughters, Kate of Marlborough and Anne of Presto, Pa.; four grandchildren; his sister Roseann Canny of Coventry, Conn.; and his brother Peter of Clinton.