NoPrimaryTagMatch
'Whitey' Bulger defense claims he was no informant, questions credibility of prosecution witnesses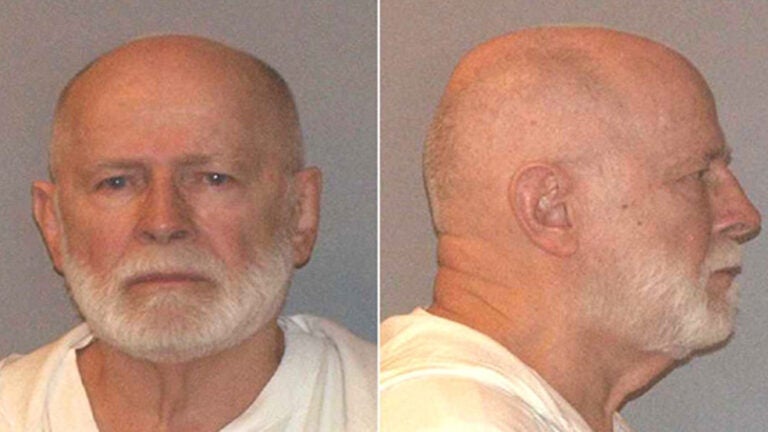 James "Whitey'' Bulger admits that he made millions of dollars from drug trafficking and routinely doled out payoffs to corrupt law enforcement agents, but insists he was never an FBI informant and did not kill two young women and two businessmen, Bulger's lawyer said today during opening remarks to the jury at the gangster's trial.
[fragment number=0]
Attorney J.W. Carney Jr. said a "greedy'' FBI agent, John J. Connolly Jr., routinely leaked Bulger information in exchange for payoffs of as much as $50,000 on one occasion, then falsely classified Bulger as an informant and filled his file with false reports to hide their corrupt relationship.
"The reason Connolly created the file was just a coverup for why he was being seen with Bulger so often,'' Carney told the jury in US District Court in Boston, outlining for the first time how Bulger plans to defend himself against a sweeping federal racketeering indictment that alleges he ran a violent criminal enterprise while working as a prized informant.
Bulger, 83, faces 32 counts of racketeering, extortion, money laundering and firearms possession, which include allegations that he participated in 19 murders in the 1970s and 1980s. He fled shortly before his 1995 indictment and was captured in California in 2011 after 16 years of eluding a worldwide manhunt.
The defense attacked the credibility of the government's key witnesses, former underworld associates of Bulger who cut deals for their own crimes while he was on the run and implicated him in the slayings.
The prosecution described Bulger as "one of the biggest informants in Boston,'' who was adept at corrupting law enforcement. But the government focused on mostly on Bulger's victims, both those he allegedly murdered and the bookmakers, drug dealers, and bookmakers he is accused of threatening to kill if they didn't pay him tribute.
Assistant US Attorney Brian T. Kelly, in the dramatic culmination of his opening statement, read a list of Bulger's alleged 19 victims and showed their pictures on a screen for jurors.
"That, ladies and gentlemen, is what this case is about,'' Kelly said. "That's what we're dealing with … a hands-on killer who led an extensive criminal enterprise.''
Carney sought to cast doubt on the credibility of former Bulger protege Kevin Weeks; hit man John Martorano; and Bulger's one-time right-hand man, Stephen "The Rifleman'' Flemmi.
"Would someone like John Martorano be willing to lie against James Bulger?'' Carney asked the jury. Martorano admitted to committing 20 murders between 1965 and 1982 and is now free after serving in 12 years in prison. He is expected to be a key prosecution witness. He agreed to testify against Bulger after learning that Flemmi and Bulger had been FBI informants.
Carney insisted that Bulger did not kill Debra Davis, Flemmi's girlfriend, in 1981, and Deborah Hussey, who had accused Flemmi of molesting her, in 1985.
Carney also said Bulger did not kill two businessmen, Roger Wheeler, who was killed in Oklahoma in 1981, and John Callahan, who was killed in 1982 in Florida.
"What evidence will show is that Bulger was a person who had an unbelievably lucrative enterprise in Boston,'' Carney said, suggesting Bulger would have been uninterested in murdering people to further out-of-state business schemes.
Carney did not address the other 15 people Bulger allegedly killed, though Bulger has pleaded not guilty to all charges against him.
Noting the gifts that Bulger had given to Connolly, Carney said to the jury, "Ask yourself, would an informant be paying tens of thousands of dollars to the agent, or would it be the other way around?''
"He wanted to pay for information and received it from corrupt law enforcement officers,'' Carney said. He said Bulger had wanted to be tipped off about bugs, searches, and indictments — and he was.
Carney said Bulger's FBI file contained no worthwhile information and Bulger had no real information on the Boston Mafia, even though the Irish-American gangster was recruited by Connolly to provide information on the Italian-American mob.
Carney said Bulger would have betrayed his Irish roots if he had been an informer. "The worst thing an Irish person could consider doing was becoming an informant,'' he said.
Carney also gave an unusual account of Bulger's decision to go on lam for 16 years, saying he was not tipped off by Connolly, as both Weeks and Flemmi have testified previously, but was returning from a vacation when he heard about his indictment on the radio. And he said that Bulger — a one-time fixture on the FBI's 10 Most Wanted list — had "settled'' rather than "hid'' in California.
Kelly, the prosecutor, said Bulger gleaned information from corrupt agents that led him to kill other informants who were cooperating against him.
He said Bulger also used his connections to make millions of dollars selling illegal drugs, including cocaine, in his neighborhood, while promoting the myth that he had nothing to do with drugs.
While the indictment alleges that Bulger forced cocaine dealers to pay him a cut of their profits, Kelly revealed for the first time that the government will present evidence that Bulger personally cultivated a new drug supplier and parceled out 50 pounds of cocaine for distribution in Charlestown and South Boston.
Offering chilling details about one of the murders, Kelly said Bulger allegedly joked before fatally shooting Arthur "Bucky'' Barrett in South Boston after torturing the safecracker into disclosing where he had stashed $40,000 in cash stolen during a 1980 bank burglary.
Kelly said Barrett was lured to a house in South Boston where he said his prayers as he was chained and tortured by Bulger, while Weeks looked on.
After Barrett disclosed where the cash was, Bulger and Flemmi seized the money from Barrett's Quincy home. And then Bulger returned to deal with Barrett. He allegedly led Barrett to the dirt-floored basement of the home and shot him.
"He did the dirty work himself because he was a hands-on killer,'' Kelly said.
Bulger, according to Kelly, joked to Weeks beforehand: "Barrett is going downstairs to lie down a bit.''
The prosecutor described a series of other murders, including those of Eddie Connors, who was gunned down in a Dorchester phone booth 38 years ago today for bragging too much and not "keeping his mouth shut,'' and Michael Donahue, who was killed only because he gave the target of Bulger's gunfire, Edward "Brian'' Halloran, a ride home.
The first witness, Robert Long, a retired State Police detective, talked about his 1980 investigation at a Lancaster Street garage near the old Boston Garden, which was thwarted by a corrupt state police officer. Prosecutors displayed for the jurors video and still images of Bulger, local Mafia leaders, and other gangland figures captured at the garage.
Led by a cruiser with its siren blaring and lights flashing, a small caravan brought Bulger to the federal courthouse this morning.
Bulger has called the trial "The Big Show'' in letters to a friend from jail. Courthouse personnel are bracing for possible record crowds. The trial is expected to last into September.
The 70 seats in the courtroom are reserved for Bulger's family; relatives of his alleged victims; investigators; a small group of news media representatives, including two sketch artists; and members of the public, allowed in on a first-come, first-served basis. There are two overflow courtrooms, one for reporters and the other for the public, where the proceedings will be streamed live on television monitors. The trial is expected to last into September.
John "Jackie'' Bulger, Whitey's youngest brother, and one of Bulger's nieces, were the only relatives in court today. The third Bulger brother, William, the former president of both the state Senate and the University of Massachusetts system, was not in court.