NoPrimaryTagMatch
GOP contender for US Senate seat, Gabriel E. Gomez, starts long day of campaigning at a Newton run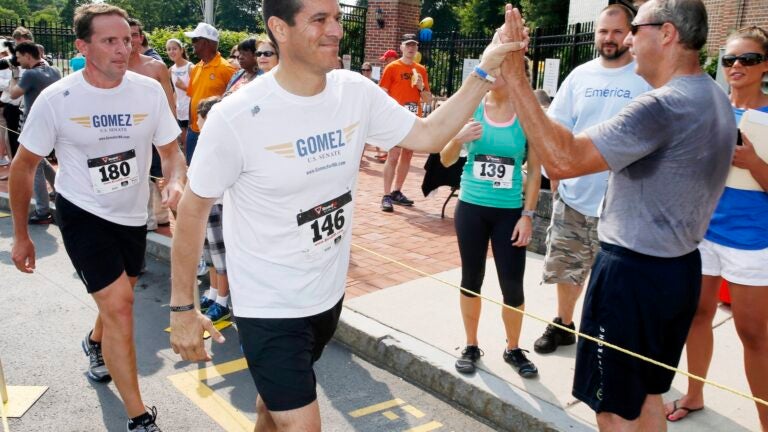 NEWTON — Gabriel E. Gomez launched into the final stretch before Tuesday's election by campaigning at a Newton fun run, which he ran with his wife and a team of eight campaign volunteers.
The Republican candidate for US Senate continued to push his closing argument — that he's asking voters to give him a chance to serve just 17 months in Washington, and that his Democratic competitor, US Representative Edward J. Markey, has had 37 years in Congress to make his case.
"I would get more done in 17 months than he's done in 37 years,'' Gomez said.
The winner of Tuesday's special election will face a contest for reelection in just 17 months, filling out the rest of the term of former Senator John F. Kerry, who stepped down to become US Secretary of State.
Markey pushed back at that argument in a new TV ad he released late Friday, suggesting that Gomez would vote with Republicans during those 17 months, threatening positions of concern to Massachusetts voters on gun control and abortion rights.
Gomez said that Markey's counterargument shows that Gomez's message is resonating with voters.
Added his campaign adviser Leonardo Alcivar: "Thirty-seven-year incumbents don't lodge negative attacks in a closing argument when they believe their campaign is doing well. They do it because they have to, not because they want to. It's more than spin. It's about a campaign concerned that their message is being drowned out by a messenger who is losing credibility with voters.''
Wearing a campaign T-shirt bearing his name, Gomez mingled casually with the runners, and picked up some voters' commitments that they'd show up at the polls on Tuesday.
"You've got my vote, don't worry about that,'' volunteered Todd McCarthy, who clasped Gomez's hand as he passed by with his 7-year-old son, Tommy.
McCarthy, a former Marine captain, said he's impressed by Gomez's background as a Navy pilot and Navy SEAL. "I also like the fact that he's a moderate Republican. I tend to consider myself liberal on the social issues and conservative on the fiscal issues. And the fact that he's a Navy SEAL doesn't hurt.''
But Democrat Gene Connors of Wellesley overheard McCarthy's comment and weighed in with a counter-opinion of his own: "He's a Navy SEAL. What else?'' he said, suggesting Gomez's military background is not sufficient reason to elect him. "It stops right there, right?''
Connors said he'd definitely vote for Markey on Tuesday, saying: "He stands for what I stand for.''
Of Gomez, Connors said: "I don't know what he stands for. I don't like what the Republicans stand for.''
One Gomez supporter, Newton's Republican City Committee chairman Tom Mountain, separately echoed the 37-year theme.
"Ed Markey has been in Congress so long he came to my high school when I was in high school. I'm 52 years old.''
He said Republicans are "very enthused'' about working for Gomez, finding him personable, likable and smart. But he thinks Gomez will also appeal to independent voters, who make up the majority of Massachusetts voters and whose votes are crucial in swinging elections to outnumbered Republicans.
"We're convinced the independents are going to come out for him,'' Mountain said.
After the race, Gomez stopped by his campaign offices in Watertown and Wakefield, where volunteers were making phone calls to get out the vote in Tuesday's election.
Then he joined a crowd of about 60 campaign volunteers, voters, and their families at a barbecue behind the Clarion Inn in the Lakeside Office Park in Wakefield.
Richard R. Tisei, a former state Senator from Wakefield who ran unsuccessfully for Congress last year, told Gomez in front of the crowd, "Take it from me, every vote counts. My vote was eight-tenths of 1 percent.''
"It's really incumbent upon all of us, to make sure that we get all our friends and our family [to vote] and really leave no stone unturned between now and Tuesday,'' Tisei said. "Hopefully after Tuesday night, we'll be calling you Senator.''