NoPrimaryTagMatch
Two men and a woman killed in Roxbury this morning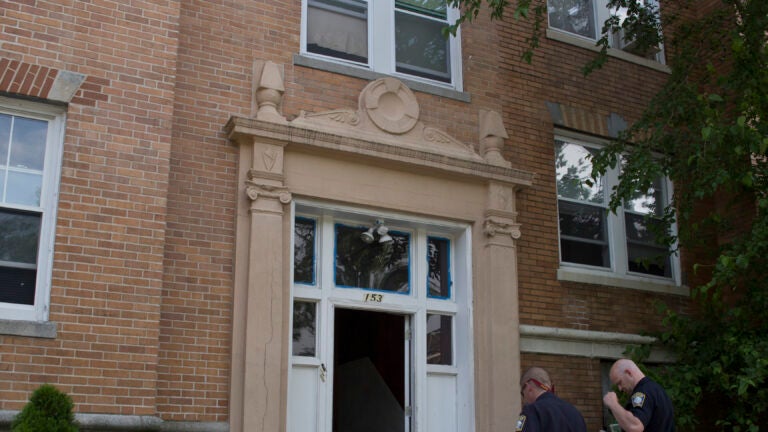 Two men and a woman, all in their early 20s, were fatally shot early Saturday morning during a fight at a party in Dorchester.
Police arrived at an apartment at 153 Intervale St. after receiving a radio call at 4:18 a.m. for persons shot, and found the three victims suffering from gunshot wounds. One man was taken to Beth Israel Deaconess Medical Center and the other two victims were taken to Brigham and Women's Hospital. They were all pronounced dead at the hospitals.
The victims have been tentatively identified, but their names will not be released until family members have been notified and identities are confirmed, said Jake Wark, a spokesman for Suffolk District Attorney Daniel F. Conley.
The woman had 3-year-old twin daughters, according to a law enforcement official briefed on the investigation.
In a press conference at police headquarters Saturday afternoon, Superintendent Kevin Buckley said police are looking for a Hispanic man who fled the scene with two other people in an older red or maroon Mercury. The car went southwest down Intervale, a one-way street, toward Columbia Road, Buckley said.
Buckley said the victims were not previously known to police and did not live at 153 Intervale St. He said he did not recall any previous incidents at that address.
Buckley said it was not yet clear how many shots were fired or whether more than one person fired shots. It appeared that the shots came from a handgun, he said, but no gun was recovered at the scene.
Rodney Beldo, 22, who lives next door, said he was woken up around 5:30 a.m. by his 3-year-old niece, who was crying and said she had heard something loud. He had been watching police come by all day, he said. "It's really scary living here right next door, especially with my son around,'' Beldo said as he rocked his 4-month-old baby. "It's crazy. I never expected anything like this.''
Wark said no arrests had been made as of Saturday evening and authorities did not know of any possible motive.
Two police cars were parked Saturday afternoon outside the apartment building, on the quiet residential street, with rows of homes on one side and a basketball court and playing fields on the other.
One neighbor, who has lived on Intervale Street for roughly 40 years and asked not to be named, said he awoke when he heard sirens early Saturday morning. He described the neighborhood as usually calm.
"I'm surprised by what happened last night,'' he said. "We've never had anything like that happen before.''
Early Saturday evening, life went on as normal in this section of Dorchester. In Ceylon Park across the street from 153 Intervale, families and friends gathered and children played. An ice cream truck rolled slowly down the hill toward Columbia Road playing a tune.
Jeannette Nelson relaxed on a park bench in a bright yellow shirt and matching flip-flops. Nelson, 54, said she lived in another part of Dorchester but comes here often to visit a friend. She had slept at the friend's home Friday night, she said, but heard nothing during the night.
"All I know is when I left this morning I saw the cameras and everything,'' she said.
Nelson knew some kind of violence had occurred, but her jaw dropped when she learned three people had died.
"It's so peaceful here. I don't know what that was all about,'' she said, of the park where families gather to barbecue and enjoy the outdoors during soccer games on Sundays.
"I hope they stop the madness,'' she said.