NoPrimaryTagMatch
Vice President Joe Biden joins US Senate candidate Edward J. Markey on the campaign trail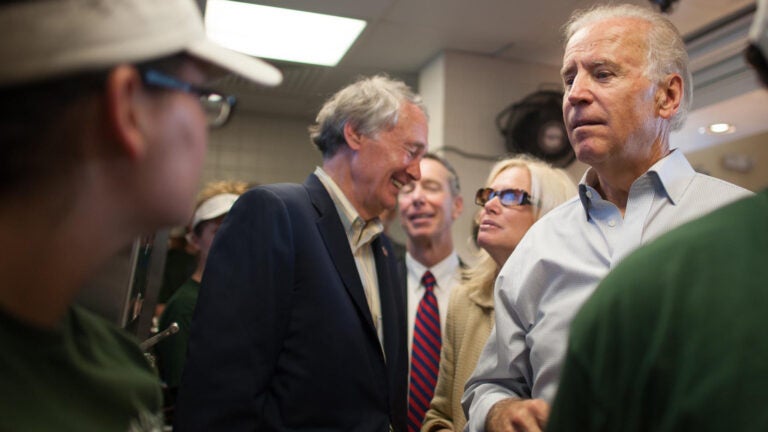 Vice President Joe Biden and local Democratic leaders joined US Representative Edward J. Markey and a crowd of about 150 supporters this morning at Ironworkers Local 7 Hall on Old Colony Avenue in South Boston for the first of two rallies aimed at getting out the vote for Markey in Tuesday's special election for US Senate.
"There's no reason why this guy shouldn't walk to victory,'' Biden said of Markey. Still, he urged the crowd to work hard until the last minute.
"Please go out and knock on that extra door'' Biden said. "Don't put yourself in the position, at 10 o'clock next Tuesday night, saying 'God, if I had just done that extra block.''
Biden also spoke of Markey personally, saying he has known him a long time and knows him to be a man who keeps his word. "The thing that I admire about him the most is his character,'' Biden said. "Look at this man's record, look at his personal life, look at his public life, look at who he is. He will do exactly what he tells you.''
Markey was also joined by Boston Mayor Thomas M. Menino, former Boston Mayor Raymond Flynn, and US Representative Stephen F. Lynch, a onetime ironworker Markey beat in the Democratic primary for Senate in April.
"Being with Steve Lynch at the Ironworkers is like being at Boston Garden with Bobby Orr,'' Markey said.
Political leaders focused their remarks on working-class values, while labor leaders reminded voters in the crowd of the importance of door-knocking and getting out the vote.
"If you want to talk about working people, Ed Markey's the guy you want in the US Senate,'' Menino said. "If you want to talk about protecting millionaires, the other guy's your candidate.''
"Ed Markey will have our back in Washington,'' Menino said to loud cheers.
Biden is the latest political celebrity to join Markey on the campaign trail, following visits by the president, first lady, and former President Clinton.
Biden spoke at length about Markey's opponent, Republican businessman Gabriel E. Gomez, noting that he "calls himself a new kind of Republican,'' and questioning why he has gained support from some national Republican figures.
"Why does Newt Gingrich talk about him like he's the second coming?'' Biden said. "Why does Marco Rubio want him so much?
"Look, I know Mitch McConnell pretty well and if he wants Gabriel Gomez in his caucus, it's not because he thinks he will ever disagree with him,'' Biden said, referring to the Senate Republican Leader. "It's because he wants a Republican majority and he knows he can count on the guy to vote with him on everything he needs.''
Biden said Markey and the other Democrats "have a different vision for this country.''
"Our vision rests on a growing, prosperous middle class, a fair tax code, investing in innovation,'' Biden said.
Markey focused his remarks on economic values, saying he supported a higher minimum wage and making sure that the wealthy pay their "fair share.''
"At the top of the list, this race is about jobs, jobs, jobs!'' Markey said.
Markey spoke about his family history, recalling his mother saying, "Eddie, your life is going to be different,'' and noting that he enjoyed more opportunities than his parents and grandparents had. He credited the opportunities he received to the policies that Democrats put in place.
"I know I'm standing here as the son of someone who grew up on the first floor of a triple-decker in South Lawrence,'' Markey said. "I want to go to Washington to fight: fight for Medicare! Fight for Social Security!''
"I'm going to fight for the best jobs in the world,'' he said.
Afterward, the vice president and Markey, along with Lynch and Markey's wife, Susan Blumenthal, stopped for hot dogs at Sullivan's on Castle Island in South Boston.
The vice president, wearing a blue-and-white checkered shirt, gray slacks, black tassel loafers and aviator-style sunglasses, stepped out of his limo to get a hot dog with mustard and relish and to mingle with the crowd. Behind the counter at Sullivan's, Biden posed for a photograph with manager Harry Markarian, Markey, and others.