NoPrimaryTagMatch
Shrewsbury man allegedly on drugs when he crashed into Worcester store, injuring two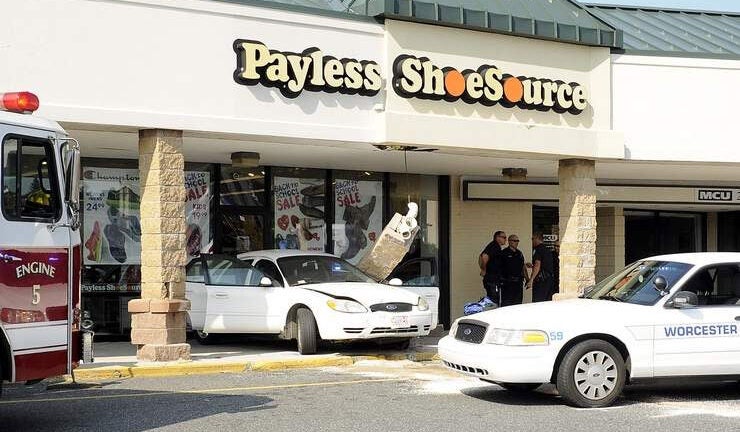 WORCESTER — A Shrewsbury man was high on drugs when he crashed his car into pillars and a Worcester police sergeant in the Webster Square Plaza today, Worcester police said.
Ryan Hehir, 20, of 1 Rice Ave., Shrewsbury, has been charged with driving under the influence of drugs and driving under the influence of drugs causing injury with negligence, a police spokesman said today.
Police said they found evidence of drug use in the car.
Hehir is scheduled to be arraigned in Worcester's Central District Court Thursday.
Police Sergeant John J. Fallavollita suffered a leg injury when he was struck by the car. Anthony Rodriguez, a passer-by who had just dropped off his girlfriend at a plaza store, suffered injuries to his feet when they were run over by the car.
Deputy Police Chief Edward J. McGinn Jr. gave the following account:
About 9:30 a.m., Fallavollita was on a traffic and security detail at the plaza when he received word that a car had struck a concrete pillar on the sidewalk in front of Radio Shack. Minutes earlier, the motorist, later identified as Hehir, lost consciousness and the vehicle slammed into the building. Rodriguez came to the driver's aid and noticed that the vehicle was still in gear. As Rodriguez leaned into the car to help, the motorist came to, suddenly pressing on the gas pedal. The car was in reverse. Rodriguez was thrown aside as the rear-facing vehicle began to make a U-turn. It was at this point that Fallavollita was struck. The vehicle eventually headed back toward the plaza, slamming into Payless ShoeSource. Hehir then fell from the vehicle.
Police initially thought Fallavollita had a broken leg.
A witness, Rick McCarthy of Leicester, was getting groceries and driving right behind the car when he noticed the car started drifting left toward the sidewalk area.
"He corrected the car. When he corrected, he sort of accelerated and went right into the pillar,'' Mr. McCarthy said. "Someone ran up the sidewalk to try to help him.''
Mr. McCarthy then saw the car heading backward.
"It swung around in kind of an arc and hit the police officer who tried to help,'' Mr. McCarthy said. "The driver fell out of the car and ended up pinned under the car.''
Firetrucks, ambulances and police cruisers filled the plaza after the crash.
Deputy Fire Chief Geoffrey Gardell said firefighters arrived to find the officer on the ground and the driver unconscious. Firefighters performed life-saving efforts on the driver, who regained consciousness.