NoPrimaryTagMatch
Bill Russell statue unveiled on City Hall Plaza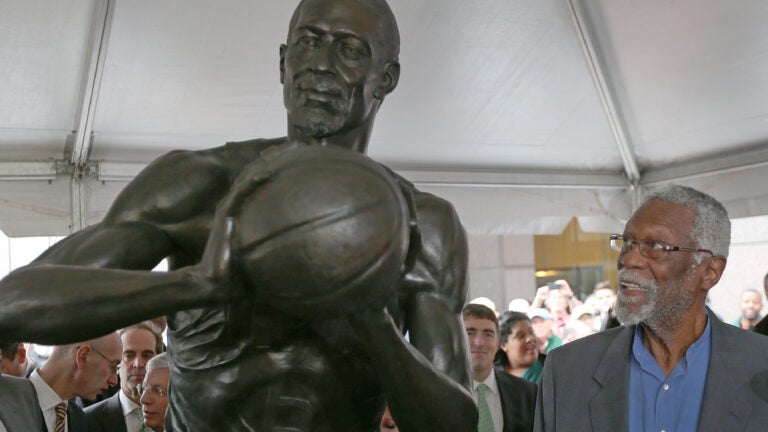 Celtics legend Bill Russell attended a star-studded unveiling of a statue of himself on City Hall Plaza today.
Russell said he enjoyed the artist's work and quipped that she had done a good job "considering what she had to work with.''
The unveiling of the 6-foot-10, 600-pound statue, held under a tent, was attended by, among others, Boston Mayor Thomas Menino, Celtics owner Steven Pagliuca, and outgoing NBA Commissioner David Stern.
Outside the tent, in the wind and rain, a crowd of about 200 gathered, chanting, "Thank you, Bill Russell. Thanks for all the championships.'' Russell looked at the crowd, gave them a broad smile and a quick wave.
He then was spirited away in a golf cart to a reception at a nearby downtown office building.
A public ceremony had been scheduled, but it was scaled back due to inclement weather, officials said.
Those in the room for the reception included former Celtics players Sam Jones, Jojo White, Satch Sanders, and Bill Walton. Other former players included Charles Barkley and Bill Lanier.
Those attending said that Russell contributed not just on the basketball court, but by his support for civil rights and education for children.
Russell, 75, who looked trim, wearing a gray suit coat and pants, with a blue shirt, became emotional when he said all he ever wanted to do was to make his father proud and live each day that way.
Ann Hirsch, the sculptor, recently told the Globe about the research and artistic effort that led to her design of the statue.